Stop WALMART Act Introduced
Get great content like this right in your inbox.
Subscribe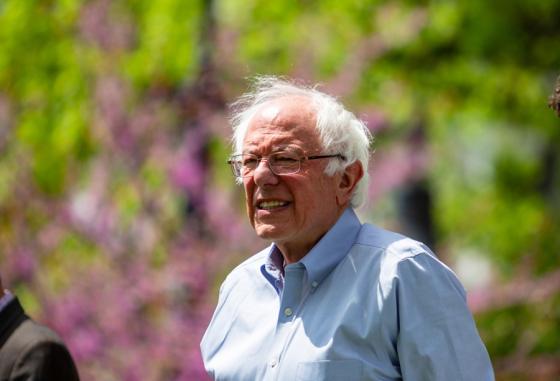 Following their campaign to raise wages at Amazon, Sen. Bernie Sanders, I-Vt., and Rep. Ro Khanna, D-Calif., have unveiled legislation with the aim of raising wages at Walmart and other large corporations.
The Stop WALMART Act would prohibit large employers from buying back stock, as the mega-retailer plans to do, unless they do the following:
Pay all employees a minimum of $15 an hour, including part-time employees, independent contractors and franchisee employees

Permit employees to earn up to seven days of paid sick leave for themselves or to care for a family member

Ensure that CEO compensation, or that of the highest-paid employee, isn't more than 150 times the median pay of all employees.
"While tens of thousands of Walmart workers are struggling to survive, Alice Walton had no problem amassing a private art collection worth half a billion dollars," said Sanders, referring to the daughter of company founder Sam Walton. "Enough is enough. The time is long overdue for the Walton family to pay its workers a living wage. If large, profitable corporations like Amazon and Disney can pay all of their workers a minimum wage of at least $15 an hour, so can Walmart."

"Walmart has refused to pay its workers a living wage, resulting in costs for taxpayers of $6.2 billion for basic necessities for survival, food stamps and housing assistance," noted Khanna. "If Walmart can find $20 billion for stock buybacks to further enrich the Waltons, it can find the money to raise the pay of its workers to a living wage.  It's time to put workers over wealthy corporation – across our nation, one company at a time. Today, I'm proud to join my friend Sen. Sanders in introducing the Stop Walmart Act to raise wages for Walmart workers."
Last January, Bentonville, Ark.-based Walmart revealed it was raising the starting wage rate for all of its U.S. hourly associates to $11.
In the wake of the lawmakers' earlier Stop BEZOS Act, named for Amazon founder and CEO Jeff Bezos, the Seattle-based e-retailer said it would raise its minimum wage to $15 for all full-time, part-time, temporary and seasonal U.S. employees, as well as advocate for a federal minimum-wage increase.
Walmart is No. 1 on Progressive Grocer's 2018 Super 50 list of the top grocers in the United States, while Amazon is No. 8.