Bill Aims to Get Walmart, Amazon to Pay Employees More
Get great content like this right in your inbox.
Subscribe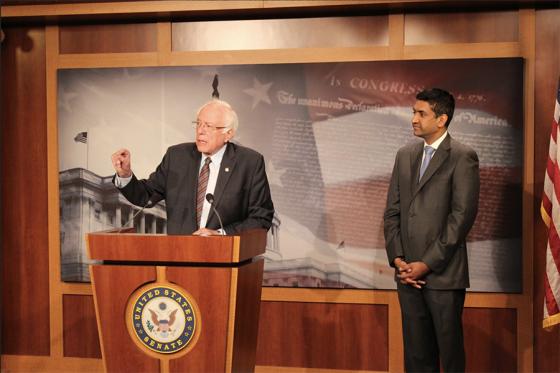 Sen. Bernie Sanders, I-Vt., and Rep. Ro Khanna, D-Calif., have introduced federal legislation that would give large companies like Amazon and Walmart Inc. the option of either paying their employees a living wage or footing the bill for public-assistance programs such as Medicaid, SNAP and public housing that low-wage workers often rely on.
The Stop Bad Employers by Zeroing Out Subsidies (BEZOS) Act – whose acronym cheekily namechecks Amazon CEO Jeff Bezos – would establish a 100 percent tax on corporations with 500 or more employees equal to the amount of federal benefits received by their low-wage workers. For instance, if an Amazon employee gets $2,000 in food stamps, the company would be taxed $2,000 to cover the cost.
"Let us be very clear: We believe that the government has a moral responsibility to provide for the vulnerable – the children, the elderly, the sick and the disabled," Sanders noted while introducing the bill. "But we do not believe that taxpayers should have to expend huge sums of money subsidizing profitable corporations owned by some of the wealthiest people in this country. That's what a rigged economy is about."
Sanders and Khanna cited a study from the University of California, Berkeley Labor Center finding that low wages cost taxpayers about $150 billion annually.
Seattle-based Amazon, meanwhile, has characterized Sanders' comments about it as "inaccurate and misleading accusations," adding that the senator hasn't accepted an invitation to tour one of its fulfillment centers to see conditions there for himself.  
"Amazon is proud to have created over 130,000 new jobs last year alone," the company went on to note in its blog post on the subject. "In the U.S., the average hourly wage for a full-time associate in our fulfillment centers, including cash, stock and incentive bonuses, is over $15/hour before overtime."
At press time, Bentonville, Ark.-based Walmart, No. 1 on Progressive Grocer's 2018 Super 50 list of the top grocers in the United States, had not responded to a request for comment on the matter.