Stop & Shop Honored for Philanthropy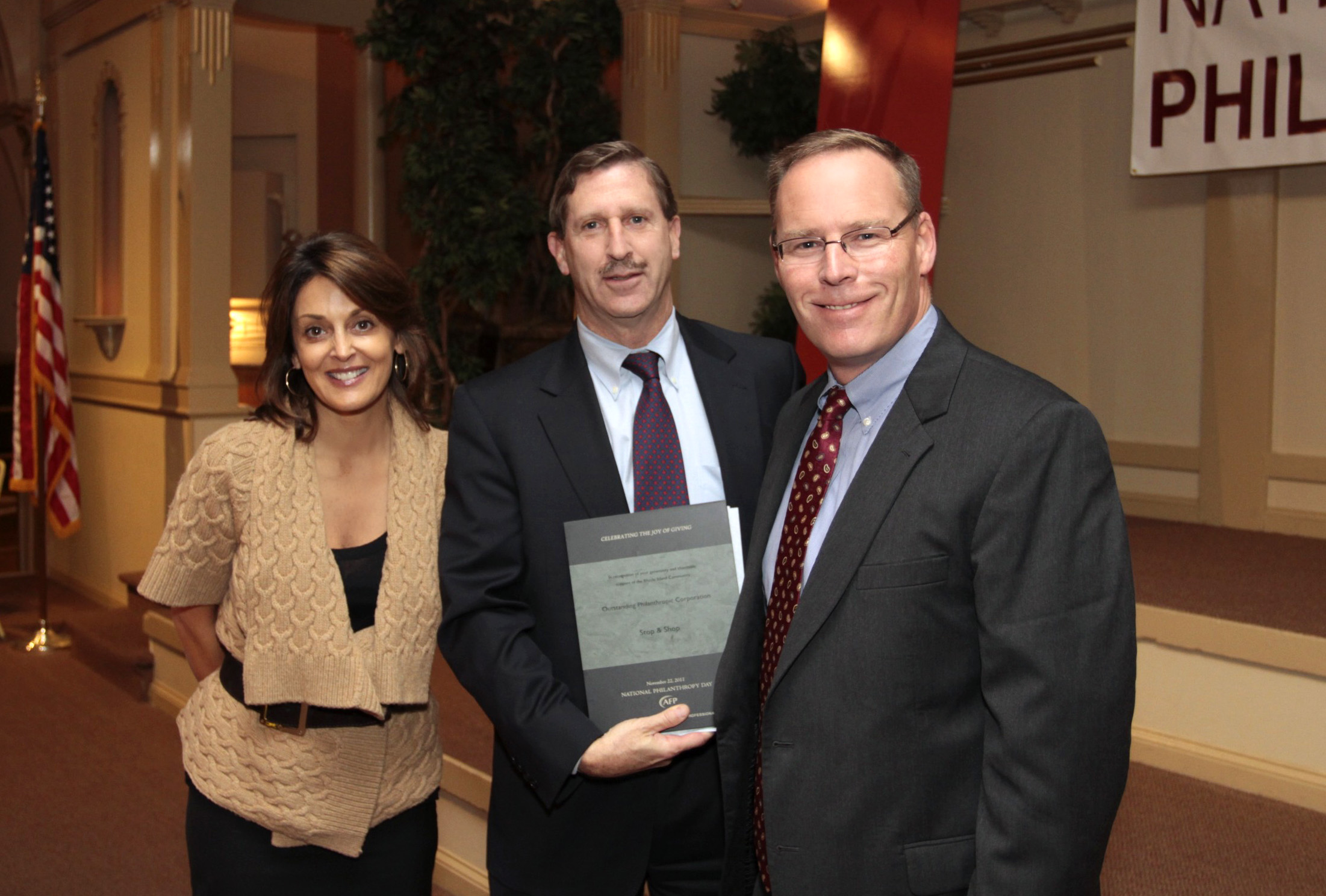 The Stop & Shop Supermarket Co. LLC was named the 2011 Outstanding Philanthropic Corporation at a recent awards ceremony (left) hosted by the Rhode Island Chapter of the Association of Fundraising Professionals (RI-AFP) at a breakfast event in Cranston. Mark J. McGowan, president, Stop & Shop New England division, accepted the award on behalf of the Ahold USA banner.
National Philanthropy Day is hosted annually by RI-AFP. The Boys & Girls Club of Pawtucket, R.I., nominated Stop & Shop for the honor.
"The Boys & Girls Club of Pawtucket is extremely fortunate to count Stop & Shop among our corporate, community partners," said James Hoyt, CEO of the organization. This recognition is more than well deserved, as their significant involvement and generous contributions truly make a difference for at-risk kids and their families, not just in Pawtucket, but across the state as well."
Through food donations, financial support, employee representation on nonprofit boards and hosting in-store fundraisers, the grocery chain makes its presence felt around the state and in New England. Examples of Stop & Shop programs are the holiday "Food for Friends" campaign, and the Triple Winner Game to aid efforts to eliminate childhood cancer.
Each year through its Turkey Express initiative, the grocer donates 20,000 turkeys so that needy families can enjoy Thanksgiving dinner. This year, 1,000 turkeys were delivered to the Rhode Island Community Food Bank and 1,250 turkeys plus fixings went to the Boys & Girls Club of Pawtucket.
Since January 2010, more than $2 million in grants have emanated from the Stop & Shop/Giant Family Foundation to combat childhood obesity through area nonprofits' educational, recreational and nutritional programs relating to the issue.
What began as a single store's relationship with the Boys & Girls Club of Pawtucket has become a broader, long-term partnership. The supermarket operator now funds health-and-wellness programs for Pawtucket Club members 6 to 18 years old, and their families. Pawtucket is also the center of the state's Turkey Express donations and deliveries.
National Philanthropy Day pays homage to the full spectrum of services provided by the nonprofit community and recognizes the impact that philanthropy has on society. Each year, AFP-RI honors individuals, businesses and groups that have enhanced philanthropy, their communities and the world.
Quincy, Mass.-based Stop & Shop employs about 62,000 associates and operates nearly 400 stores in Massachusetts, Connecticut, Rhode Island, New Hampshire, New York and New Jersey.