Stop & Shop Debuts Ads Focusing on Empathy
Get great content like this right in your inbox.
Subscribe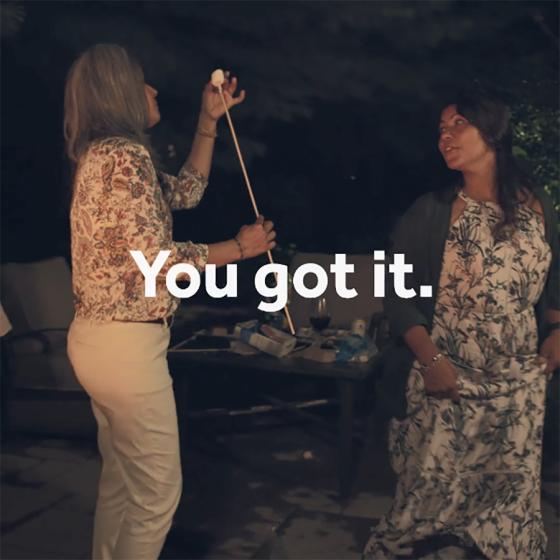 The Stop & Shop Supermarket Co. LLC has teamed with customer agency C Space on an advertising campaign, "You Got It," featuring documentary-style TV commercials in which real customers go about their busy daily lives – and how the grocer can help them get stuff done.
"We wanted to connect directly with our customers in a meaningful way with this campaign —and to let them know that we really understand and care about them," explained Whitney Hardy, SVP and chief marketing officer of Quincy, Mass.-based Stop & Shop. "Our customers are at the core of the change that's underway at Stop & Shop. Everything we're doing, from our creative to new in-store features, is centered around making things easier for them so that they can enjoy what matters most."
While working on the campaign, C Space developed a tool it dubbed the "empathy engine," which encompasses a community of several hundred Stop & Shop customers available 24/7 to provide opinions and insight. Additionally, insights into the evolving needs of the supermarket chain's customers from a range of robust research – Stop & Shop's own findings as well as data from C Space – helped the grocer create the fresh new look and enhanced store format currently being piloted at 21 stores in the greater Hartford, Conn., area. Stop & Shop eventually plans to update all of its 400-plus stores, which are located across the Northeast.
"We believe that the customer experience encompasses everything — from in-store to ads," said Franco Bonadio, chief creative officer at C Space, based in Boston, London and Shanghai, with offices in New York, San Francisco and Mexico City. "Stop & Shop is forging an emotional connection with their customers by choosing to partner directly with them as opposed to advertising at them."
The campaign rolled out to TV, radio, online video and out-of-home on Oct. 5 in Connecticut, and on Oct. 8 in Massachusetts, Rhode Island and New York.
An Ahold Delhaize USA company, Stop & Shop employs more than 61,000 associates throughout Massachusetts, Connecticut, Rhode Island, New York and New Jersey. Ahold Delhaize USA is No. 4 on Progressive Grocer's 2018 Super 50 list of the top grocers in the United States.