Stop & Shop Aims to Raise $2.5M for Hungry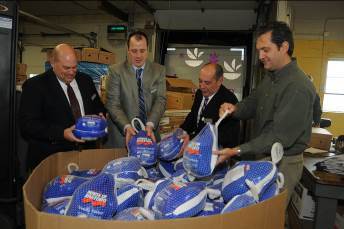 The Stop & Shop Supermarket Co. LLC has begun the holiday giving season by inviting customers to join in its goal of helping eradicate hunger across the Northeast. Stop & Shop intends to raise $2.5 million for needy families during the holidays through various ongoing hunger relief programs.
"As a food retailer, we aim to be a better neighbor all year long, and sharing meals with those in need is an important part of what we do," noted Joe Kelley, president of Stop & Shop New England, in Quincy, Mass. "For nearly 100 years, we've been providing fresh, healthy and affordable food to families."
"The holidays can be the hardest time of the year for families in need," added Don Sussman, president of Stop & Shop New York Metro division, in Purchase, N.Y. "Unfortunately, hunger never takes a holiday, but through our hunger relief efforts we can help put food on the table and make a difference for thousands in our communities this Thanksgiving and holiday season."
The banner's hunger relief initiatives are as follows:
"Food for Friends": Customers can donate $1, $3 or $5 at their neighborhood Stop & Shop to help support more than 300 local hunger relief organizations. The programs deliver 100 percent of the dollars raised to the organizations, with 60 percent allocated directly to local food pantries and 40 percent going to regional food banks.
Trimmings Boxes: Shoppers can buy $10 "Trimmings Boxes" at local Stop & Shop stores, consisting of such nonperishable items as cranberry sauce, stuffing mix and cut green beans earmarked for hunger relief organizations. The program's goal is to sell all 58,000 boxes before year's end.
"Turkey Express": The grocer annually donates more than 21,000 turkeys to hunger relief organizations across the Northeast during the holidays. This year's program (above left) launched in New England on Sunday, Oct. 27, with the donation of 1,000 turkeys to Foodshare, in East Hartford, Conn., and will begin in the New York metropolitan area on Tuesday, Nov. 12, with the donation of 1,500 turkeys to the Food Bank of Monmouth & Ocean Counties, in Neptune Township, N.J.
In related news, Stop & Shop locations in Connecticut, Massachusetts and Rhode Island last month hosted the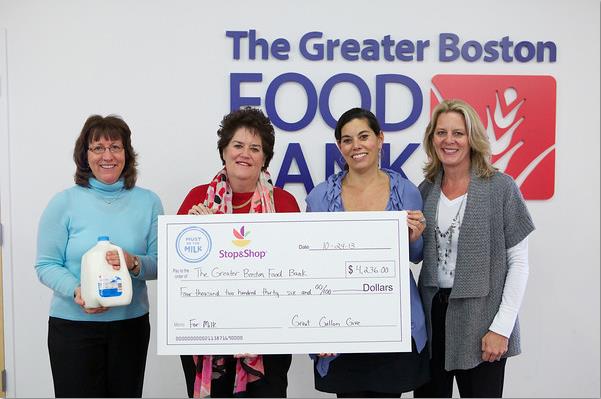 "Great Gallon Give," which encouraged customers to donate $4, roughly the price of a gallon of milk, to area needy families through food banks in each state. A total of $10, 296 is being divided among food bank recipients, including the Greater Boston Food Bank (right).
"The Great Gallon Give is an important way for Stop & Shop to give back to the community," said Judi Palmer, Stop & Shop's director of marketing and external communication. "This program helps put milk on the table for families in need."
According to the Boston-based New England Dairy Promotion Board, fresh milk and dairy products make up less than 5 percent of American food bank inventories, but are highly sought after by food bank clients.
An Ahold company, Stop & Shop employs about 60,000 associates and operates 400 stores in Massachusetts, Connecticut, Rhode Island, New York and New Jersey.