Stater Bros. CEO Wins Patriot Award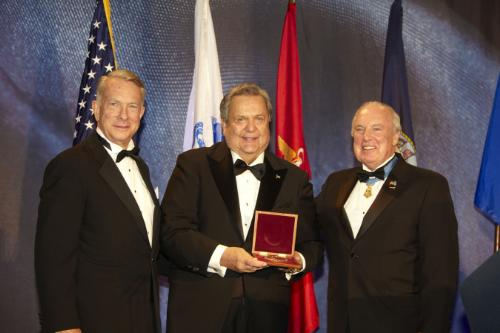 Born on Flag Day, Stater Bros. Chairman and CEO Jack H. Brown is being honored for living his life in a manner that personifies patriotism, courage and service to others.
Brown was presented with the prestigious Patriot Award, the highest award bestowed upon an individual by the Congressional Medal of Honor Society. Brown received the award in a Feb. 26 ceremony at the Ronald Reagan Presidential Library in Simi Valley, Calif., during a ceremony attended by 45 Medal of Honor recipients and more than 750 other guests.
A Navy Veteran, Brown served with the Pacific Fleet aboard the U.S.S. Interceptor and the U.S.S. General J.C. Breckinridge. Following his honorable discharge in 1962, he quickly rose through the ranks of the supermarket industry and has been at the helm of Stater Bros. for more than 30 years.
Under Brown's leadership, Stater Bros. has established a long history of support for the armed forces. Stater Bros. was the first to announce protection for the jobs of its 200-plus employees who have been called to active duty, by continuing to pay their weekly wages minus military pay, as well as the medical, dental and vision benefits for their families. Stater Bros. also provides continuous support to the Riverside National Cemetery and was a sponsor of both the National Medal of Honor Memorial and the POW/MIA Memorial at this cemetery in Riverside, Calif.
In 2008, Brown spearheaded the creation of Stater Bros. Charities, which since its founding has donated more than $4 million to support the most critical needs in Southern California communities. This is in addition to the more than 3 million pounds of food donated by Stater Bros. markets each year.
Brown is founding chairman of the Children's Fund of San Bernardino County, a public/private agency devoted to protecting abused and at-risk children. In addition, Brown and Stater Bros. were recently honored by the state of California for the company's environmentally friendly programs, including a campaign that raised $1.2 million to preserve California's state parks.
Past recipients of the Patriot Award include Bob Hope, Jimmy Stewart, Will Rogers and presidents Ronald Reagan and George H. W. Bush, among others.
Stater Bros. is the largest privately owned supermarket chain in Southern California, operating 167 stores and employing more than 18,000 people.