St. Louis Grocery Seeks Historic Designation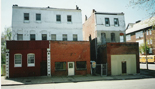 Relatives of a former St. Louis grocer are pursuing a historic designation toward the restoration of their grandmother's store, which served her neighborhood for 40 years.
The Tillie's Corner Historical Project aims to preserve and renovate the property at 1345-55 N. Garrison Ave. in St. Louis' Jeff-Vander-Lou neighborhood. Lillie V. Pearson, known as Miss Tillie, owned and operated Tillie's Food Shop at this location from 1948 to 1988. "She left a great legacy of black female entrepreneurship and informal community activism during the 40 years in which she served her community," said her granddaughter, Carla P. Alexander, who's leading the effort with her husband, Miguel.
Since Pearson's death in 2006 at age 91, the property has become the subject of an ongoing research project by historians at St. Louis' Washington University, who set out to support the historic significance and integrity of Tillie's Corner, and get the property listed on the National Register of Historic Places to help generate funding for the renovation. The application for historic status has cleared local and state hurdles, and is awaiting federal review, with a decision expected by the end of the year.
Meanwhile, the buildings are deteriorating rapidly; areas of two buildings have collapsed within recent weeks. A contractor is advising on how much it will cost for partial demolition and to simultaneously stabilize, restore and rehab the buildings. The Alexanders are actively seeking financial support for the project, which has a nonprofit fiscal agent to accept all donations.