Spartan Stores Joins Mich. Oil Spill Cleanup Effort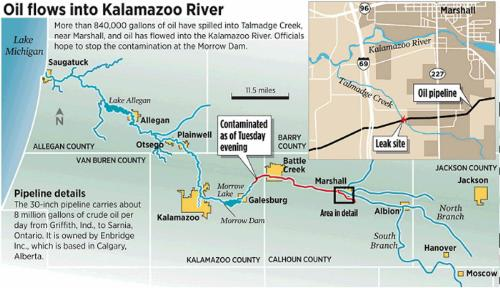 Grand Rapids, Mich.-based Spartan Stores, Inc. is providing supplies and volunteer labor to assist with the cleanup of the Kalamazoo River oil spill.
Employees from Spartan's Family Fare store in Marshall, Mich., working under the supervision of local veterinarians, are helping to clean animals covered in oil. The grocer also has donated dish soap, food and water to the cleanup effort, and has provided hot dogs, grills and extra volunteers to help feed the workers.
On July 26, a 30-inch oil pipeline in Marshall sprang a leak and released oil into Talmadge Creek, which feeds into the Kalamazoo River. The pipeline reportedly was shut down almost immediately after the leak's discovery, but not before more than 800,000 gallons had flowed into the creek. The underground pipeline moves crude oil northeast about 1,900 miles from Griffith, Ind., through Michigan to Sarnia, Ontario. The river flows into Lake Michigan at Saugatuck.
Federal and state officials are working around the clock to contain the spill, assess the damage and begin cleanup efforts, which include treating affected game and wildlife.
Superstore chain Meijer, based in Grand Rapids as well, has also pitched in, teaming up with the American Red Cross to assist with relief efforts, according to a posting on the company's Facebook page.
Spartan distributes more than 40,000 private label and national-brand products to 365 independent grocery stores in Michigan, Indiana and Ohio, and operates 97 retail supermarkets in Michigan, including Family Fare Supermarkets, Glen's Markets, D&W Fresh Markets, Felpausch Food Centers and VG's Food and Pharmacy.