Spam Marks 75 Years With New Spokescharacter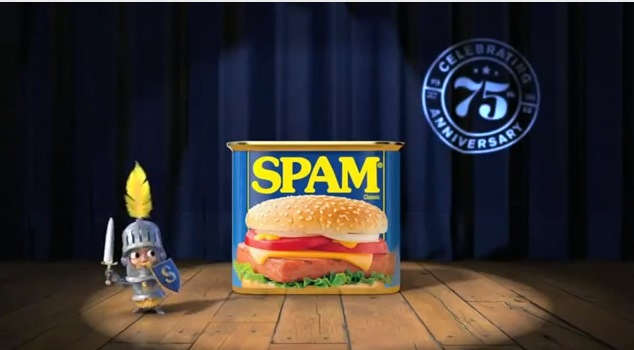 In celebration of 75 years of Spam, Hormel Foods, maker of the iconic meat product, has rolled out the brand's first-ever spokescharacter, whose mission is "to rescue the world from routine meals."
"The introduction of Sir Can-A-Lot provides an engaging presence that highlights the playful and down-to-earth personality that makes the Spam brand both unique and timeless," said Nicole L. Behne, product manager of Spam family of products at Austin, Minn.-based Hormel. "The campaign features him ridding not only mealtimes of boredom, but also helping consumers 'Break the Monotony.'"
Sir Can-A-Lot is brought to life via television spots, online banner ads, a redesigned website that helps fans break out of their humdrum routines by scrolling up rather than down, Facebook and Twitter activity, more recipe options, and games.
BBDO Minneapolis oversaw the creation of the TV and online advertisements, Laika House in Portland, Ore., produced the TV ads, and Proximity Minneapolis designed the website, with Proof Integrated Communications managing Web development.
Since Spam's actual birthday falls on July 5, Hormel will honor the community and home of the brand in Austin with a late-month festival. The brand will also bring Sir Can-A-Lot to New York to participate in ringing the closing bell at the New York Stock Exchange.