Snack Bites
Cascadia Adding Salty Snacks to Portfolio
Sales and marketing consultancy Cascadia Managing Brands, which works with such food and beverage brands as Evian, Snapple, PepsiCo, Nabisco, Nantucket Nectars, Carvel, Fresh Samantha (Odwalla), Naked Juice, The Switch and Clearly Canadian, is adding salty snacks in the form of the Gringo Jack's Flour Tortilla brand to its lineup.
"We have toyed around with the idea for a while," says Bill Sipper, managing partner at Ridgewood, N.J.-based Cascadia, "but when we tasted Gringo Jack's, we knew this was the right brand at the right time."
Cascadia notes that for the past several years, such beverage distributors as Big Geyser and Haralambos have begun offering salty snacks as well. "It is a natural fit because the distributors are already in these stores and increase the number of cases they can deliver to the same account at one time," said Sipper.
All-natural, vegetarian, small-batch-crafted Gringo Jack's Flour Tortilla Chips are made in Manchester, Vt., with non-GMO, expeller-pressed canola oil. The snack line comes in four flavors: Original Flour, Spiced, Whole Wheat, and Cinnamon and Brown Sugar.
1st Egg White Snack Chips Debut
Los Angeles-based Ips All Natural has introduced the first-ever egg white chip, hatched one morning as company founder Sean Olson made eggs with the extra-crispy edges his kids love. The product line's name not only rhymes with "chips," but also stands for "intelligent protein snacks."

The snack contains 7 grams of protein per 1-ounce serving – that's as much protein as two egg whites, with half the fat of fried potato chips and fewer carbs than baked chips.
"We created Ips for people who love to snack but want more than just empty calories – from discerning parents like me, who want healthier snacks for their kids, to active individuals who know that protein helps keep your body at its best," explains Olson. "Our new chips replace empty carbohydrates and fats with egg white protein, one of the highest-quality proteins there is. This is truly a smarter way to snack!"
Multiple studies suggest that eating more protein may help people feel full longer, eat less, gain lean muscle mass and lose weight.
In addition to being rich in protein, Ips contain no artificial colors, flavors, preservatives or GMO ingredients; are gluten free; and have zero trans fats. They're available in four varieties: Aged White Cheddar, Barbeque, Cinnamon Sugar and Sea Salt & Black Pepper at select retailers in the Los Angeles area.
The snack was sampled at the Natural Products Expo West in Anaheim, Calif., last month.

The Lighter Side of Cape Cod
Iconic New England snack brand Cape Cod has introduced 40% Less Fat Sea Salt & Cracked Pepper to its line of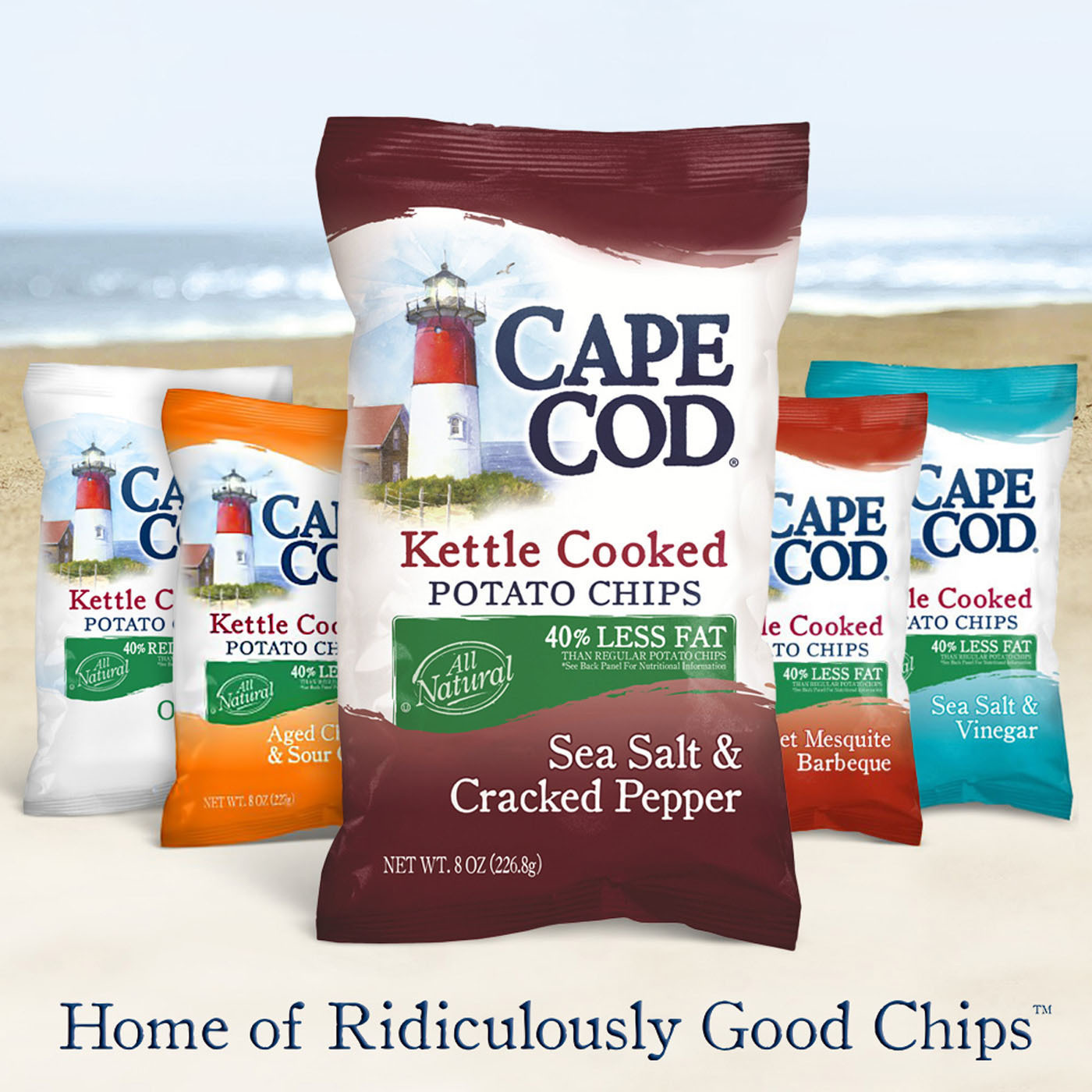 reduced-fat kettle-cooked chips. The small-batch-crafted kettle chip variety is made with real sea salt and a blend of peppercorns that includes a slightly sweet premium white pepper.
In common with the Hyannis, Mass.-based brand's other reduced-fat varieties, 40% Less Fat Sea Salt & Cracked Pepper chips are kettle-cooked in 100 percent canola oil with no trans fats, and contain no chemical additives or dehydrated potato flakes. The company's chips are made from fresh sliced potatoes, which are flash-baked and spun to remove excess oil, a natural method of lowering the fat content.
The other reduced-fat chip varieties from Cape Cod, a division of Charlotte, N.C.-based Snyder's-Lance Inc., are 40% Reduced Fat Original, 40% Less Fat Sea Salt & Vinegar, 40% Less Fat Sweet Mesquite Barbeque, and 40% Less Fat Aged Cheddar & Sour Cream. Cape Cod's additional snack offerings include six varieties of Original kettle-cooked potato chip flavors, as well as Waffle Cut and Chef's Recipe chip varieties. All of the brand's potato chips are all-natural and preservative-free.

GimMe Seaweed
Owned and operated by husband-and-wife food entrepreneurs Annie Chun and Steve Broad, Belvedere, Calif.-based GimMe Health Foods bowed its first two product lines, GimMe Organic Seaweed Snacks and GimMe Seaweed Crumbles, at the Winter Fancy Food Show in San Francisco in January, with products set to hit grocery store shelves nationwide this spring.
Available in Sea Salt and Sesame in single-serve and family sizes, the organic seaweed snacks contain just 25 calories per single-serve bag, while the roasted, seasoned all-natural crumbles are ready to sprinkle over rice, soup or salads; mix with popcorn; or eat right out of the bag; come in Cheddar Cheese, Honey Dijon and Sesame flavors; and have 100 calories per serving. All GimMe snacks are non-GMO, gluten free and, with the exception of Honey Dijon Crumbles and Cheddar Cheese Crumbles, vegan.
"Our seaweed is nature's perfect snack," says Chun, who, with Broad, founded Annie Chun's, the top Asian food brand in the United States, and sold it in 2008. "We cultivate it in the chilly waters of Jang Heung Bay, the region of Korea's Yellow Sea famous for producing the world's finest seaweed. It is sustainably grown, harvested with care, [and] then roasted and seasoned to perfection."
The name GimMe comes from Chun and Broad's daughter, Mia, playing on the fact that crispy seaweed is called "gim" in Korea and further explaining, "It's so good everyone always wants more!"
Seaweed offers the widest range of minerals of any food on earth, containing 10 to 20 times the mineral concentration of land plants, in addition to protein and fiber. Low-calorie seaweed is an excellent source of iodine and vitamin K, and a very good source of folate, magnesium, iron and calcium. It also contains measurable amounts of vitamins C and E, which aid in the absorption of other nutrients.

Trifecta Launches FlavorMAXX Snack Line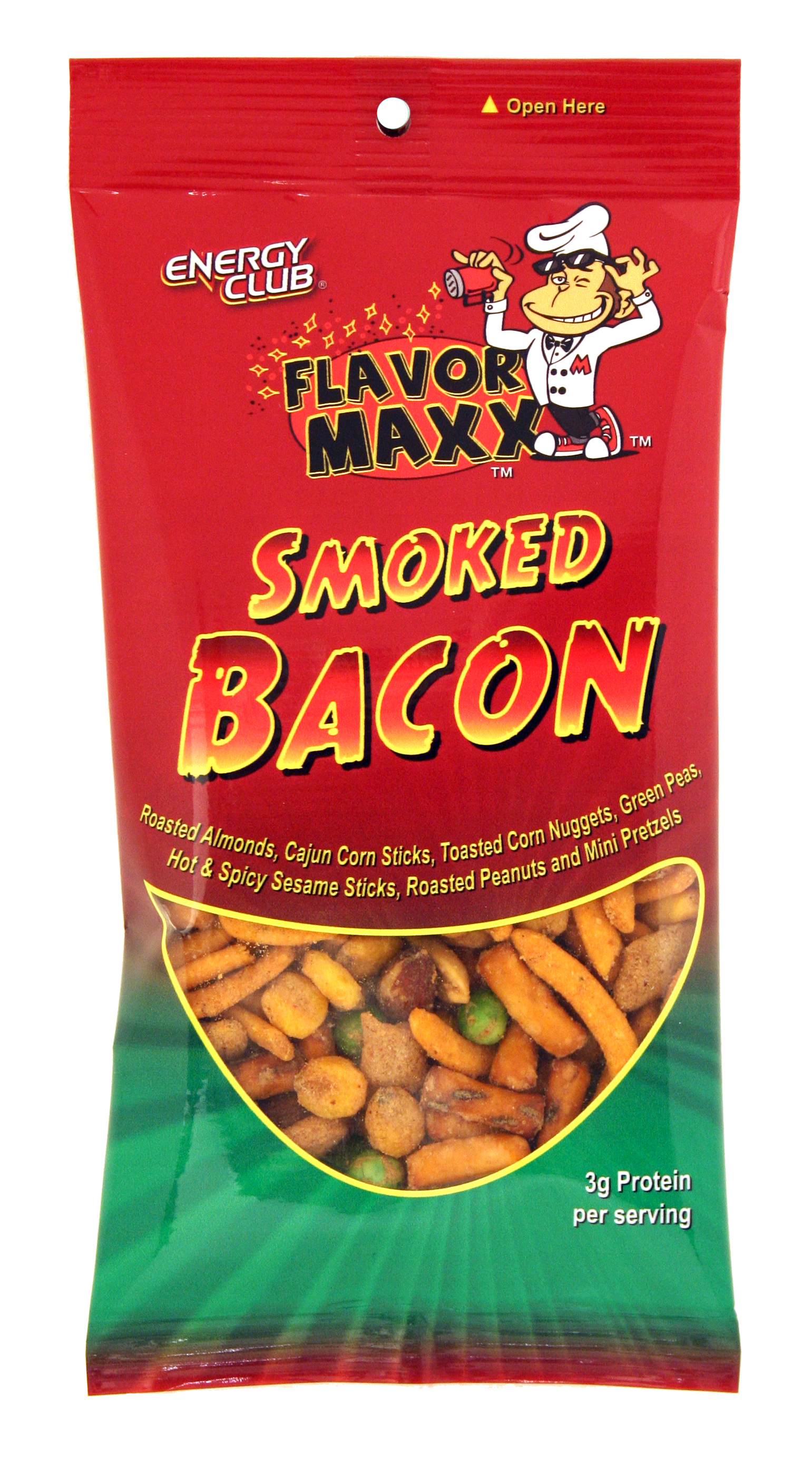 Trifecta Foods LLC has introduced FlavorMAXX, an innovative trail mix targeting the adventurous snacker.
"We wanted to create a fresh, fun and bold snack alternative that uses premium ingredients and flavors," explains Nick Desai, CEO of Pacoima, Calif.-based Trifecta. "We believe convenience doesn't have to mean bland, and we really pushed for that when creating flavors for our new line."
Rolled out to convenience stores, airports and the supermarket snack aisles in January of this year, the line features a mascot, Chef MAXX, who will star in the FlavorMaxx social media campaign set to launch this spring.
The sweet and savory line consists of Smoked Bacon (roasted almonds, corn sticks, toasted corn nuggets, green peas, hot and spicy sesame sticks, roasted peanuts, and mini pretzels); Greek Yogurt Rage (Greek yogurt-covered raisins, dried figs, dried apricots, whole natural almonds, peanuts and raisins); Wild Blueberry (wild blueberries, walnuts, cranberries, almonds, granola clusters, peanuts and raisins); Piña Colada (pineapples, shredded coconut, bananas, almonds, papaya, peanuts and raisins); Chocolate Mojo (chocolate buttons, raisins, peanuts and almonds); and Game Time Nacho (almonds, Cajun corn sticks, corn nuggets, green peas, hot and spicy sesame sticks, peanuts, and mini pretzels).

Risi Bows Chili-style Kettle Chips
 Well known in Mexico and Spain, the Risi brand has introduced slow-cooked kettle potato chips, or "papas caseras,"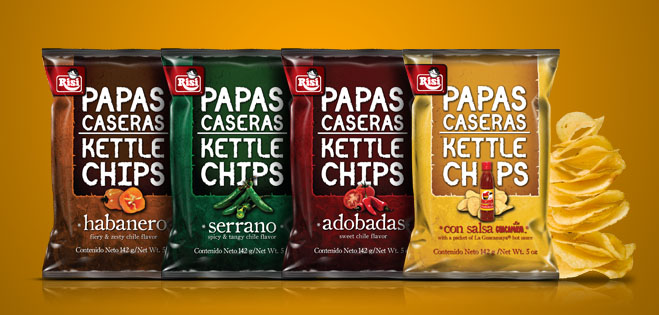 featuring indigenous chilies from Mexico in four sizzling varieties: Con Salsa, lightly salted and containing a packet of savory La Guacamaya hot sauce; Habanero, harboring the fiery flavor of one of hottest chilies on Earth; Adobadas, flavored with Mexico's famous red-chili marinade; and Serrano, offering that chili's distinctive tangy taste.
 A 5-ounce bag in bilingual packaging retails for a suggested $2.49.
Risi is a division of Irvine, Calif.-based Classic Foods Inc., which also makes Kettle Classics Potato Chips, Baked Classics Popped Crisps, Poptillas Popped Tortilla Chips and California Classics Shool Snacks.
Form and Function
PopCorners, manufactured by Freeport, N.Y.-based Medora Snacks LLC, is billed quite literally as "the new shape of popcorn," as President and COO Barry S. Renow explains. The product goes into a die and is popped in a form, leading to a snack that "holds like a chip but pops [in the mouth] like popcorn," Renow says, adding that the technology that creates the triangular chips is a "patented, proprietary piece of equipment others can't duplicate."
In addition to their unique shape, PopCorners are "better for you, but have the indulgent taste of a mainstream snack," VP National Sales Rick Fishman points out. In the recent past, he observes, most regular consumers didn't care for better-for-you snacks, which at that time tasted like "packing material," he admits. By contrast, popcorn, a perennial between-meal favorite, "lends itself to almost any kind of snack [and] goes across all lines of snacking, from weight management to indulgence," he notes.
"We're interested in having a taste for everyone," adds Fishman, and as a result of this close attention to flavor, PopCorners has so far seen "phenomenal responses" from retailers and consumers alike, he asserts.
In fact, Fishman credits the company's success in more than 30 countries primarily to enthusiastic word of mouth. When interviewed by Progressive Grocer, he was finalizing distribution deals in Australia and other, as yet unrevealed, locales, and the product can also currently be found in such nations as Japan, Canada, Aruba, Trinidad & Tobago, Spain, Israel, Lebanon, Mexico, and Panama.