ShopRite to Serve as 2014 Special Olympics Partner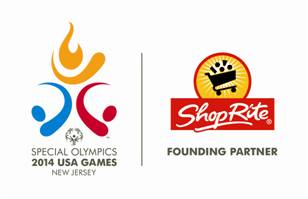 ShopRite has signed on as a founding partner for the 2014 Special Olympics USA Games, scheduled for June 14-21, 2014, in the supermarket banner's home state of New Jersey. The news was made public May 30 during the ShopRite LPGA Classic at the Stockton Seaview Hotel & Golf Club in Galloway, N.J. by Marc Edenzon, 2014 USA Games consultant and president of Special Olympics New Jersey and ShopRite executives.
Nearly 3,500 athletes will travel to the Garden State for the 2014 Special Olympics USA Games to compete in 16 Olympic-style team and individual sports, supported by 1,000 coaches, 10,000 volunteers and an anticipated 70,000 spectators. The games will be held throughout New Jersey's Mercer County, including competitions at Princeton University, Rider University, The College of New Jersey and Mercer County Park, with the opening ceremonies slated to take place at the Prudential Center in Newark.
As the Official Supermarket of the games, ShopRite will provide daily lunches, snacks and beverages for the athletes and volunteers, as well as all floral arrangements for the various receptions and special events for the duration of the event. The grocery chain will additionally include the 2014 USA Games in many of its promotional efforts over the coming year, among them broadcast recognition, outdoor signage and in-store exposure.
"ShopRite has been a longtime supporter of Special Olympics New Jersey and was one of the first companies to indicate their support of our bid for the 2014 USA Games," said 2014 Special Olympics USA Games chairman and CEO TJ Nelligan. "Along with the donation of all the food and beverage for the athletes and volunteers, the promotional recognition ShopRite is offering is tremendous and will really help showcase the games to a broader audience."
Pointing out that the partnership was particularly meaningful in light of the 2014 games' taking place in  New Jersey, Joseph Colalillo, chairman and CEO of Keasbey, N.J.-based retail cooperative Wakefern Food Corp., noted: "ShopRite has been a proud supporter of Special Olympics for nearly 30 years through the sponsorship of Special Olympics New Jersey Summer and Winter Games. Year after year, we are inspired by the athletes' determination, enthusiasm and sportsmanship."
With nearly 250 supermarkets located throughout New Jersey, New York, Pennsylvania, Connecticut, Delaware and Maryland, ShopRite serves more than 5 million customers each week.