09/19/2018
Shoppers Want Deals, Coupons for Groceries More Than Any Other Category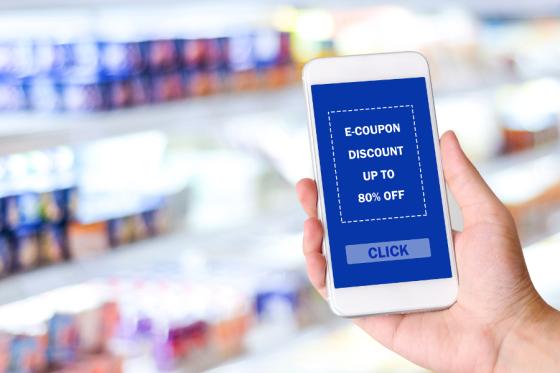 Groceries are the top category for deal- and coupon-finding, with the vast majority of shoppers interested in coupons, coupons codes and deals when purchasing groceries, according to new research from shopper marketing company Valassis.
The 2018 Purse String Survey reveals that 93 percent of respondents show interest in coupons and deals. Some 82 percent typically use coupons for their routine, weekly grocery shopping trips, and nearly half (47 percent) do so for fill-in trips, as well.
But there's also a major opportunity for online grocers, according to the research. Grocery ecommerce adoption is on the rise, with 13 percent of respondents saying they are buying more groceries online for delivery compared to last year, and 12 percent saying the same for click-and-collect. Delivery numbers rise even higher for dads and Hispanics, while click-and-collect numbers rise for Millennials and Millennial parents.
Nearly half (48 percent) of respondents and seven in 10 Millennial parents agreed that they'd more likely grocery shop online if they could use more coupons.
"Consumers have more options than ever before when it comes to how they purchase groceries," said Curtis Tingle, chief marketing officer at Livonia, Mich.-based Valassis. "Whether they shop online, in-store, use a delivery or pick-up service or prepare meal kits at home, it's critical for grocery retailers to consider shopper preferences. Consumers want deals, convenience and a personalized experience. Grocers who can deliver on these increasing customer demands will win them over and gain their loyalty."
The Valassis report also says that:
Some 57 percent of consumers said grocery item availability makes them more likely to choose brick-and-mortar over online, perhaps due to selection and the ability to satisfy an immediate need
More than a third (36 percent) of all respondents and half (52 percent) of Millennial parents would be interested in trying a grocer's meal kit if the product was offered in a nearby store
The majority (82 percent) of respondents said they'd be more interested in trying a meal kit from a grocer if a coupon was offered
Some 83 percent of respondents said they'd be more likely to buy from a grocer that offers personalized offers or discounts in its loyalty program
Shoppers want security: 58 percent said they would shop a grocer that safeguards their privacy and personal information
Consistency counts: 54 percent of respondents said they'd shop a grocer if it offers a consistent experience no matter where or how they interact with it