Shoppers Still Opt for Physical Grocery Stores Over Digital: Survey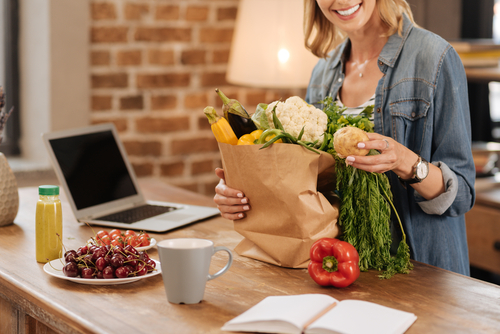 Although they now have a range of grocery-buying options, consumers continue to go to brick-and-mortar supermarkets to buy food, according to The State of Grocery Shopping survey from the New York-based International Council of Shopping Centers (ICSC). The survey found that 99 percent of adults purchased some or all of their groceries in physical stores.
The main reasons cited for in-person visits included immediate access to products (71 percent), the ability to choose fresh meat, dairy and produce (70 percent), and the opportunity to view product options and select all other items in person (69 percent).
Millennial Shopping Habits
"The grocery sector remains relatively unimpacted by the growth in ecommerce sales," said ICSC President and CEO Tom McGee. "Consumers are heavily invested in the types of food they purchase, and they want to be able to select the best and the freshest to take home."
One particularly interesting survey finding was that grocery shopping for Millennials diverged from that of older generations in such ways as the following:
They shopped at 5.9 types of grocery stores, slightly above the average

Almost one out of four Millennials (23 percent) shopped three or more times a week for groceries

Even when they ordered online, 81 percent of Millennials went to pick up their grocery orders in person

A significantly higher number bought groceries from convenience stores (74 percent), Amazon/other pure online retailers (67 percent) and high-end supermarkets (66 percent)
"Millennials have been called the foodie generation, and blend that with their command of technology, and we see some changes in grocery-purchasing behaviors, which will drive all grocery retailers to make appropriate modifications in their business model to address the way they shop," noted McGee. "The grocery retailer who wins their share of wallet is the one who delivers an omnichannel experience that meets their desires and demands."
Click-and-collect Rules
The survey also found that nearly three out of four grocery shoppers made purchases online (74 percent) and then picked up their orders in store. Just 1 percent of consumers bought their groceries online exclusively and never went to a store to buy groceries.
Further, more than four out of 10 consumers (44 percent) had their grocery purchases delivered to their homes, and more than one-third (36 percent) had items shipped by mail or courier service to their homes. Fifty-four percent of the high-end supermarket shoppers who ordered online had the groceries delivered to their homes — the highest of any type of online grocery shopper.
Loyalty on the Wane
In the area of shopping behaviors, consumers on average shopped at 5.4 types of grocery retailers, with 93 percent of people visiting discount department stores such as Walmart and Target, and 92 percent going to traditional supermarkets. Lagging behind these two retail channels, a little more than two-thirds of consumers shopped at limited-assortment food stores like Aldi and Trader Joe's, and at warehouse clubs (tied at 69 percent).
Of the grocery-store formats, traditional supermarkets saw the most frequent visitors, with 55 percent making purchases at least once per week. The largest shares of infrequent shoppers bought occasionally -- every few months -- from small specialty/gourmet food stores (76 percent) and high-end supermarkets (65 percent).
The ICSC State of Grocery Shopping survey was conducted online Aug. 21-23 by Princeton, N.J.-based Opinion Research Corp. on behalf of ICSC. The survey represented a demographically representative sample of 1,012 U.S. adults 18 years of age and older.