Salvation Army Bell Ringers to Try for World Record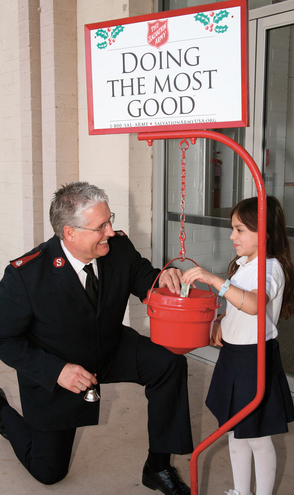 Salvation Army volunteer bell ringers in cities across the United States will compete to set a world record for the longest continuous hand bell ringing by an individual. Beginning on Thursday, Dec. 15 at noon Eastern Time, the contestants will seek to raise awareness for charitable organization's 120th Red Kettle Campaign to raise funds for people in need.
Bell ringers will set an official Salvation Army record for 2011 when they exceed the 36-hour record set in 2010, with many hoping to keep ringing for as long as 60 hours.
"The world record attempt is a truly unified effort by The Salvation Army to raise awareness of the Red Kettle Campaign and encourage Americans to ring a bell or give this Christmas to help their neighbor," noted Major George Hood, national community relations secretary for The Salvation Army in Alexandria, Va. "For the past several years, we've seen increased demand for assistance due to the recession, and we hope this sacrifice by our volunteers will inspire others to dig deep."
Bell ringers from coast to coast, as well as in Alaska and Hawaii, will include Salvation Army officers, staff and community members at destinations of their choosing. Among the rules for participants is that they must stand the entire time; they may not eat; they may drink hydration products only such as water, Gatorade or juice; they must ring a bell at all times; and they may use a restroom only once every four hours during10-minute breaks.
A previous benchmark was established in 2010 by Salvation Army Captain Kyle Smith in Spokane, Wash., who stood outside ringing a bell for 36 hours with no food or sleep. Smith is also taking part in thsi year's competition.
"This is an exciting challenge that not only tests participants, but also challenges the American public to support people in need," said Hood. "Each bell ringer has already become a part of something big, that will have a lasting impact in their local communities," said Major Hood.
Among the retail locations where bell ringers will be stationed are Walmart, Foods Co., Coborn's and Schnucks stores.
The longest-running fundraiser of its kind, the Red Kettle Campaign was started as a fundraiser by Salvation Army Captain Joseph McFee in San Francisco in 1891. In 2010, the campaign collected more than $142 million nationwide, a new record that helped the organization serve 30 million people in communities where the money was raised.