Rouses Markets Creates Sustainable Aeroponic Rooftop Garden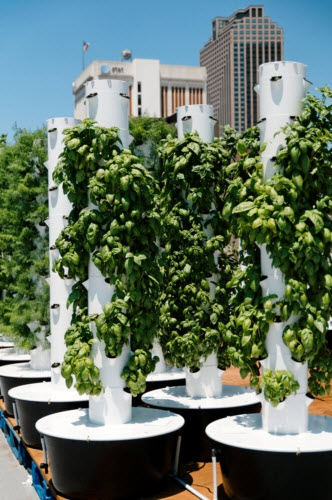 For Rouses Market, local sourcing of parsley, basil and cilantro and other herbs sold in its stores means a trip to the roof of its downtown New Orleans store, where the grocer has develop what it calls the country's first sustainable aeroponic rooftop garden.
"The flat rooftop on this store is perfect for urban farming, and the view of downtown is postcard-perfect," said managing partner Donny Rouse. "I imagine we will do a lot of dinners up here on the farm."
Rouses Markets downtown store sits just blocks from the Superdome, French Quarter, and Mississippi River.
The vertical aeroponic Tower Garden uses water rather than soil, and allows you to grow upwards instead of out. It was developed by a former Disney greenhouse manager, and is used at Disney, the Chicago O'Hare Airport Eco-Farm and on the Manhattan rooftop of Bell Book & Candle restaurant.
"This is very cutting edge for urban farming," said Rouse. His company has aptly named the farm Roots on the Rooftop.
Chef Louis "Jack" Treuting, Rouses Culinary Director, first saw Roots on the Rooftop as a way to provide fresh herbs for the food Rouses chefs prepare, but quickly saw potential to expand the program to include retail. "I knew if our chefs wanted it, so would our customers," said Treuting, who worked with New Orleans-based A.M.P.S. (www.ampsnola.com) on the Rouses system. "Aeroponics makes sense for the space. It is lighter than soil-based operations, and the towers recycle water and liquid nutrients through their own reservoirs, so they're sustainable."
Roots on the Rooftop will officially launch on May 31st, one day before New Orleans kicks off its second annual Eat Local Challenge (www.nolalocavore.org). "The locavore challenge is to eat food grown within a 200 mile radius," said Rouse. "In our case, we're growing herbs less than 100 feet from our store."
While this is Rouses Markets first foray into urban gardening, the company's roots are planted in the local produce business. Anthony J. Rouse grew up working for his father's produce shipping company, City Produce, before opening his first grocery store in 1960. "My grandfather was a farmer at heart," said Rouse. "He would have loved everything about this."
New Orleans-based Rouses Markets operates 38 locations in two states.