Retired Wakefern Associate Named Goodwill Volunteer of the Year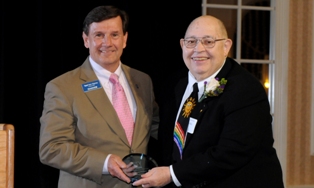 Jean Pillet, a retired Wakefern Food Corp. associate from Magnolia, Del., has been named the 2010 Volunteer of the Year by Goodwill of Delaware and Delaware County. Jean (on the right in the accompanying photo) accepted his award from Ted Van Name, president and CEO of Goodwill of Delaware and Delaware County.
After retiring from the Keasbey, N.J.-based retail cooperative in 1998, Pillet played a key role in developing such supermarket careers programs as the Goodwill ShopRite cashier training initiative. He also regularly holds a food systems-related workshop for students in the training program, attends graduation ceremonies at Goodwill to offer words of encouragement to program participants, and acts as a mentor them as they enter the food industry.
Last year, Goodwill of Delaware and Delaware County provided nearly 11,000 services to individuals throughout the region.