Retailers, Trading Partners Raise $400K for Produce for Kids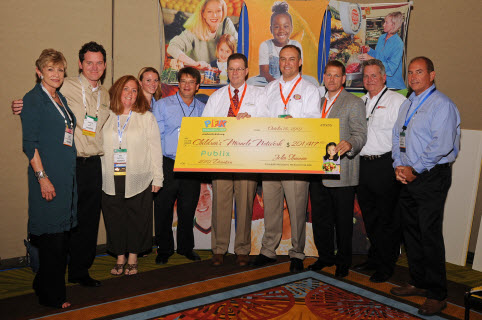 Produce for Kids' (PFK) 2010 spring campaign benefiting Children's Miracle Network hospitals raised $399,942, bringing the total amount the charitable effort has raised for children's hospitals across the United States to more than $2.5 million.
The spring campaign included six retailers: Acme Markets; Meijer, Inc.; Giant Food Stores' Carlisle, Pa., division; Price Chopper; Publix Super Markets; and Kroger's Southwest Division. For the third year in a row, Supervalu will also be contributing a donation to Children's Miracle Network through its annual golf tournament in November.
PFK is currently completing its annual fall campaign, "Eat Smart for a Great Start," to benefit PBS KIDS, with four retailers representing more than 1,500 grocery stores in 20 states. The participating retailers are Price Chopper, Giant Food Stores, Meijer and Publix.
From now through the end of October, 28 participating fruit and vegetable suppliers will make a donation to PBS KIDS based on sales of fresh produce items at participating retailers' stores. In the three years since the start of the partnership with PBS, Orlando, Fla.-based PFK has donated more than $450,000 to support health education initiatives for kids, parents and teachers.
"We're proud of the strong support we have received from our partner retailers and sponsors," said John Shuman, PFK founder and president. "We continue to add value with our innovative, promotional campaigns while raising funds to benefit kids. We appreciate everyone who has supported our mission to date, which has resulted in PFK reaching millions of people through our national campaigns and comprehensive outreach efforts."
For more information, visit www.produceforkids.org.