Retailers Can Benefit From Produce Snacking Trend: Report
Get great content like this right in your inbox.
Subscribe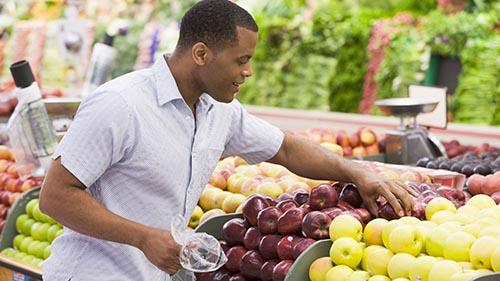 With the produce department experiencing a second straight quarter of lower sales, retailers can leverage such trends as the growing popularity of snacking on produce to better meet evolving consumer needs, according the United Fresh Produce Association's Q2 2017 "FreshFacts on Retail" report.
"Everyone snacks, so naturally the topic of snacking has reached all corners of retail stores," The report said. "Produce plays an important role in the snacking trend. On-the-go produce snacking is a $1.1 billion industry, with healthy growth each of the past five years as the ultimate bridge of convenience and health. It's also an area where retailers can differentiate themselves from the competition."
"FreshFacts" found that sales in the category were up 5 percent from just a year ago, and that the segment overindexes with families, younger generations and multicultural households.
Snacking fruit claimed the largest dollar share by far, at 44 percent, while fresh smoothies and snacking vegetables made respectable showings, at 27 percent and 17 percent, respectively. Bringing up the rear were dried fruit/nut snack mixes, at 7 percent, and fruit cups, at 5 percent.
"Consumers are seeking healthy options, and produce departments are seeing competition for dollar share as healthy snack options are featured in all corners of the retail store," noted Jeff Oberman, United Fresh VP of trade relations and the Washington, D.C.-based organization's retail-foodservice board liaison. "However, there is great potential for produce companies to find success in cross-merchandising and partnerships with other food companies to maintain a presence with the consumer across the store, which will help retailers continue to fresh produce sales success."
The quarterly report also offers seasonal category deep dives on apples, potatoes and lettuce, as well as a look at value-added fruits and vegetables, which experienced a decline in sales for the first time, due to "consistently high prices," and a spotlight on organic produce, which, "FreshFacts" found, accounts for 10 percent of all produce sales – reaching double digits for the first time – continues to experience strong growth and still has room to grow.
Produced in partnership with Nielsen Fresh and featuring input and direction from the United Fresh retail-foodservice board of directors, "FreshFacts on Retail" gauges retail price and sales trends for the top 10 fruit and vegetable commodities, in addition to other value-added produce categories. The report is sponsored by Del Monte Fresh Produce.