Project Housing 1st DC Wegmans Gets Underway
Get great content like this right in your inbox.
Subscribe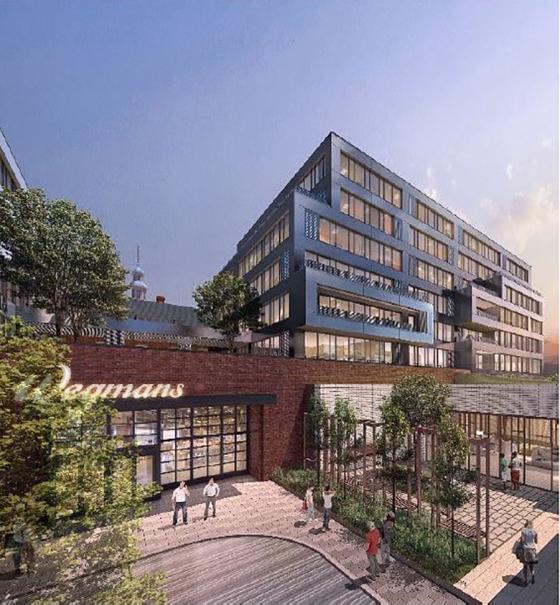 The $640 million mixed-use development that will feature Wegmans Food Markets' first-ever Washington, D.C., store will officially break ground on Dec. 1, according to the project's joint venture partners, Roadside Development and North America Sekisui House LLC (NASH).
The partners also revealed the new name of what used to be the headquarters of the Federal National Mortgage Association, commonly known as Fannie Mae: City Ridge.
Wegmans' 86,000-square-foot store will showcase the grocer's new urban concept format. As the primary retail anchor for the project, the store will be located at the lowest level of the Fannie Mae's former headquarters building. To accommodate the new supermarket, the building will be held up by micropiles while its existing basement is excavated 8 feet.
"We've received numerous requests for a store in the District ever since we expanded into northern Virginia and Maryland more than a decade ago," said Ralph Uttaro, SVP of real estate at Rochester, N.Y.-based Wegmans. "We're eager to serve this vibrant community with the best ingredients, restaurant-quality prepared foods, consistent low prices and incredible customer service." 
Fannie Mae moved its headquarters this month to Midtown Center, a new complex at 1100 15th St. NW in Washington, clearing the way for the groundbreaking, according to Washington Business Journal.
 "In a city full of architectural history, we are building City Ridge at one of the district's most storied sites," noted Richard Lake, principal of Washington-based Roadside Development. "The name City Ridge not only reflects the site's geographical location at one of the highest points in the city, but brings to mind the aesthetic that makes this area of D.C. so special: It's where the city meets nature. City Ridge will be a neighborhood that looks to the future while respecting its key architectural elements."
 The 10-acre site, located at 3900 Wisconsin Avenue NW, will comprise 687 residential units, 100,000 square feet of office space in the historic Fannie Mae building, 153,000 square feet of retail space, 62,000 square feet of new office space, 750-plus parking spaces, and a considerable amount of programmed open space.
Wegmans first revealed that it would expand to the District of Columbia in May 2017, with plans to open a store there in 2021, a spokeswoman for the project developers told Progressive Grocer last year. The company is No. 14 on PG's 2018 Super 50 list of the top grocers in the United States.