Post-Irma, Grocers Restock Shelves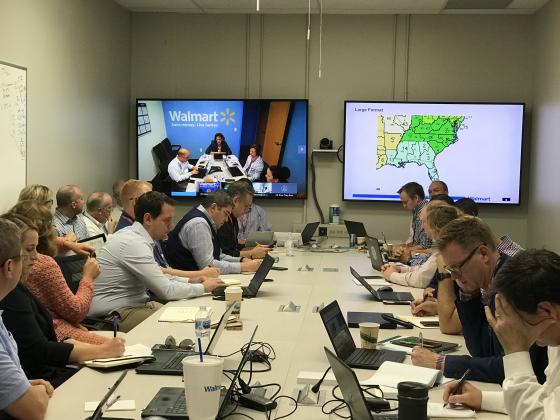 Grocery retailers with stores in the southeastern U.S. continue to assess damages brought on by Hurricane Irma, with many chains gradually opening up stores and restocking shelves this week.
An estimated 10 million people are still without power in Florida, Georgia and the Carolinas following the mammoth storm's wrath on Sunday and Monday.
Meanwhile, companies are stepping up their charitable contributions to help with relief efforts while allowing their shoppers to make donations. In the largest pledge to date, Bentonville, Ark.-based Walmart is committing up to $10 million in additional support for 2017 U.S. hurricane relief efforts. This brings the total committed by Walmart to hurricane relief efforts this year up to $30 million, building on the support provided in response to Hurricane Harvey that hit Houston and the Gulf coast 2½ weeks ago. The retailer will match customer donations two to one with cash and product donations of up to $10 million to support American Red Cross disaster-response efforts.
Lakeland, Fla.-based regional grocery chain Publix, whose brand is synonymous with Florida, is also collecting donations for the American Red Cross Irma relief efforts. Its Publix Super Markets Charities is donating $1 million to the American Red Cross and United Way.
"Our Publix family has been severely affected by this storm, but helping our associates, customers and communities is fundamental to who we are," Maria Brous, director of media and community relations, said in a statement. "We will rebuild together and support each other in the coming weeks and months."
Publix and other retailers with stores in Florida and adjoining states affected by the storm have continued to post store closing and opening information on their websites, to keep associates and shoppers updated on when to expect store reopenings. At press time, Publix had not determined when it would be opening a number of stores in Florida, as well as several sites in Georgia, which was also impacted by the wind and rain of Irma, as it weakened to a tropical depression on Monday.
Among other retailers that are pitching in for hurricane relief efforts is St. Louis-based Schnuck Markets, which is extending its Scan & Give campaign through this Friday at all 100 stores to support the American Red Cross. At checkout, Schnucks customers have the option to add a $1, $5 or $10 donation to their bill, with 100 percent going to the American Red Cross and benefiting relief funds for Hurricane Irma and Hurricane Harvey.
Sunbury, Pa.-based Weis Markets is making a corporate donation of $27,000 to the American Red Cross for hurricane relief efforts, to supplement customer donations of $223,000 raised for Hurricane Harvey.
Storm's Unpredictability
One of the biggest challenges for retailers with any hurricane is not knowing with absolute certainty what path the storm will take. In Hurricane Irma's case, the storm shifted course at the last minute and ended up making a greater impact on the southwestern section of Florida than expected.
Brittain Ladd, a strategy consultant who worked on global expansion for AmazonFresh, told CNBC in an interview earlier this week that one of the problems for grocery retailers is that they have "a mix of stores ... some are heavily damaged, and other stores [don't] suffer any damage but are completely clean of product from their shelves.
"Natural disasters upset the equilibrium within the grocers' supply chain," Ladd continued. Retailers typically experience a "rush" of shopping before a major storm hits, followed by a period of reassessment and figuring out which stores will need inventory most, he noted.
Even Amazon, a company known for its supply chain prowess, apparently couldn't keep up with its online demand prior to the storm. A Georgia consumer complained in a Facebook post earlier this week: "Don't count on Amazon Fresh for your storm food supplies. I ordered water, bread and powdered milk on Friday for Sunday delivery, and on 8 p.m. Sunday evening, Amazon cancelled the entire delivery. I was in the grocery store earlier that day and could've bought something."
Eye On Prices
One lasting impact of Hurricane Irma will be an increase in prices for fresh foods grown in Florida, namely oranges and tomatoes. An article published today in USA Today notes that area vegetable growers typically begin harvesting by mid-October, and many look forward to the Thanksgiving season as one of their most lucrative times of the year.
"We'll be lucky to hit the Christmas market this year," Gene McAvoy, a multicounty vegetable agent with the University of Florida/Institute of Food and Agricultural Sciences, told the newspaper.