PMA Hires VP of Food Safety and Technology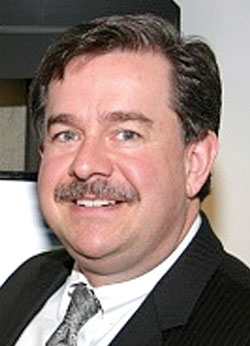 Produce Marketing Association (PMA) has named Dr. Jim Gorny to the new position of VP of food safety and technology, effective May 1. In his new role, Gorny (left) will bolster PMA's initiatives to increase member value in the areas of science and technology, including food safety research, biotechnology, agricultural innovations, process and packaging technology, and environmental sustainability. Additionally, he will remain in his longtime position with the Center for Produce Safety (CPS) at the University of California at Davis.
"Since 2008, PMA has been investing resources in the area of science and technology as part of a long-term strategy to provide members with essential value as the industry's needs continue to evolve," said Jan DeLyser, VP of marketing for the California Avocado Commission in Irvine and chairman of PMA's board of directors. "Jim's passion and industry expertise complements and further strengthens our dynamic, talented, and highly respected staff team – and his hiring comes at a time when PMA's role of informing and educating diverse audiences, including regulators and researchers, has become increasingly important."
Continued DeLyser: "Jim's established relationship with CPS from his days as the executive director of the Postharvest Technology Research and Information Center at the University of California, Davis, also adds to PMA's continuing commitment to CPS. Not only has PMA contributed $3 million to CPS over the last six years, but also much of the time of our Chief Science and Technology Officer, Dr. Bob Whitaker, who has provided crucial leadership to CPS as chair of its technical committee, the committee responsible for directing all critical research activities."
Besides Whitaker and Gorny, the PMA science and technology team also includes Johnna Hepner, director of food safety, and Ed Treacy, VP of supply chain efficiencies. Reporting to Whitaker, Gorny will undergo an initial orientation phase at PMA's headquarters in Newark, Del., and then return to California.
"Jim's addition to the team is another step in an ongoing effort to respond to the needs of our members with the creation of relevant value," noted Whitaker. "This is another part of PMA's educational focus, not only in food safety, but in science and technology. It also connects directly to our strategic initiatives to develop industry talent and globalize PMA's science and technology practice. Jim, by nature, is an educator and scientist, making him a natural fit to fulfill this role."
Most recently, Gorny was senior adviser for the Office of Food Safety at the U.S. Food and Drug Administration (FDA) in which he guided staff on policies and programs affecting the safety of fresh produce. Before joining FDA, he was the executive director of the Postharvest Technology Research and Information Center and also SVP of food safety and technology for the United Fresh Produce Association/International Fresh-Cut Produce Association, which merged in 2006.
In other PMA news, the trade association, as a member of the National Fruit and Vegetable Alliance (NFVA), has allocated the first installment of its $100,000 contribution and additional funds donated by member leaders, to the "Let's Move Salad Bars to Schools" initiative, which aims to combat childhood obesity.
The initial installment will go to 10 California schools in the Anderson Valley Unified, Cupertino Union Elementary, Hemet Unified and Inglewood Unified districts. The schools' selection was based on long-time need and made in conjunction with the "Let's Move Salad Bars to California Schools" campaign organized by the United Fresh Produce Association and Fresh Produce and Floral Council, which seeks to place 350 salad bars in California schools by May 15. A salad bar presentation will take place at the United Convention in San Diego on that date.
PMA will allocate the remainder of the funds throughout the rest of 2013, with specific locations still to be determined.