PMA Goes to Washington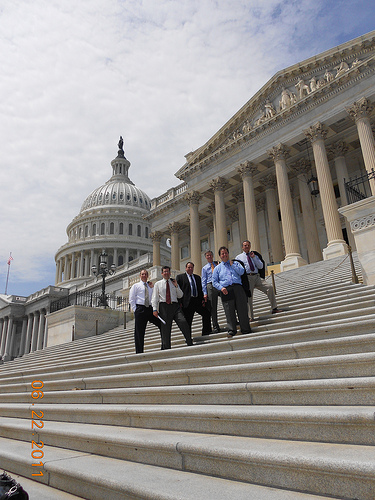 For the first time in its history, the Produce Marketing Association's (PMA) board of directors and volunteer leaders from the organization's government affairs, supply chain efficiencies, and produce science, safety, and technology committees gathered in the nation's capital last week to share their industry expertise with legislators and regulators. In the unprecedented series of meetings, Newark, Del.-based PMA gave industry leaders across the supply chain access to agriculture and food safety regulators and furthered a collaboration that will bolster consumer confidence in produce.
"PMA has taken a successful approach to government relations by leading, educating and outreaching to the legislators and regulators who have oversight over the produce industry," said Mike O'Brien, PMA chairman of the board and Schnucks VP of produce. "This event marks a monumental success for the association, but most of all sets a tone for our members and the industry going forward. We were delighted to see that legislators and regulators from FDA and USDA were eager to learn and engage in important dialogue. This critical exchange will help us meet our common goal of increasing consumption and providing the nation with the safest and healthiest produce available."
This event aimed to inform and engage key Washington leaders to deal with two issues of major importance to PMA members: increasing consumption and food safety. To achieve these goals, volunteer leaders and staff met with the following regulators and legistators:
Sam Kass, assistant White House chef and senior policy advisor, Healthy Foods Initiatives
Rep. Jean Schmidt (R-Ohio), chair of the House Agriculture Subcommittee on Nutrition and Horticulture, and the majority and minority staff of the Senate Agriculture Committee
Key leaders from the U.S. Department of Agriculture, among them Deputy Secretary Kathleen Merrigan and Rayne Pegg, administrator of the Agricultural Marketing Service
Don Kraemer, deputy director of the Food and Drug Administration Center for Food Safety and Applied Nutrition, and several FDA staffers who write rules on the issues affecting the produce industry
With an overall theme of boosting consumption and food safety, discussions included dialogue about food safety programs, USDA audit programs and food safety research. The new MyPlate icon, and ways the industry can use it to increase fruit and vegetable purchases, was an important topic throughout the discussions. Additionally, all three committees, along with PMA board members, met with FDA regulators overseeing many aspects of the Food Safety Modernization Act implementation. Following a presentation by FDA's Kraemer, members and regulators discussed the Produce Safety Alliance and PMA's training program for small growers, third-party certification, traceability, food safety research, border issues, and better communication among industry, government and consumers.
"Bringing PMA volunteers together leveraged a remarkable group that brought real-world experience to the legislators and regulators that govern our industry," noted PMA president and CEO Bryan Silbermann. "We had collaborative dialogues on issues critical to government, industry and the public. At a time when government is advocating improved health, including through greater consumption of fruits and vegetables, a seat at the table of those discussions is essential for the health of our nation and for our industry."