PG WEB EXTRA: Seasons Yet to Come
What's on the horizon for seasonal candy and snacks? The responses of various retailers and manufacturers reveal a few key consumer concerns.
"2014 trends seem to be the packaging of individual more portion-controlled sizes of candy," says George Zoitas, CEO of Big Apple-based Westside Market NYC, which operates four stores in Manhattan. "This way people can buy one, enjoy a snack, but not feel guilty about eating an entire bag of candy.
Laura Barnard, marketing manager at Chicago-based Storck USA, maker of chocolate brand Merci, gleaned similar insights from a trip to the recent Sweets & Snacks Expo, where health-conscious and portion-controlled treats were all the rage. "Smaller, shareable snacks and bite-size treats were the theme of the show," she notes.
Adds Rob Auerbach, president of Louisville, Ky.-based CandyRific: "The trend is definitely for more of the good-for-you offerings. We are packing many of our items with no artificial flavors or coloring or added sugar." He additionally foresees "more innovative packaging" taking off in the near future.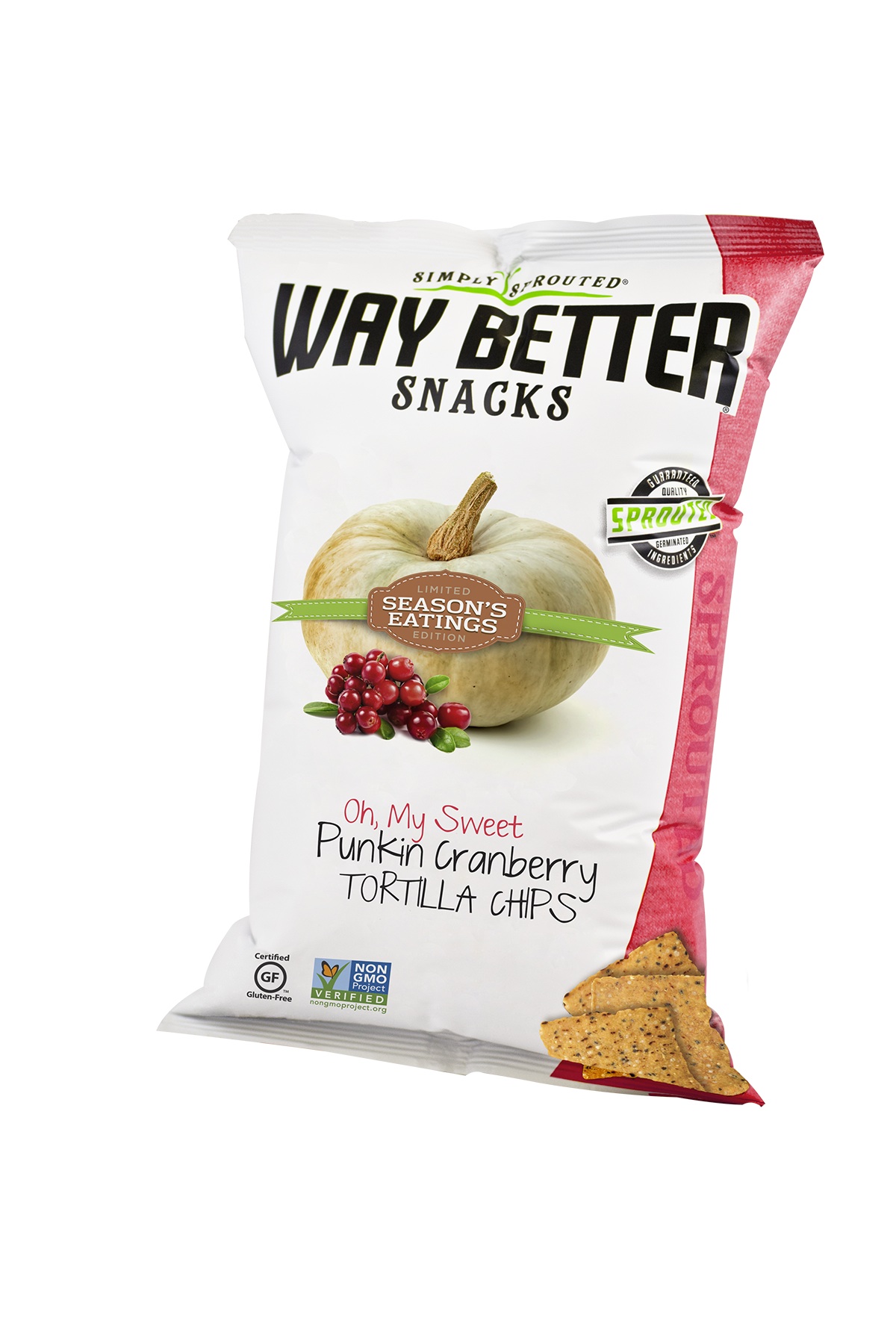 The concern with health has naturally led to the use of labels to show shoppers what they'll be ingesting. Fairfield, Calif.-based Jelly Belly, for one, "will roll out front-of-package nutrition labeling in the fall, with fat and calories counts prominently displayed on popular Jelly Belly packages," says Rob Swaigen, the company's VP of marketing.
The demand for healthier indulgences extends to the salty snack aisle. According to Jim Breen, CEO and founder of Way Better Snacks, a division of Minneapolis-based Live Better Brands: "Clearly, the broader market's better-for-you trends will continue to influence holiday shopping patterns and drive manufacturers to offer more healthful products during key holiday selling seasons. This exhilarating trend gives brands like Way Better Snacks a terrific opportunity to continue to grow our uniquely positioned brand."
The company is squarely addressing that trend with Oh, My Sweet Punkin Cranberry Tortilla Chips, its first-ever seasonal offering. However, "based on the enthusiastic response we have gotten from retailers … we certainly will be looking to create more unique but on-trend holiday items down the road," says Breen.
Over at Pennsylvania-based Snyder's of Hanover, a brand of Snyder's-Lance Inc., in Charlotte, N.C., Marketing Manager Bob Gould notes the "continuing consumer trend to look for a snack that is nutritiously beneficial. Pretzels are wholesome snack and can be enjoyed on their own at holiday gatherings or incorporated into seasonal recipes." He's quick to caution, though, that "[w]hile nutrition is an important factor in a snack, flavor certainly cannot be lacking. With the addition of chocolate to our pretzels and by working them into delicious recipes, we ensure that consumers will have a flavorful snack."
In the realm of flavor and SKU varieties, Storck's Bernard observed a proliferation of sweet-and-salty combinations at the Sweets & Snacks Expo was, along with offerings providing a lift. "Many brands are mixing sweet and salty flavors into one snack for an all-in-one product offering, since 49 percent of consumers look for confectionery and snack items that appeal to multiple people in the household," she says, citing Symphony/IRI figures. Further, "caffeine was a noticeable addition to many products this year, offering a one-stop shop for [consumers'] energy and caffeine needs," notes Bernard.
"Hot and spicy is proving to be a very popular trend in confections that has some potential in seasonal as well," opines Jelly Belly's Swaigen. "Sales of our new Tabasco Jelly Belly jelly beans in a 1-ounce novelty bottle spiked at Valentine's, even though this was primarily designed as a year-round item."
The company would no doubt be pleased to hear the pronouncement of Robert Rybick, grocery buyer at East Windsor, Conn.-based Geissler's, an 11-store New England grocery chain, who notes that "jelly beans are very hot, even for non-Easter events." Additionally, he sees that "Peeps are coming in more and more colors and cuts for different holidays," as well as that "chocolate continues to be very strong, and the integration of salt [in such combinations as] salted chocolate [and] salted caramel" is gaining in popularity.
What seems clear, as Timothy LeBel, VP of sales-grocery/value/military for Hackettstown, N.J.-based Mars Chocolate North America, points out, is that "[c]onsumers will continue to seek out their favorite brands for seasonal celebrations and holiday traditions."

License to Celebrate
When consumers seek holiday treats, many look for products bearing the likeness of beloved characters. Shoppers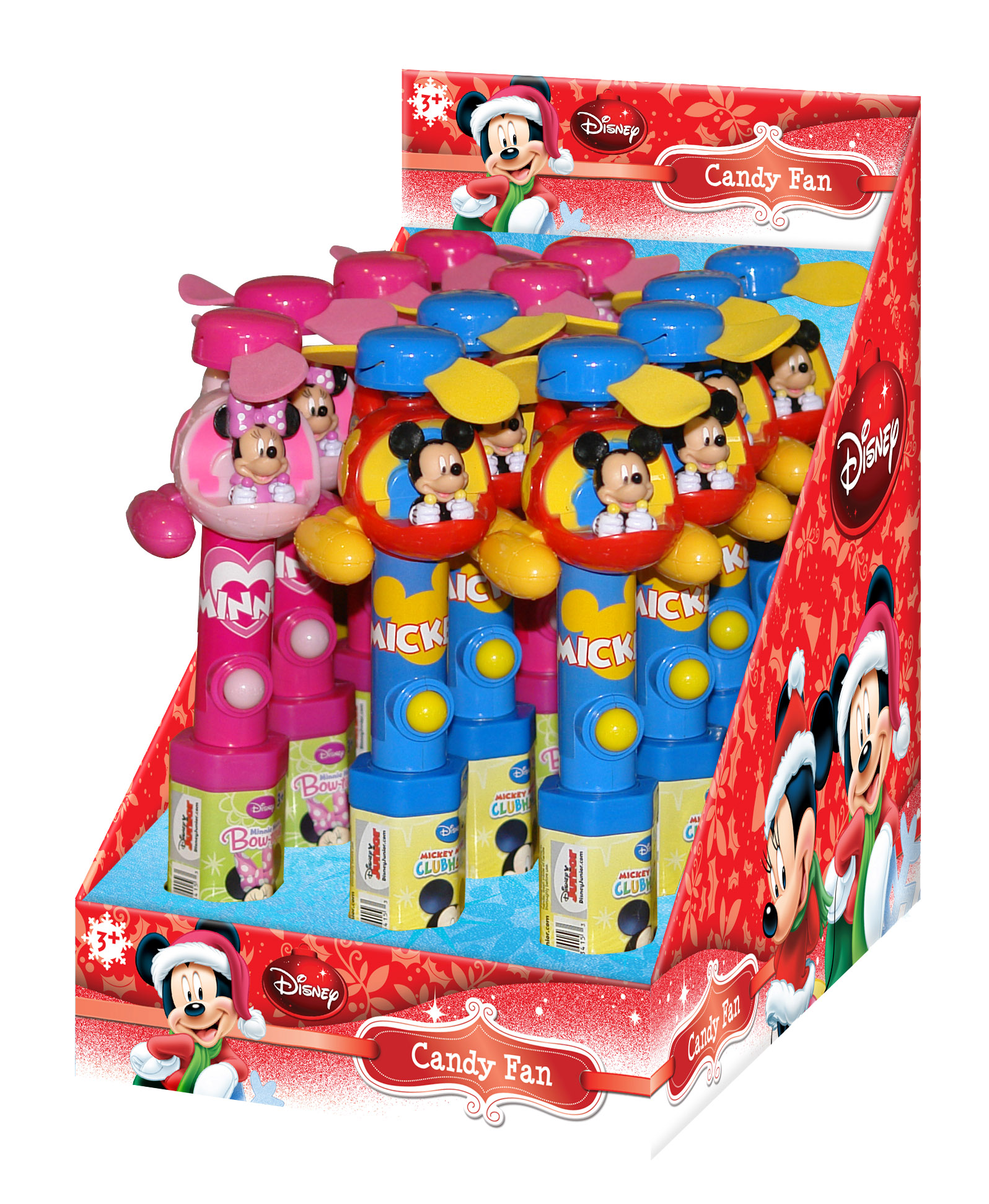 "are looking for licensed items – like M&M'S and Disney properties," asserts CandyRific's Auerbach, whose two biggest seasons are Christmas and Easter. "Consumers are buying more licensed goods."
The licensed products can offer something beyond familiarity, though. "Disney, in particular, has nutritional guidelines that are propelling the industry in that direction," explains Auerbach.
Among Jelly Belly's "unique gift items," as Swaigen describes them, is the new Jelly Belly Disney Princess line, available in several formats and price points, including a 1-ounce bag and a 4.25-ounce gift box. "The varying price points give shoppers options when searching for gifts, and the Disney Princess characters are a strong appeal to our female consumers," notes Swaigen. "But we didn't stop there. The Princess line includes a unique 'Enchanted Mix' of Jelly Belly jelly beans that sparkle like jewels. The co-branding and unique mix of Jelly Belly beans makes this a great gift line year-round, but [they'll] certainly be purchased as gifts and basket and stocking stuffers for Easter and Christmas." He observes, "Easter is our top-selling season, but Christmas is also a big candy season for us."
Beyond the Princess line, Jelly Belly has "also leveraged many additional Disney brands for other seasons, such as Cruella [de Vil] and Captain Hook for Halloween, 'Cars' and 'Monsters University' for Christmas, and Mickey and Minnie Mouse for Valentine's and Easter, as well as Hello Kitty, another strong license," says Swaigen.

Selling the Season
Mars has found a "Better" way to spur holiday and other confection sales. "In addition to traditional seasonal displays, we've found that shoppers are drawn to in-store displays illustrating key moments that encourage them to nurture relationships with friends and family," LeBel says. "With this in mind, M&M's Brand launched the 'Better With M' campaign this year, which is one of the largest marketing efforts in the brand's history. The campaign suggests usage occasions with themes like 'Baking is Better with M' and 'Holidays are Better with M.' We have several displays for this promotion, including a power wing that will attract attention and inspire sales."
Auerbach says: We want to be relative to what is going on in the consumer's life, so when they are thinking about these holidays, we want to be the cool solution. Since most of our sales are impulse, we make the products 'try me,' with no directions needed, so a consumer will make an instant decision to buy."
For its season-specific items, CandyRific changes "the display box, or the character of the product, to suit the season," says Auerbach. What works best in terms of seasonal displays are "small power panels and standing floor shippers with our best assortments, as well as small combo cases that can be easily distributed to the stores," he adds.
"Our seasonal items are displayed in perimeter areas or seasonal merchandising areas," says Gould at Snyder's of Hanover. "Our seasonal products are packed in knock-out-display cartons to create their own case stack display. We also provide other temporary display units such as corrugated weekender displays and clip trees to present out products to shoppers."

The Fierce Urgency of Seasonal Candy
Once the product has shipped to stores, a big part of appealing to supermarket candy shoppers during the holidays is making sure they realize something will be available for only a brief window of time, according to Rybick at Geissler's.
"Customers love the sense of urgency when something is for a limited time, and it helps drive sales," explains Rybick. "Manufacturers will sometimes try to make new flavor innovation part of the portfolio available year-round, but it usually fails, as people trend back towards proven flavors they love. But when something is here and [then it's] not, it drives customers to pick up more, because they don't know when it will be gone and if it will come back."
Another way to create demand, especially when more retail channels are getting in on the seasonal act, is through unique offerings, Rybick believes. "For candy, I think innovation is also the key, and the same sense of urgency can apply," he says. "If someone sees a new product, they can be inclined to grab it right away, because they realize, with holiday packaging, it will not be around, and if they wait, they may not be able to find it. Your regular holiday candy staples, like Hershey Kisses, where the outer package is different but the inside is still the regular silver kiss, still do well, but volume for us has been declining as more and more people are selling candy. Being an impulse item, if they see it at CVS or Walmart, they pick it up there, and it has eroded some of the core item sales. You still have to carry the core items, but innovation is what drives the growth and helps defend against the sales of the core items lost to other channels."

Pretzel Logic
Chocolate-covered pretzels aren't new, but Snyder's of Hanover has elevated them into an art form of sorts for the fall and holiday season, a "big time" for the snack company, according to Gould.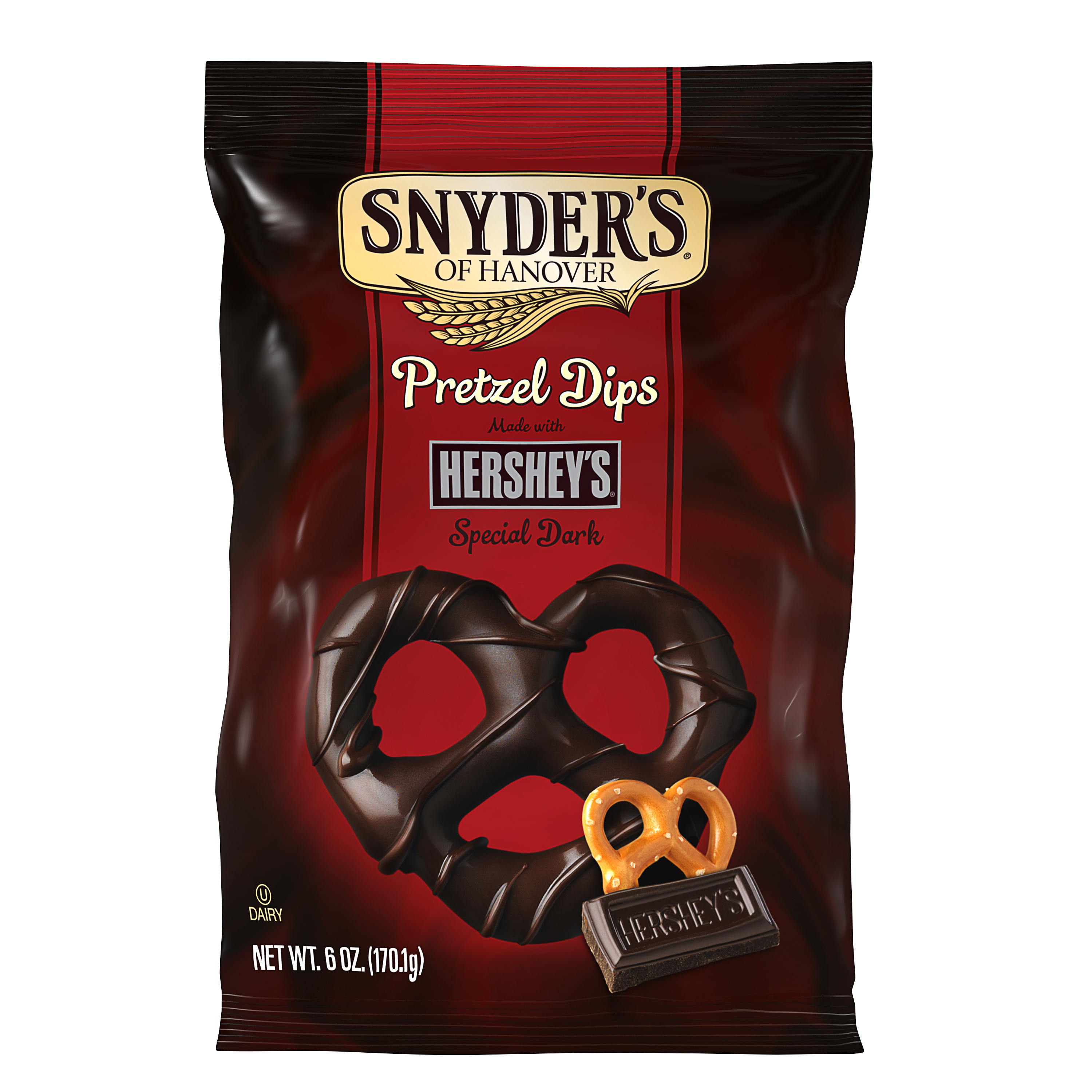 "We introduce our chocolate-covered pretzels at the end of October, just in time for the holidays and only for a limited time," explains Gould. "We also play up how to use our pretzels for other recipes and entertaining around the holiday season."
Snyder's teams up with fellow Keystone State manufacturer Hershey, the iconic chocolate company, "to create a wonderful sweet and salty combo," he adds. During the winter holidays, the chocolate-covered pretzels will be available in Milk Chocolate, White Créme, Special Dark, Dark Chocolate Covered Peppermint Pretzel Sandwiches and Milk Chocolate Peanut Butter Pretzel Sandwich varieties.
That's not all the company's doing with regard to seasonal items, however. For instance, especially for All Hallows' Eve, Snyder's rolls out its Halloween Snack Sacks, "which contain 30 individual packs of 0.5-ounce bags of Minis," notes Gould. "These provide consumers with a healthier treat to hand out to trick-or-treaters." This year, the Snack Sacks boast two new designs: a moonlit jack-o-lantern pumpkin patch and a haunted house.
2013 has also seen the launch of pretzel shapes for special holidays. Similar in size to Snyder's Minis, they include the following: Patriot Pretzels (Liberty Bells, starts and flags); Football Game Shaped Pretzels (footballs, fields and helmets); and Holiday pretzel shapes (trees, bells and stars).

Sheila G: 'Supermarket Superstar'
Sheila G. Mains, founder and CEO of West Palm Beach, Fla.-based Brownie Brittle LLC, is hoping to get more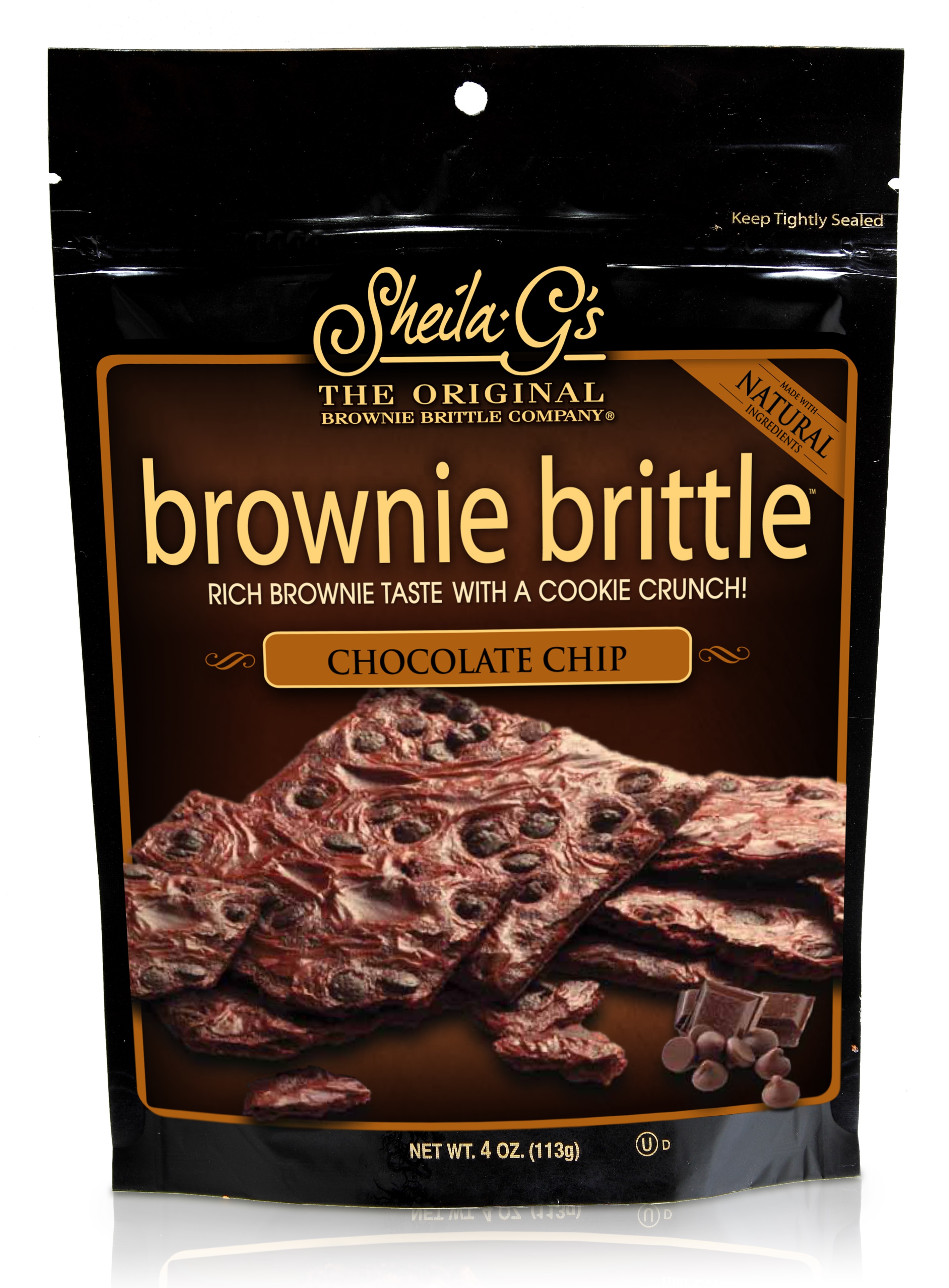 seasonal visibility for her delectable treats by taking to the airwaves – not to mention the silver screen.
Sheila G, as she's usually known, appears in the Aug. 15 episode of Lifetime reality television show "Supermarket Superstar," where she serves as a mentor to several of the contestants as they vie to get placement for their respective products at the Montvale, N.J.-based Northeast supermarket giant Atlantic & Pacific Tea Co. (A&P). Produced by The Weinstein Co., "Supermarket Superstar" debuted on July 22.
What's more, for the premiere of the movie "Lee Daniels' The Butler," starring Forest Whittaker and Oprah Winfrey at the head of a star-studded cast, Brownie Brittle will be served at a special party in New York City on Aug. 5. These events "are part of what we have planned to help launch us into the 4th-quarter holiday season," notes Mains.
As for seasonal products available at retail, the company is "rolling out 1-ounce and 2-ounce bags of our chocolate chip [variety], and we feel confident this will make it into many stockings, Easter baskets, and even can be handed out as the perfect trick-or-treat snack that is lower in calories and still delicious," she adds.

Say it With Gourmet
In the realm of holiday gift-giving, gourmet items are currently hot, and poised to get even hotter.
"Customers are currently looking for gourmet food items as gifts, unique packaging, and better ingredient choices," notes Tiffany Van Hemm, account executive/director of public relations at Clinton Township, Mich.-based Sanders Candy. "Gifting gourmet food items has risen over the past couple years and [is now] at an all-time high. Food is a gift you know anyone will enjoy and use. Our dessert topping 4-pack and new seasonal mini line provide perfect gourmet food-gifting options."
As for the reason for burgeoning consumer interest in high-quality products, she says: "With the focus on healthy ingredients and choices, people are looking to consume and also gift cleaner or better ingredient options. We use a premium chocolate and make the best ingredient choices possible, yet [make] the product affordable to the masses."
But it's not just what's inside that counts. "Consumers are attracted to new and exciting packaging concepts and looks," explains Van Hemm. "Whether the colors, design or box itself is different, consumers want to be the first to introduce something cool or cute to someone else."
Christmas is Sanders' biggest selling occasion, according to Van Hemm, who attributes this to the fact that "people tend to gift our product [gourmet chocolates and confections] more this time of year. People also consume more sweets at gatherings this time of year as well."
Brian Jefferson, the company's chairman and CEO, also sees gourmet candy gaining in popularity as Thanksgiving hostess gifts. "People are not bringing the boring usual items to gatherings anymore. They want their hostess gift to have a 'wow' factor or be talked about."
Adds Jefferson: "We are taking advantage of these selling occasions through product development," including a Chocolate Molded Turkey hostess gift that "has been increasing in sales every year. Same thing with our 5-pound, 3-foot Chocolate Molded Santa."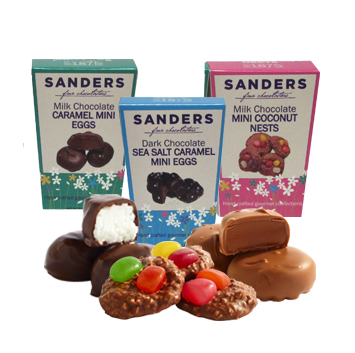 More recently, Sanders introduced its Seasonal Mini Collection "to target the different holiday seasons and meet consumer needs for packaging, gifting and ingredients," says Van Hemm. "Our mini's come in cute Chinese-style takeout boxes with bright colors and seasonal patterns tailored to the season (Valentine's Day, Easter, Christmas, and Fall Harvest). The Fall Harvest mini's are crescent moons, the Easter chocolates are eggs/nests, the Christmas chocolates are bulbs, and the Valentine's Day chocolates are hearts. The smaller-size package works perfect as a self-consumable or as a small gift/stocking stuffer/Easter basket treat."
"We have focused on smaller sizes and have found great results, particularly in a grocery environment," affirms Jefferson. "Customers are not going to make a second stop at the boutique gift store. They want a one-stop shopping environment, and if they can find high end chocolate, at the right price and [providing] a giftable feel, they will make the purchase."
According to Jefferson, the company is currently developing a gourmet snack platter. "This fits the current demand for hostess-style gifts offering gourmet food/chocolate, great ingredients and unique packaging at the right price," he notes. The item, with an expected SRP of $20-$25, is expected to launch in late 2014.
What does the near future hold for seasonal gourmet candy and snacks? "2014 will continue the trend of better ingredient and healthier snacking options for consumers," predicts Jefferson. "Healthier in terms of confections will result in buying gourmet chocolates, dessert toppings without high-fructose corn syrup, and chocolate combined with fruit, granola, nuts and seeds."