PG WEB EXTRA: Here's to the Winners
Rising From the Dead
Day of the Dead Beer, recently introduced by Wilton, Conn.-based Drinks America, is simultaneously riding the crests of two massive beverage alcohol trends: craft beer, the No. 1 growth category that Joe Belli, the company's national brand manager, describes as being "all about flavors and tastes," and multiculturalism, specifically Hispanic culture, as the brew's inspiration arises from Mexico's time-honored "Day of the Dead" festivities in late October and early November.
In fact, as further proof of the merging of the two trends, Belli points out that in the influential restaurant channel, many Mexican eateries are now offering craft beers, with Day of the Dead – billed on its website as "the first fully developed, fully accessible craft beer to come out of Mexico," a natural fit for such establishments.
In addition to offering Amber Ale, Pale Ale, IPA, Hefeweizen, Blonde Ale and Porter, the all-natural lager, crafted at a family-owned brewery in the Mexican city of Tecate, brings out such seasonal varieties as a refreshing citrus-flavored option for summer and pumpkin-infused beer for autumn, according to Belli, who adds that given the timing of the holiday after which the product is named, consumption spikes in the fall. In common with Cinco de Mayo, Day of the Dead observance is "a very big thing" north of the border, particularly in the American Southwest, he notes.
The brand trades on the festival's striking skeleton iconography by featuring artwork by Santa Fe, N.M.-based retablo painter Sean Wells on its labels. Wells' website even contains videos of her painting two of the label images, "Immortal Beloved" and "Death Becomes You," in mere seconds, thanks to time-lapse photography. What's more,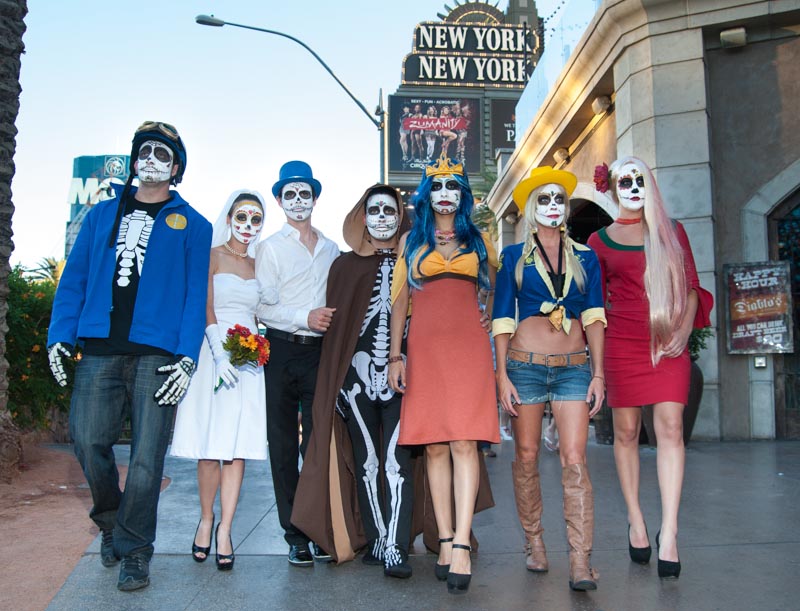 Wells has made public appearances in support of the beer, signing bottles and posters of her artwork, and the brand's brewmaster has met Day of the Dead's drinking public as well. Belli promises "more of this in 2014."
Further, the brand made costumes replicating the outfits worn by the six labels' seven figures, and sent actors dressed as the characters, completed with faces painted to resemble skulls, to walk the Las Vegas Strip (right) during Day of the Dead's official launch last September during National Beer Wholesalers Association show.
Regarding Day of the Dead's unique labels, Belli observes, "Packaging will get anyone to try something once – taste will keep them coming back."
Currently available in 32 states, the beer is striving to keep up with demand from distributors and consumers, with the latter of whom asking via Facebook where they can find the product, while enthusiastic bloggers offer plenty of free publicity. A prominent mention in the February 2014 issue of Saveur magazine as No. 34 in the publication's list of top 100 new brands of 2013 ought to boost Day of the Dead's profile even further.
On the spirits side, Drinks America imports Kah Tequila – "Kah" means "life" in the language of the Maya – in a skull-shaped bottle. As Belli points out, the Maya had a profound influence on modern-day Day of the Day celebrations, during which sugar skulls are consumed. "We had such success with [Kah], we decided to go into beer," he notes.
Skimpy Faces Reality
Skimpy Mixers, created by female entrepreneurs Megan Toole, Krista LaMothe and Summer Lamons, launched during the 2013 holiday season with the endorsement of fashion blogger and "Courtney Loves Dallas" reality star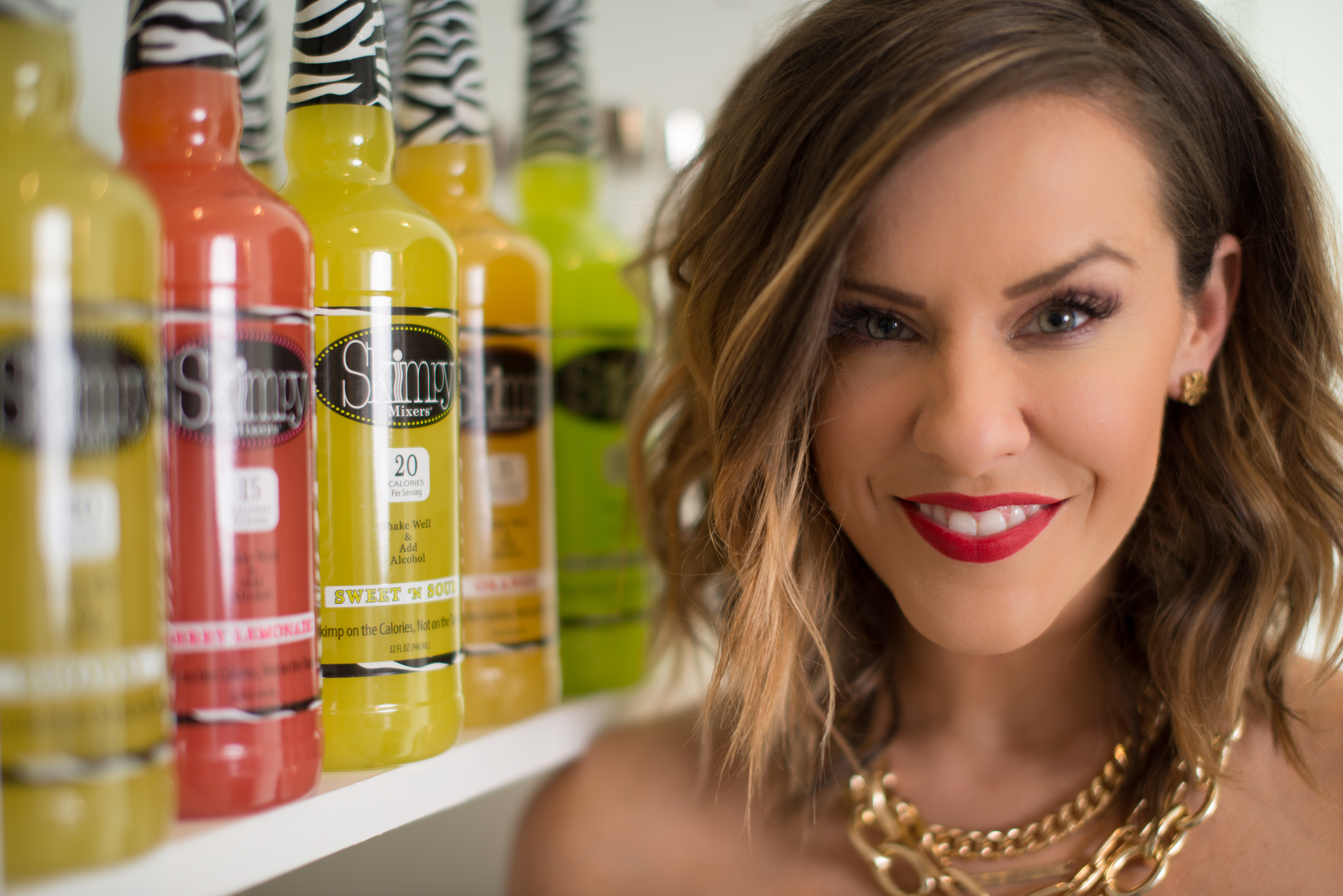 Courtney Kerr, who's involved in the Carrollton, Texas-based company's social media platform.
Kerr also collaborated on the marketing development of the brand during the company's promotional launch campaign in January. The product was available through the New Year at select Walmart retail locations nationwide.
The first-ever liquid-based, real-fruit juice alcoholic drink mixer that's low in calories and sugar, Skimpy comes in Orange, Pineapple, Berry lemonade, Skimpy Margarita and Sweet and Sour flavors, each with only 15 to 40 calories per serving and no more than 7 grams of sugar. The brand is additionally packaged in eye-catching black-and-white, Zebra-print bottle sleeves.
In Season
As craft beer enjoys continued growth, Boston Beer's Samuel Adams is gearing up to roll out its latest spring seasonal, Cold Snap, which George Ward, director of off-premise national accounts, describes as "a white ale brewed with a blend of exotic fruits and spices, including orange peel, plum, hibiscus and fresh ground coriander."

Further, according to Ward, "For the first time ever, our spring seasonal will also be available in our Sam Can, which will allow drinkers to take our spring brew to places they never have before, like parks or the golf course." Samuel Adams Cold Snap will be sold nationwide from January through mid-March in 6-packs, 12-packs (bottles and cans), in 22-ounce bottles and on draft, as well as being part of the Samuel Adams Spring Brews Variety 12-Pack.
To support such products as Cold Snap and its forthcoming Summer Ale (which will also be available in the Sam Can), Sam Adams has "done many large seasonal-themed displays, and [we] also try to leverage Craft Beer Week as a great way to merchandise Sam Adams and get more drinker conversion to craft, or even add another purchase," notes Ward.
On the spirits side, manufacturers are also concerned with seasonality. "With the continuing popularity of the cocktail culture, hosts are willing to spend more for the right brands, but not everyone has the knowledge or time to make great mixed cocktails when they are entertaining," explains Heather Boyd, brand director, progressive adult beverages at Norwalk, Conn.-based Diageo North America. "Consumers want to serve drinks that are impressive and delicious, but also very convenient. In addition, sparkling cocktails are hotter than ever, with sparkling drinks becoming an everyday beverage of choice. To tap into those trends, as well consumer demand for seasonal products, Diageo has introduced the Smirnoff Ice Sparkling Seasonals collection, cocktail-inspired drinks that deliver premium taste experience with the perfect balance of flavor, sweetness, alcohol and a little extra carbonation to bring that touch of sparkle."
Additional seasonal offerings include Jack Daniel's Winter, introduced last October by Louisville, Ky.-based Brown-Forman, and Coors Light Summer Brew, from Chicago-based MillerCoors, a citrus-flavored concoction due this Memorial Day that will be Coors Light's first line extension.

Sessionality and Nitrogenation
A key beer trend noted by manufacturers is greater "sessionability."
"Following a proliferation of hoppy, strong beers with increased ABV (alcohol by volume), we are now witnessing a shift to increased appetite for more 'sessionable' beers, which are those that generally more balanced and lower-strength, or considered easier to drink," explains Doug Campbell, director, beers at Norwalk, Conn.-based Diageo North America. "Beers like Smithwick's and Guinness are gentle but still tasty, and considered highly sessionable offerings."
And according to Cat Corrigan, spokeswoman for Chicago-based MillerCoors, consumers are "looking for refreshing, sessionable light beers, which is why we're bringing some new innovation to Miller Lite and Coors Light: This January we brought back the original Miller Lite can, and this summer we'll be launching a new design series for Coors Light."
Campbell further notes consumers' greater interest in "wanting to drink nitrogenated beers at home, and [we] anticipate increased interest in these types of beers, like Guinness, that are made creamy and smooth by a special pressurized mix of nitrogen and carbon dioxide."

Diageo Acquires Peligroso Tequila
Diageo has added super-premium tequila brand Peligroso to its portfolio, just weeks after the company revealed a joint venture with music impresario and performer Sean "Puffy" Combs to acquire prestige tequila brand DeLeón. Peligroso was purchased from California-based Peligroso Spirits Co. LLC.
"Acquiring Peligroso is part of Diageo's strategy of creating a collection of superb quality and distinctive tequilas at complementary price points to appeal to a wide range of consumers," noted Larry Schwartz, president, Diageo North America, in Norwalk, Conn. "This positions Diageo strongly to capture the range of emerging consumer trends that will shape and drive the next few years of category value growth."
Founded by two avid surfers, Peligroso is 100 percent blue weber agave tequila from the highlands of Jalisco, Mexico. The acquisition gives Diageo an offering in super-premium ($20-$40) tequila, which Nielsen has identified as the fastest-growing tequila segment in the United States. Peligroso's four variants are Cinnamon, Silver, Reposado and Anejo. The current suggested retail price range is $30 to $55 per 750-milliliter bottle.
Available in 12 U.S. states, Peligroso is a complement to Diageo's other tequila brands: Tequila Don Julio, which is mainly an ultra-premium brand, and DeLeón, an ultra-premium and above brand.
Diageo's other brands include Johnnie Walker, Crown Royal, J&B, Windsor, Buchanan's and Bushmills whiskies; Smirnoff, Cîroc and Ketel One vodkas; Baileys; Captain Morgan; Tanqueray; Guinness; and Beaulieu Vineyard and Sterling Vineyards Wines.

New and Noteworthy
The retail beverage alcohol category will feature plenty of innovation this year -- and not just in terms of flavor.
"In 2013, we had two successful new launches with Redd's [Apple and Strawberry Ales] and with Third Shift [Amber Ale]," notes Cat Corrigan, spokeswoman for Chicago-based MillerCoors. "We're going to build on that in 2014 with Miller Fortune, a spirited golden lager with a 6.9 percent ABV."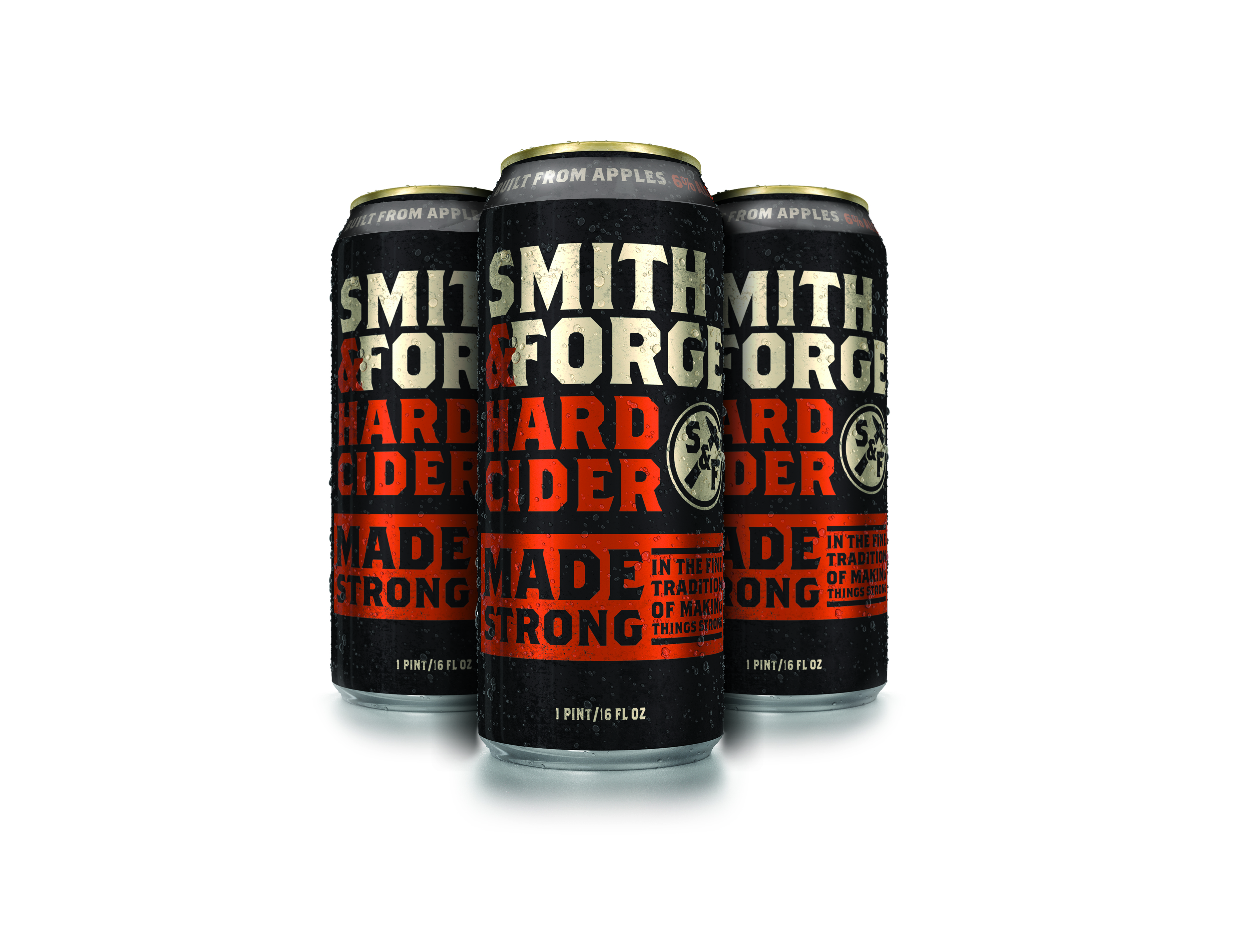 Continues Corrigan: "We'll also be introducing Smith & Forge, a new hard cider for men. With a 6 percent ABV and a taste that's sweet – but not too sweet – Smith & Forge is built for guys and built to refresh."
What's more, she notes, "This year, we'll keep Redd's fresh with the introduction of our 'Pick Different' variety 12-pack, featuring the newest addition: Redd's Hard Iced Tea. Redd's Apple Ale was the largest new brand launch in the category in last 10-plus years, and it's the fastest-growing brand in the category."
Also new from MillerCoors is Miller Fortune, launching the week of Feb. 10, a golden beer with a 6.9 percent ABV. Brewed with caramel malt and cascade hops to achieve layers of flavor and a distinctly smooth finish, the beer was brewed to appeal to spirits drinkers.
Beyond new products, MillerCoors has been upping its in-store presentation through the rollout of "engaging merchandising pieces like the Coors Light Refresherator and the Miller Lite Original Can reach-in cooler," says Corrigan.
At Boston Beer's Samuel Adams, new for 2014 is Rebel IPA, made with hops from the Pacific Northwest. In creating its first West Coast-style IPA, the company "really focused on big hop aroma and flavor, maximizing what each hop brings to the table, rather than intense bitterness, so this IPA is big, drinkable and refreshing, with an ABV of 6.5 percent," explains George Ward, director of off-premise national accounts. "Additionally, Rebel IPA features an attention-grabbing bold red package and a tap handle that resembles a spray paint can. We'll also support the launch of Rebel IPA with a TV ad to encourage trial and grow the craft IPA category overall." Beginning in February, the beer will be available at retail in 6- and 12-packs of bottles.
White Plains, N.Y.-based Heineken USA's upcoming products include Strongbow Honey & Apple, a hard cider sweetened with honey, due in March; and Amstel Radler, a natural blend of beer and lemon, hitting store shelves in April.