Pet Product Customers a 'Growth Engine' for Walmart: Report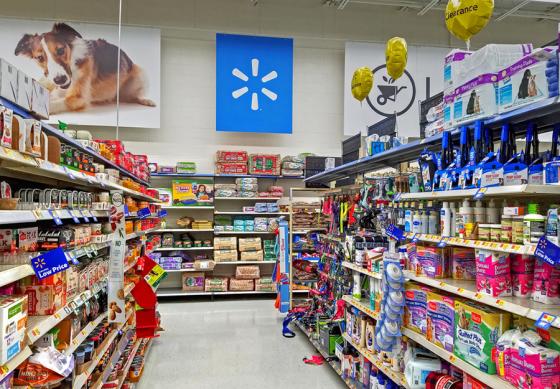 Out of 67 million pet-owning households in the United States, two-thirds do any type of shopping at Walmart or Sam's Club, with Walmart alone counting 43 million pet-owning households among its customers, according to "U.S. Pet Market Focus: Walmart as Competitor," a report from Rockville, Md.-based market research firm Packaged Facts.
In fact, the report discovered, the mega-retailer's pet-owning customer base is significantly larger than that of rival retailers Target, Costco and Kroger combined, with those three companies having a total customer base of about 35 million pet-owning U.S. households.
Packaged Facts noted that when picking a preferred pet care provider, consumers are most likely to consider pricing, although convenience and available brands/selection are also key. Less important were staff and in-store services. Further, while the ability to order products online was a relevant consideration, other factors related to emerging online ordering trends were less impactful for consumers. The report concluded that Bentonville, Ark.-based Walmart fulfills much of what pet owners want from a retail experience.
"Overall, Walmart enjoys impressive strength in shopper traffic/shopping trips, offering almost unbeatable one-store shopping convenience, making it possible for pet owners to pick up non-pet products, along with pet products of all stripes, in the same place," explained David Sprinkle, research director at Packaged Facts, a division of MarketResearch.com, "and pet product customers are clearly a growth engine for Walmart."
That growth is demonstrable among the chain's customers. Packaged Facts estimated that more than one-third of Walmart pet-product purchasers reported buying more of such items from the company than a few years ago, while fewer than 10 percent reported purchasing less and nearly half were buying about the same amount. By demographic, adults in the rising and increasingly influential Gen Z/Millennial cohort (18-34 years old) were particularly likely to report buying more products from Walmart than they did a few years ago.