PCC Community Market Joins Better Chicken Initiative
Get great content like this right in your inbox.
Subscribe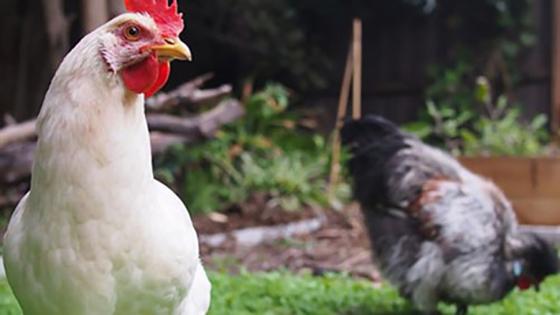 PCC Community Market has committed to improving the welfare of chickens raised for meat by joining the Better Chicken Initiative (BCI) and the Joint Animal Protection Organization Statement on Broiler Chicken Welfare. PCC is the first retailer to comprehensively address broiler chicken welfare – not only for fresh and frozen chicken, but also ready-to-eat chicken products.
The Seattle-based cooperative also is introducing a private label line of organic, air-chilled chicken in partnership with Sanger, Calif.-based Pitman Farms that will be available in stores at the end of May. As the first farm in its industry to be verified by the Non-GMO Project, Pitman Farms has a long legacy of responsible farming, animal welfare and environmental standards, and the PCC Organic Chicken will meet BCI requirements.
"Today we expand upon PCC's long-standing commitment to healthier food production systems," said Brenna Davis, the co-op's VP of social and environmental responsibility, "ensuring that chickens raised for meat are treated in ways recommended by our nation's top experts. We are grateful to partner with Compassion in World Farming on this important issue, and together, we hope to inspire our industry to do better."
PCC currently carries organic fresh and frozen chicken that meets higher welfare standards than conventional commercial methods. PCC will further this action by pledging that 100 percent of its fresh and frozen chicken, along with ready-to-eat chicken products, meet the following guidelines by 2024: 
Transition to strains of birds that demonstrate higher welfare outcomes that meet the criteria of the RSPCA Broiler Breed Welfare Assessment Protocol or Global Animal Partnership (GAP). Reduce stocking density to a maximum of 6 pounds per square foot and prohibit broiler cages;

Provide birds with enhanced environments, including litter, lighting and enrichment that meets GAP's new standards;

Process chickens in a manner that avoids pre-stun handling and instead uses a multi-step controlled-atmosphere processing system that induces an irreversible stun; and

Demonstrate compliance with the above standards via third-party auditing. 
"As the first retailer to commit to improving broiler chicken welfare for its ready-to-eat chicken products, in addition to fresh and frozen chicken, PCC furthers its strong and long-standing commitment to farmed animal welfare," said Katya Simkhovich, food business manager with Decatur, Ga.-based Compassion in World Farming. "We are thrilled to have PCC as a partner in continuing to push the needle meaningfully forwards on broiler chicken animal welfare."
By joining the BCI, the nation's largest community-owned food market continues its commitment to sustainable food practices. Its stores' produce departments are more than 95 percent organic, its meats are 100 percent organic, non-GMO or grass-fed; its seafood is sustainably sourced in accordance with Monterey Bay Aquarium's Seafood Watch standards; and, whenever possible, the co-op procures its products from organic and local producers, farmers, ranchers and fishers. Its shelves are stocked with products made without harmful artificial preservatives, colors, flavors, sweeteners, nanotechnology or synthetic biology. It also has one of the cleanest selections of health and body care products, turning away more than 500 ingredients allowed at other retailers.