04/18/2018
Online, Amazon is Most-Shopped Grocer, but Walmart Wins for Traditional Trips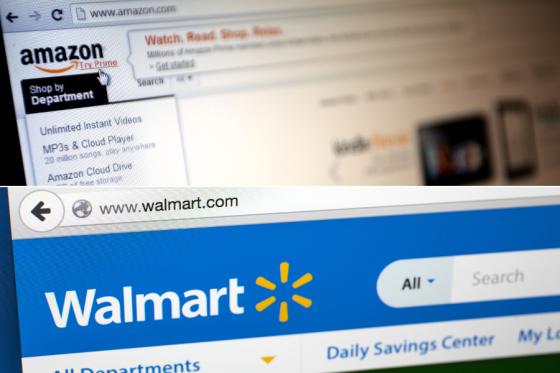 Amazon is by far the most-shopped online retailer for groceries, but Walmart still holds a "confident lead" over brick-and-mortar competitors in the ecommerce space, new research from Coresight Research reveals.
Some 59 percent of online grocery shoppers surveyed said they purchased products from Amazon in the past year, compared to 26 percent for second-place Walmart, whose share of online grocery shoppers is still much lower than its share of in-store grocery shoppers due to Amazon capturing so many online purchases. However, one indication of the Bentonville, Ark.-based retailer's online strength is that it enjoys a narrower gap between online and in-store shopper penetration rates than its major rivals do.
While the Seattle-based ecommerce giant is most-shopped for grocery ecommerce, that doesn't mean it's used for regular trips: The research actually suggests that shoppers typically don't use Amazon for conventional, full-basket grocery shopping trips, but do use Walmart's ecommerce for such occasions. According to the report:
Those who have grocery shopped online at Amazon are more likely than the average shopper to have done only a small amount of their grocery shopping online. Conversely, those who purchased groceries online from Walmart are more likely than the average shopper to have done most, if not all, of their grocery shopping online, which suggests that online grocery orders through Walmart are bigger than those through Amazon.

Amazon's regular website by far is the most used of the retailer's online grocery services, used by more shoppers than its Prime Now rapid-delivery and Amazon Fresh full-grocery-delivery services. The namesake site is limited to ambient grocery products that are sent through the mail one or a few items at a time, so it isn't a viable option for conventional grocery shopping. Amazon Fresh by far is the ecommerce company's least-popular online grocery service, with only 12 percent of Amazon grocery shoppers surveyed saying they had used it in the past year.

Amazon grocery shoppers are far less likely than average shoppers to have purchased fresh and frozen foods online, instead sticking to brand-heavy nonperishables such as ambient foods and toiletries. Meanwhile, Walmart's online grocery shoppers are far more likely than the average shoppers to purchase fresh and frozen foods online, showing Walmart's ability to meet ecommerce shoppers' full-basket grocery-shopping needs.