NEW Forum Links Diversity to Retail Success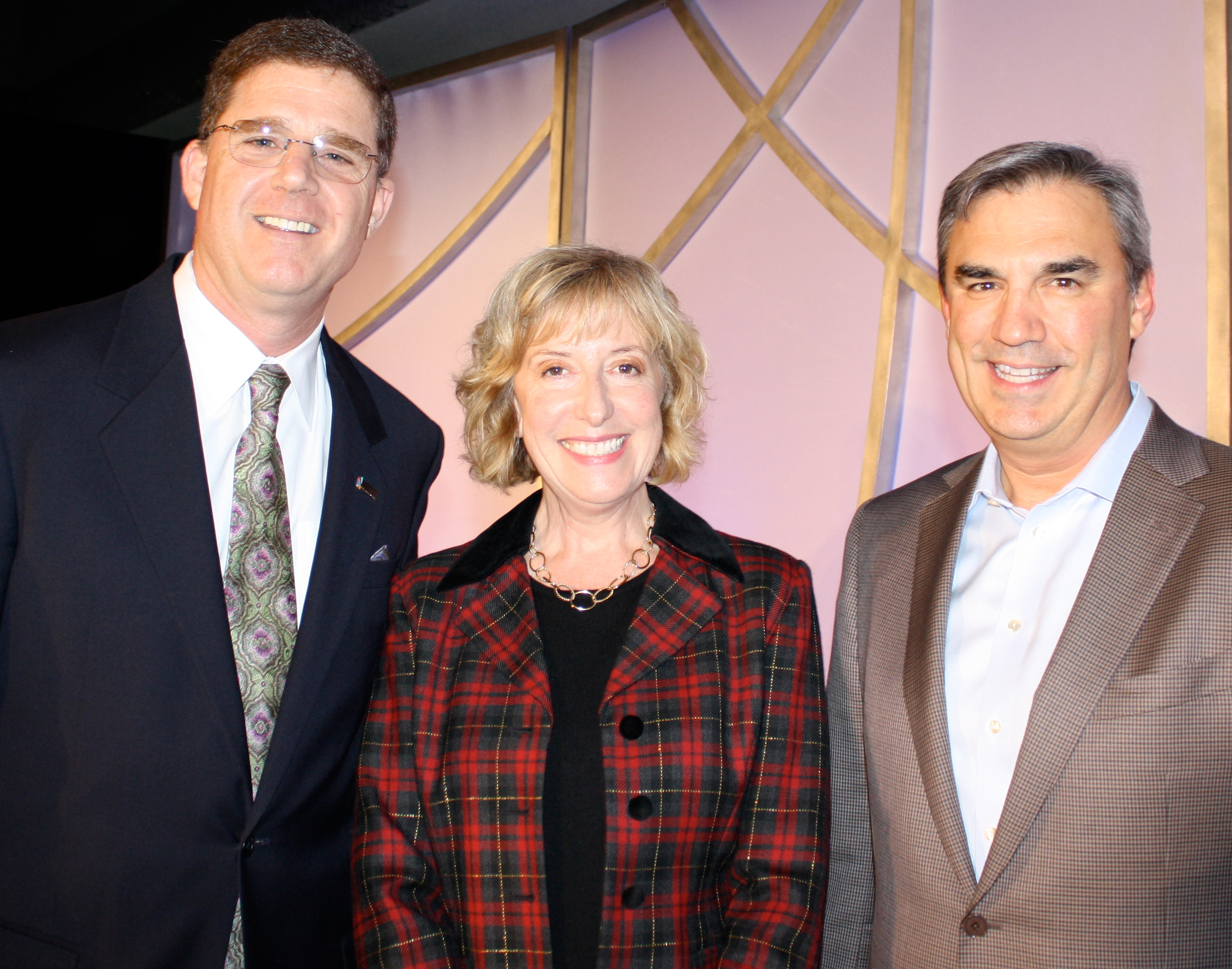 Top executives from Walmart, PepsiCo and Procter & Gamble urged more than 230 members of the Network of Executive Women to focus on diversity at the NEW CPG Retail Diversity Forum 2012 last week in Dallas.
The forum opened with remarks from Tom Greco (photo, right), president of Frito-Lay North America, and included remarks by Anthony Carter, VP of global diversity and inclusion and chief diversity officer for Johnson & Johnson; Linda Clement-Holmes, chief diversity officer and senior VP of global business services for Procter & Gamble; Sue Dodsworth (photo, center), VP and global diversity officer for Kimberly-Clark; and Grant LaMontagne (photo, left), senior VP and chief diversity officer for the Clorox Co.
Greco, who was inducted into NEW's CPG Retail Diversity Hall of Fame last year, said diversity and inclusion is a business imperative, not "a nice-to-have." He said that while the consumer products and retail industry has made "unbelievable progress, it faces undeniable challenges" in realizing the full potential of diversity and inclusion as a business strategy.
LaMontagne and Dodsworth offered insights on the role diversity and inclusion plays in their companies. "I knew if Clorox was going to be successful," LaMontagne said, "we had to be representative of the people we were selling to. We had to change the way we work and make diversity and inclusion a business imperative. This is the time for diversity and inclusion; our [industry's] health and welfare are at stake."
Carter described the link between D&I and the bottom-line in the forum's opening keynote address. While "diversity" focuses on who we are, he said "inclusion" encompasses how we work together, which ultimately factors into the retention of all employees. Improving representation of groups in the workplace provides a new "lens" that can lead companies to innovative solutions to problems they did not know existed, he said.
Attendees also heard a lively presentation on the African-American consumer from Cheryl Pearson-McNeil, senior VP of public affairs and government relations for Nielsen. The African-American community, she noted, represents more than $900 billion in buying power. These consumers are ready to be marketed to on their terms, including mobile media and traditional media channels.
The forum included three two-hour workshops focused on the workplace, the marketplace and supplier diversity. In "Workplace: Retaining Diverse Talent," Kenneth Charles, VP of diversity and inclusion for General Mills; Katherine Giscombe, VP for diverse women and inclusion research for Catalyst; and Sue Johnson, the Nestle Group's global head of gender balance and diversity, shared best-in-class talent retention strategies.
Lynn Fantom, chairman and CEO of Interpublic Group's ID Media, shared how her agency is using new media to connect with multicultural consumers. She put multicultural marketers in four categories: "excluders," who say they are not targeting multicultural groups; "includers," who are relying on one-size-fits-all marketing; "adapters," who are modifying their mainstream marketing for multicultural audiences; and "progressives," who Fantom described as multicultural marketers who have their multicultural marketing aligned with human resources, employee resource groups and marketing communications.
"If you don't have diverse people in your organization, you are guessing" at multicultural marketing, Fantom said. "There's no way to 'get it' without having the right people."
A panel of diversity experts, including Maria Campbell, director of diversity for SC Johnson; Diane Cooke, VP of human resources for Schwan's Consumer Brands; and Armando Martín, president, CEO and co-founder of XL Edge/XL Alliance, discussed ways to connect the dots between the workplace and the marketplace by building strong cultural competencies throughout an organization.
Closing keynote speaker Sharon Orlopp, global chief diversity officer and senior VP of corporate people for Wal-Mart Stores Inc., shared her experiences managing the industry's largest retail workforce. She spoke about the retailer's "immersion" activities, where employees take a deep dive into a different culture. The first was a trip to Alabama, where Walmart team members viewed historic sites from the civil rights movement, including the 16th Street Baptist Church in Birmingham, where four young girls were killed in a 1963 bombing. Another immersion trip took team members to San Antonio and included a trip across the border to Mexico.
"When people come back from these trips, it's all they talk about for two or three days," Orlopp said. "Something changes in them. If you touch the heart, you change behaviors."
Orlopp said diversity has to do with metrics or "being invited to the dance and counting heads." Inclusion is what the metrics feel like, "getting out on the dance floor and making heads count."
To move from talking about D&I to cultivating it, Orlopp advised CPG/retail leaders to evaluate their human resource practices, identify and remove the obstacles to D&I success, measure results and hold people accountable. "Create public champions," she advised. "Be bold!"
The Chicago-based Network of Executive Women is the consumer products and retail industry's largest diversity organization, with more than 5,000 members representing 400 industry companies.