Meyer Tags Meat for High-Tech Marketing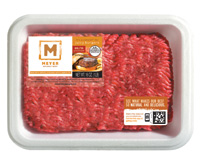 Meyer Natural Foods has become the first meat company to apply Microsoft Tag barcode technology to its packaging, for the national launch of its Meyer Natural Beef product line.

"Savvy shoppers seek out brands that match their lifestyles," said Chris Anderson, Meyer marketing director. "Bringing new technology into mainstream food products like beef is important to stay relevant with consumers. Finding fresh ways to connect with shoppers is one way Meyer is staying ahead of the curve."
 
Additionally, Tag barcodes provide Meyer with a new way to offer information about its brands while keeping the meat case clear of clutter – a growing concern of retailers, Anderson said.
Research indicated natural shoppers are more interested in learning about the brands they purchase. To meet that need, Meyer's 2-D barcode encourages shoppers to scan the label with their smartphones to view a 20-second video. In addition to providing information about the brand, the video helps shoppers understand the difference of natural.
 
The barcode is paired with an on-pack coupon to drive trial during the launch of the product. Meyer will track barcode scans to monitor effectiveness. The company will explore additional barcode content for future application. Microsoft showcases the Meyer Tag on its blog, http://tag.microsoft.com/showcase/meyernaturalbeef.aspx.
"We're excited that Meyer Natural Foods is using Tag to engage with customers at a deeper level," said Bill McQuain, director of Tag Product Management at Microsoft Corp. "Microsoft Tag makes the world around you clickable, and now with the scan of Tag from a package of Meyer Natural Foods meat, customers will get a rich interactive brand experience."
 
Lexington, Ky.-based Meyer Natural Foods was founded 20 years ago with a vision to consistently provide high-quality, great-tasting beef with a commitment to environmentally sound practices, humane animal treatment and personal integrity.
For more information, visit www.meyernaturalfoods.com