Meijer, Price Chopper Among CAB Honorees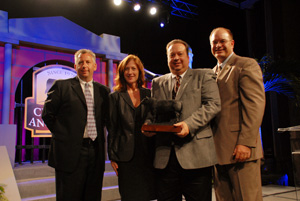 The meat case is busier than ever due to quality-minded shoppers wanting to serve their families the best. Fostering this demand are the many grocers nationwide that offer premium Certified Angus Beef (CAB), which recently honored its retail sales and marketing leaders at its annual conference in Puerto Rico.
"More than ever, consumers are looking for quality in the meat case," says John F. Stika, CAB's president, who applauds "the hard work and ingenuity" of the retail trailblazers that have been influential in helping to spur consumer demand for the brand's growth, which this year is on course to market a record three-quarters of a billion pounds.
Five retail companies received awards for Certified Angus Beef product sold during the past year:
- Meijer, Grand Rapids, Mich., as the Top Sales Volume Large Chain Retailer
- Strack & Van Til Supermarket, Highland, Ind., as the Top Sales Volume Small Chain Retailer
- Dekalb Farmers Market, Decatur, Ga., as the Top Sales Volume Single Store Retailer
- Supervalu-Midwest Region, Pleasant Prairie, Wis., as the Top Sales Volume Retail Distributor
- Price Chopper, Schenectady, N.Y., for the highest percent increase in retail sales
CAB also recognized Marketer of the Year awards recognized four retailers for their effective promotional prowess:
- Schnuck Markets, St. Louis, promotes the brand in weekly features, in counter-top video displays, at local food and wine events, in magazine ads and brochures, and in recipes at shop-to-cook kiosks.
- Price Chopper received the value-added products award for its meatloaf promotions, which added to its success in fresh meats.
- McKinnon's Market & Super Butcher Shop, Danvers, Mass., received the independent retailer award for promoting the brand with grill giveaways, product samplings, in-store videos and holiday roasts.
- The international award recognized HEB Mexico, Escobedo, Nuevo Leon, for billboards, television commercials and a grilling campaign.
Also in the marketing category, Strack & Van Til Supermarket received the Retail Advertiser of the Year award for a summer grilling campaign that generated a 17 percent increase in steak sales. Buehler Food Markets, Wooster, Ohio, was selected by conference attendees to receive the People's Choice award for excellence in retail advertising. As part of its television campaign, the company featured the meat department and the Certified Angus Beef brand.
Reasor's, Tahlequah, Okla., received the retail Commitment to Integrity award for its leadership in maintaining the brand's quality and integrity.