Live from IBSS: Fish With a British Accent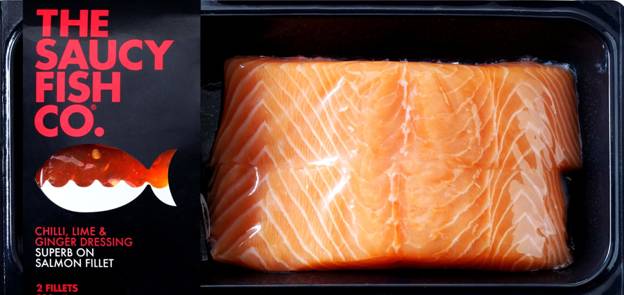 Making its American debut at the International Boston Seafood Show (IBSS), The Saucy Fish Co., the top chilled seafood brand in the United Kingdom, arrives Stateside with its quintessentially British character very much intact. But behind the cheeky attitude lie solid consumer insights.
"Our research shows that consumers are looking for nutritional and delicious fish options that are easy to prepare with no mess, and we have the sales results to back that up," said Simon Smith, sales & marketing director at Grimsby-based Saucy, which launched just three years ago. "We take a fun, down-to-earth approach and bring together the freshest and most delectable ingredients for a perfect meal."
Saucy's best-selling product, salmon fillet with chili lime and ginger dressing (above), was in the running for the 2013 Seafood Excellence Award, whose winners were revealed at the show on March 10.
During a chat with Progressive Grocer at IBSS, Smith attributed the product line's success to the company's "focus on convenience and inspiration" in its items and packaging, thus removing the intimidation factor from fish. Indeed, Saucy's tagline is "Fish Minus the Fuss."
Offering products designed to appeal to various types of consumers -- from hard-core "fish fanatics" to the famously fish-averse -- Saucy has actually succeeded in expanding the category, with 25 percent of sales to shoppers new to fish products, while a full 50 percent of sales are incremental, Smith noted.
What's more, Saucy maintains a lively online presence in social media, a blog and on its interactive portal, The Dock, the last of which provides recipes for novice and experienced cooks alike.
Also available in Switzerland, Norway, Ireland and Singapore, the product line combines products targeting local tastes with its distinctive global brand identity. This unique branding "runs right through our DNA," asserted Smith.
Co-located with Seafood Processing America and running through March 12, the International Boston Seafood Show is North America's largest seafood trade event, attracting 19,000 buyers and sellers from more than 100 countries, and more than 1,000 exhibiting companies.