Kroger, Yoplait Continue Breast Cancer Fight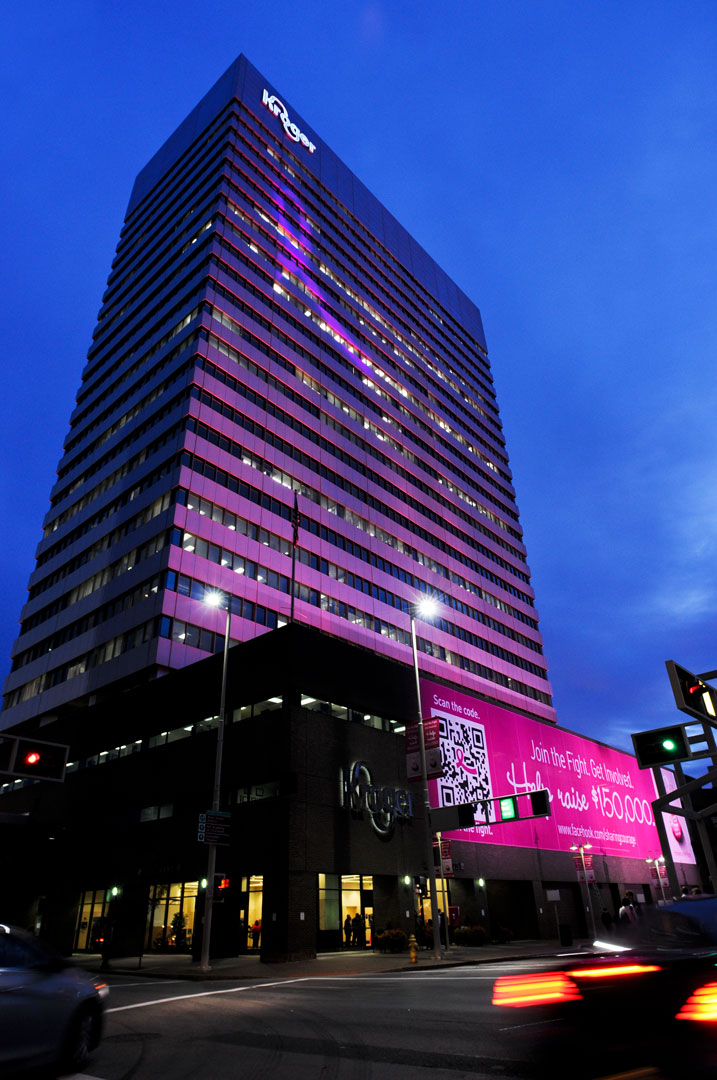 The Kroger Co. and Yoplait have teamed up for the 11th year in a row to support the fight against breast cancer.
As part of this effort, Yoplait will donate up to $150,000 to Susan G. Komen for the Cure through the Kroger Sharing Courage Facebook page. For each user who likes the page, shares the page with a friend, posts Sharing Courage's message as their wall status or makes a personal donation to Susan G. Komen for the Cure, an additional $1 will be donated to Komen for the Cure, for each action, up to $4 total.
To illuminate their commitment even more, Kroger unveiled pink spotlights and 150-foot banners that showcase one of the world's largest QR codes on Kroger's Cincinnati headquarters building. The code will direct smartphone users to like and share the Facebook page with their friends.
"We are thrilled that our partner General Mills and its Yoplait brand have jumped on board with this new social media element," said Keith Dailey, Kroger director of external corporate communications. "Not only does the QR code help to raise awareness of our efforts, but also it gives our community an instant and easy way to show their support. Our company is committed to helping our communities throughout the country in the fight against breast cancer. This year, our Kroger Co. Family of Stores have pledged to raise $3 million through our Giving Hope a Hand campaign to do just that."
For Yoplait, this year marks the 13th year of its partnership with Susan G. Komen for the Cure and the yogurt brand's Save Lids to Save Lives campaign, through which Yoplait donates a dime to the Komen group for every yogurt cup lid sent in my consumers, up to $2 million.
"We are fortunate to have a long-term relationship with Kroger," said Drew Jameson, General Mills customer promotion marketing manager. "Over the past 11 years, Yoplait has donated over $1 million, in our partnership with Kroger, to local Komen Affiliates of Susan G. Komen for the Cure, both through in-store efforts at Kroger and at 160 local Susan G. Komen Race for the Cure events in markets across the country."
Kroger operates 2,449 supermarkets and multidepartment stores in 31 states under two dozen local banner names including Kroger, City Market, Dillons, Jay C, Food 4 Less, Fred Meyer, Fry's, King Soopers, QFC, Ralphs and Smith's.