02/13/2019
Kroger Rolling Out New Mobile Pay, Rewards Card Nationwide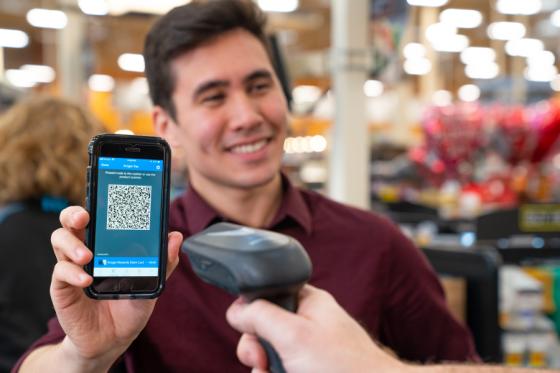 The Kroger Co. is beginning the nationwide launch of a new option for mobile payments and a new rewards card that offers fuel rewards and points on private-label products.
The new mobile payment option, Kroger Pay, exists as a fast, safe and easy-to-use feature in any Kroger banner mobile apps, whether for iOS or Android devices. Customers simply enter their custom PIN or biometrics, and the app provides a single-use QR code to scan at the terminal and quickly communicate payment and loyalty card information – including digital coupons and personalized offers.
Able to be linked to any major debit, credit or prepaid card, the single-step solution reduces checkout time and can be used at both traditional checkout lanes and self-checkout kiosks. It also provides rewards such as fuel points and grocery rewards for customers paying with one of Kroger's cards, from the 1-2-3 Rewards credit card to the Rewards prepaid debit card.
The new program launched recently in Kroger's Columbus, Ohio, division. It will enter 10 new markets in the spring and roll out nationwide later this year.
"Kroger Pay is one of the few mobile wallets that pairs loyalty and payment," said Mary Ellen Adcock, group VP of operations, Kroger. "The application of this exciting technology is another step in our front-end experience transformation."
Additionally, Kroger's new Rewards debit card connects directly to a customer's account and provides such benefits as bonus fuel points and discounts on private-label products. The rewards double when the card is used through Kroger Pay.
The Kroger Rewards debit card is currently available for use in Columbus and Colorado. This spring, the payment option will be available at all Kroger banners.
"Our new Kroger Rewards debit card is a lower-cost payment option, enabling us to offer our customers additional savings when they are shopping in a store or online or fueling up," said Gary Millerchip, CEO of Kroger Personal Finance and corporate strategy integration lead. "Through Restock Kroger, we are lowering operating costs, and our new debit card is another way we are doing just that while also rewarding customers who use it."
No. 2 on Progressive Grocer's 2018 Super 50 list of the top grocers in the United States, the Kroger Co. employs nearly half a million associates who serve more than 9 million customers daily through a seamless digital shopping experience and 2,800 retail food stores under a range of banner names. Kroger was also named Progressive Grocer's 2018 Retailer of the Year.