04/08/2019
9 Key Takeaways from Home Delivery World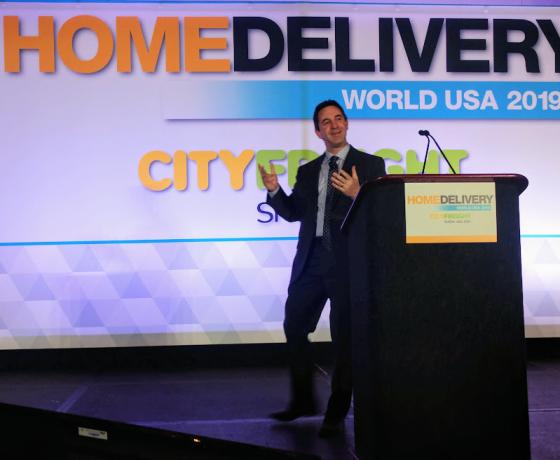 Freshness: It's what sets grocers apart from every other retailer offering home delivery services.
And it's why grocers are taking a keener interest in industry events like Home Delivery World, held last week in Philadelphia. Grocery retailers were among the keynote speakers and presenters on a broad agenda covering delivery and logistics across every retail sector.
Here are some key takeaways for grocery retailers looking to up their game in online ordering and home delivery:
Know what your brand stands for
Your online shopping or delivery service is doomed if you don't know your identity as a company. "Before you push changes, you need to have the foundation right," said Matt Simon, VP and CMO of Carlisle, Pa.-based Giant Food Stores, part of Ahold Delhaize. "You can't just launch digital tools – you have to build relationships."
Grocery is the "most complicated part of ecommerce," he said. "It's an emotional transaction. It's more than a website. It's about inspiration."
Simon continued: "Look out for the customer, above all else. It's all one experience, and if you break any part of it, the customer will hold you accountable."
Tools, cost, information
These are the three basics of shipping goods for any retailer – everything else is expected, said Roman Sobieri, head of shipping for New York-based craft ecomm website Etsy.
Complete transparency is key. "They expect their phone to tell them when to go out to their mailbox," he said, suggesting that next, consumers will want "Uber maps that show your parcel coming down the street in real time."
Supply chain infrastructure is critical
Retailers need to win at warehousing, transportation and technology to succeed in home delivery, said Todd Bernitt, VP of managed services for Eden Prairie, Minn.-based produce marketer Robinson Fresh.
To meet the demand, Bernitt predicts the "macro growth of micro supply chains," with capacity spread across a growing number of small- to midsize carriers. Cloud-based platforms are needed to handle the exponential amount of data and analytics required, he added.
Ultimately, Bernitt concluded, last-mile challenges will be addressed by the supply chain infrastructure.
Create demand chains
The most successful companies are ones that create supply chains by starting with delivery and working backward, said Brian Bourke, VP of marketing for Itasca, Ill.-based SEKO Logistics.
"These are the companies that are building amazing experiences for their customers," Bourke said. "How you apply your supply chain can be your competitive differentiator."
Similarly, Guy Block, CEO of Israel-based delivery technology company Bringg, said the last mile is becoming the key differentiator in driving revenue, "and current models are not sustainable."
Customers expect experience, control, transparency and convenience, Block said.
Measure your progress
Lee Lambeth, director of ecommerce for Winston-Salem, N.C.-based grocery chain Lowes Foods, shared steps his company took toward making ecomm profitable:
Create a companywide online operations scorecard that's shared with store teams
Measure key elements that impact sales growth and consumer retention
Gain support of store operators by sharing metrics
Develop an ecomm P&L statement
Require multi and zone picking to save time and labor
Above all, Lambeth said, keep rethinking how you execute your ecomm strategy: "The most important part is the journey of the guest."
Prevent defections
The long game for retailers is not just to move shoppers online, asserted Sylvain Perrier, president and CEO of Toronto, Canada-based Mercatus Technologies.
It's to eliminate reasons for consumers to defect to competitors; engage and delight consumers, however they shop; and solve the last mile.
Turn your problems into strengths
Fresh grocery delivery is one of the hardest consumer experiences to translate to the ecommerce space, declared Nimish Dixit, senior director of operations innovation for New York-based online grocer FreshDirect.
Customers make no distinction between fulfillment, delivery and customer service teams, and the cost of failure outweighs the cost of delivery, he said, recommending this strategy:
Use data to predict and resolve issues before customers experience them
Manage potential issues proactively
Invest in hybrid teams to solve service problems quickly
Let customers know what to expect when things go wrong
Give them options to get food back on the table across the organization, not just one silo
Trust your delivery teams to make the right decisions for customers, and hold them accountable if they don't
Concluded Dixit: "Food delivered is trust earned."
Investment beats compensation
The biggest challenge in grocery delivery, particularly for refrigerated and frozen items, is maintaining product integrity, said Daniel Sokolovsky, CEO of Berkeley, Calif.-based delivery logistics company AxleHire.
"Ship it refrigerated – don't bother with insulation," he said, or you might be stuck issuing refunds to disappointed consumers. And in dense urban areas where delivery access is a challenge, delivery to lockers might be a better option than doorsteps. "Lockers in a grocery store can be cost-effective and a convenience for the consumer."
Be the customer
Albertsons is driving its ecommerce customer experience with quality, quantity and quickness, explained Jewel Hunt, GVP of ecommerce for the Boise, Idaho-based grocer.
Product pickers need to ask themselves, "Would I buy this?" Hunt said, outlining the company's guidelines for online order product selection.