10/08/2018
How Heinen's Focus on Operational Excellence Led to Grocery Greatness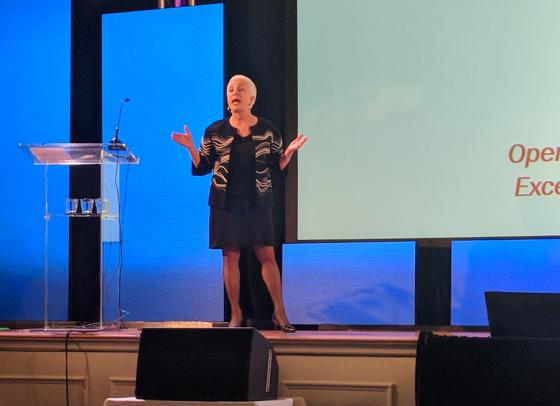 To stay competitive in today's market, grocers need three things: great product, customer intimacy and operational excellence. These are critical for maintaining product availability, the No. 1 driver for shoppers, at Warrensville Heights, Ohio-based grocer Heinen's, which operates 23 stores in Ohio and Illinois.
Unlike years ago, however, when it was OK to hit just one of these pillars, grocers must be good at all three – constantly watching them and seeing what data they can bring to the table to better relate with the customer, said Heinen's CFO Maryann Correnti in an Oct. 3 presentation at the 2018 Xcelerate Retail Forum in Boston, an event produced by Dallas-based retail technology company Symphony RetailAI.
Heinen's problem was that it excelled at great product and customer intimacy, but not at operational excellence.
"At Heinen's, it's about giving a great customer experience, great products, being able to give people a good place to work," Correnti told attendees at the grocery technology event.
The retailer, with every supplier and service provider, always requests clarity on how a new product or service helps the grocer better meet shoppers' demands and create a better shopping experience. It also has worked to help find ways to take more control of its supply chain and to leverage technology to ensure that the right products are always available.
Some ways it has done this include:
Beginning to process its own meat. Heinen's smaller size meant suppliers were less likely to see it as a priority compared with the Walmarts or Krogers in the market.

Building a distribution center. This allowed it it to buy in bulk not only to get better prices, but also to more easily ensure that products are always in stock.

Positioning the grocery store as the pharmacy of the future. Rather than relying on prescription drugs to help manage chronic ailments, the grocery store can be the place that encourages healthier eating and living, helping shoppers avoid ailments to begin with.

Analyzing shopper data to keep a close watch on the customer. Correnti said that Heinen's has a lot of shopper data, and it's always finding ways to use it to better understand its shoppers. For instance, did a patron stop visiting Heinen's because his kids went off to college? In that case, the retailer needs to offer a promotion for him that will get him back in the store.

Leveraging artificial intelligence to assist with labor. For instance, if the Cleveland Cavaliers are going to play the Boston Celtics, the technology can be used to schedule additional labor and ensure that there's extra beer in stock. The same can go for ensuring that extra water, bread and wine are in stock before a major snowstorm.
Correnti stressed that the lifetime value of a Heinen's customer is $300,000. Therefore, it's absolutely critical for grocers to make sure that they're focusing on all three pillars, lest they lose any one of those shoppers to a competitor.