Heineken USA Honors Distributors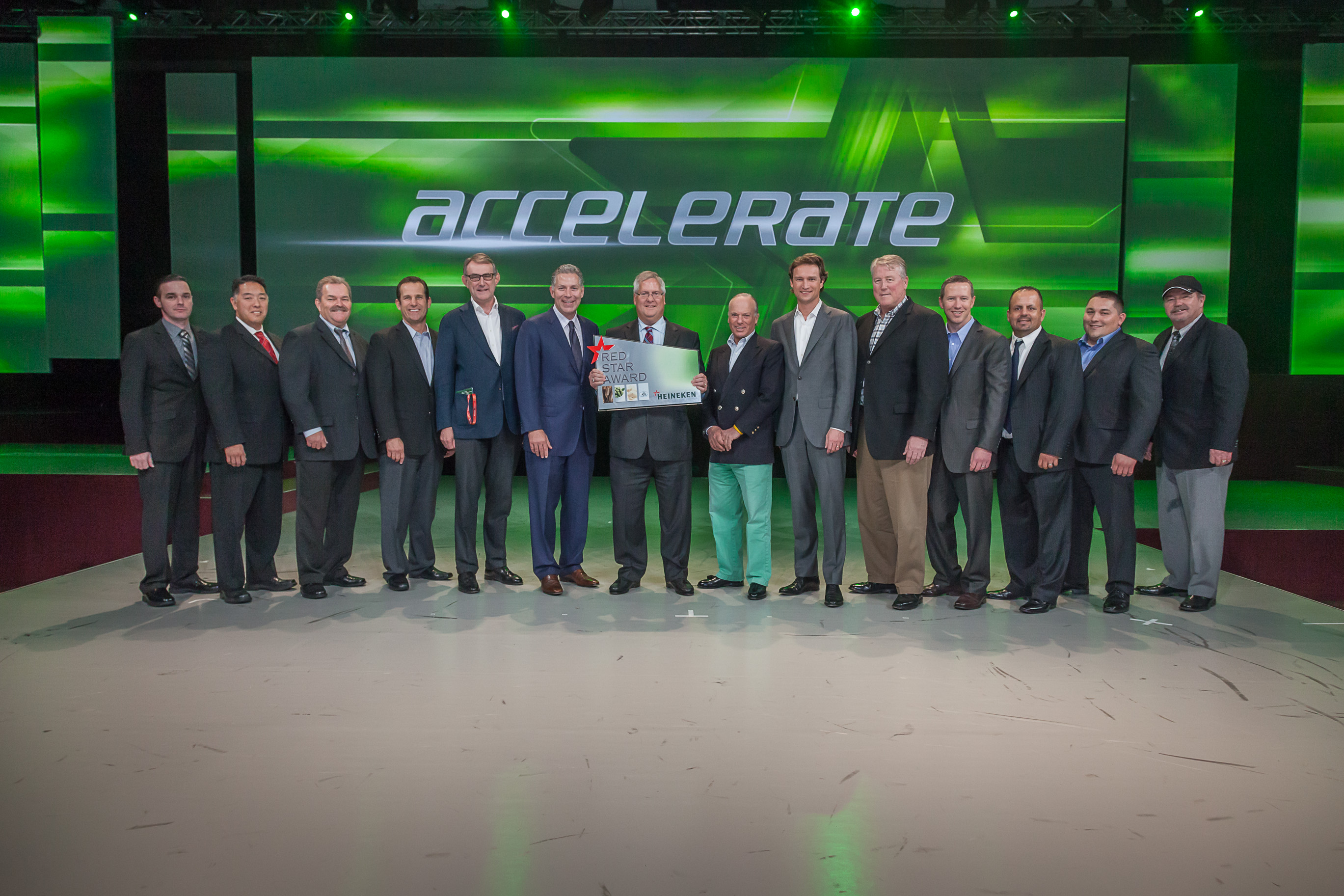 Heineken USA has presented Gate City Beverage Distributors of San Bernadino, Calif., with the Red Star Award for its efforts in driving sales of the beer importer's brand portfolio, at Heineken USA's recent annual National Distributor Conference, in Phoenix.
Gate City (company execs pictured at left) earned the honor for execution that crossed portfolio lines and results that surpassed industry standards. In a year when the industry improved only slightly, the distributor increased the Heineken USA business 8.6 percent in 2012, with significant performance across the portfolio. Dutch portfolio brands, among them Heineken and Heineken Light, were up 3.2 percent, while Mexican brands such as Dos Equis and Tecate increased 11.8 percent.
Additionally, Gate City display conversion garnered among the highest results in the country -- greater than competitive brands in the market -- with more than 6 percent growth for both Heineken and Dos Equis. The company also led its zone, with more 2,000 points of innovation distribution in small format. In accordance with Heineken USA's on-premise strategy, Gate City grew distribution by 40 percent and surpassed top bottle distribution goals for Heineken, Dos Equis and Luxury Light.
"The Red Star Award is our highest honor, celebrating our distributor partners [that] execute flawlessly to deliver results," noted Scott Blazek, SVP, sales at White Plains, N.Y.-based Heineken USA. "With their relentless focus on constant improvement, Gate City Beverage in San Bernadino exceeded expectations."
"[Our] great partners at Heineken USA … not only provide us with an exceptional portfolio of products but they [also] back it up with insightful consumer research, impactful marketing and great people who support us in our market," said Gate City general manager Mark Smith.
Heineken USA also bestowed Star Performer Awards on distributors across its portfolio, in recognition of their efforts in accelerating volume growth and distribution of the importer's Mexican, Dutch and English brands. The honorees were evaluated for their performance against similar-size distributors.
The Star Performer Award winners for the Dutch portfolio (Heineken, Heineken Light and Amstel Light) were Horizon Beverage Co., Wilson-McGinley and Sound Beverage Distributors. For the Mexican portfolio (Dos Equis, Tecate, Sol, Bohemia and Carta Blanca), the winners were Andrews Distributing Co. of northern Texas, Keg 1 Permian Basin and Gulf Distributing of Mobile. Newcastle Brown Ale winners were Gate City Distributing (Los Angeles), Columbia Distributing (Kent, Wash.) and Columbia Distributing (Everett, Wash.).
Further, DBI Beverage Inc. of Sacramento, Calif., received Heineken USA's sixth annual 1864 Award for Responsibility at the conference. The award honors distributors for proactive promotion of moderation and responsibility in consumption, cornerstones of Heineken since its founding in 1864. The company also honored award finalists Andrews Distributing of northern Texas and Harbor Distributing, L.L.C. of Southern California.
Distributors were asked to submit their best efforts in promoting responsible consumption, many of which incorporate such Heineken USA programs such as "Taxi Magic," a free mobile app that connects consumers to a local taxi from anywhere in the United States, and Health Alliance on Alcohol (HAA), a series of alcohol awareness educational materials.