Healthier Lunches Are in the Bag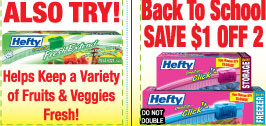 Mann Packing Co. Inc. and Pactiv Corp.'s Hefty brand are partners in a to help parents provide convenient, affordable and nutritious lunches for kids heading back to school.
From mid-August through mid-September, select Mann Packing vegetables will offer 1 million $1-off IRCs, with the purchase of two packages of Hefty OneZip bags. The coupon offers savings on featured Mann Packing products such as Sugar Snap Peas, Simply Singles or any of the company's core vegetable items, including Broccoli Wokly and Vegetable Medley.
"As a mom, I understand the struggle to provide healthy lunches and snacks for kids," said Lorri Koster, VP of marketing for Salinas, Calif.-based Mann Packing, one of the world's largest suppliers of fresh broccoli.
For more information about Mann Packing, its product line and promotional opportunities, visit www.veggiesmade easy.com.
Lake Forest, Ill.-based Pactiv's Hefty brand products include waste bags, slider storage bags, disposable tableware and disposable cookware. Hefty OneZip Fresh Extend produce storage bags aim to keep a variety of fruits and vegetables fresher longer.