H-E-B, Publix, Wegmans, Amazon Among Best in Customer Service: KPMG
Get great content like this right in your inbox.
Subscribe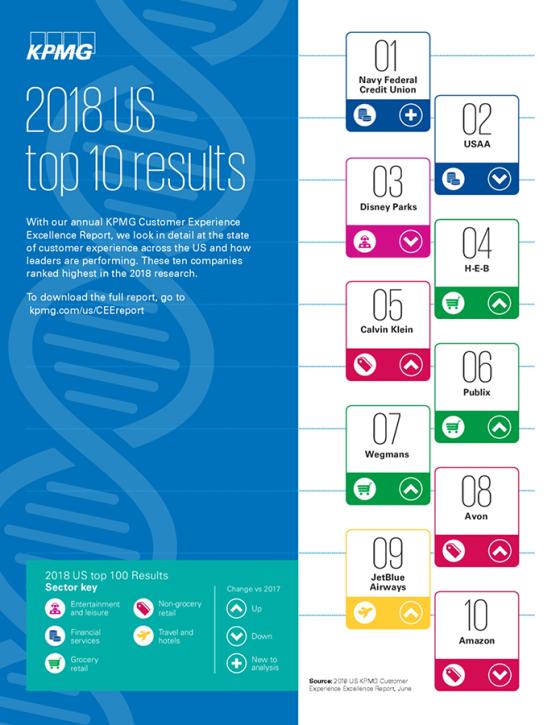 A new report from U.S. audit, tax and advisory firm KPMG LLP has found that companies providing the best personal, "individualized" experiences to customers see higher revenue growth and improved brand standing and loyalty. The "2018 U.S. Customer Experience Excellence Analysis" also ranked the top consumer "champion" brands according to customer experience delivered.
Among those that consumers ranked highest for customer service delivery were H-E-B, at No. 4 (up from No. 16 in 2017); Publix, at No. 6 (up from No. 7); Wegmans, at No. 7 (up from No. 10); and Amazon, at No. 10 (down from No. 4). The brands included in the study were ranked across KPMG's Six Pillars of Customer Experience Excellence: Personalization, Integrity, Expectations, Resolution, Time and Effort and Empathy.
"In 2018, the concept of individuality and the unique sense of self remain equally relevant – however, now companies must not only show that they know their customers' names but that they know them as a person," said Julio J. Hernandez, global Customer Center of Excellence and U.S. customer advisory lead at New York-based KPMG. "Today's immediate gratifications consumers want to feel valued and recognized as an individual. In a world where consumers realize that their personal data has value, firms need to understand what information customers want to share and how they want to be engaged."
The study found that personalization is key to the successful delivery of a customer experience, and a stalwart of loyalty and advocacy, as customers want to be known, understood, and made to feel important and unique. KPMG noted that personalization requires in-depth knowledge of the customer, observing that "poor personalization is like no personalization at all."
According to the report, Seattle-based Amazon is the benchmark in the areas of personalization and trust. Its web site greets visitors by name, shows consumers' shared history and makes suggestions demonstrating a deep understanding of each customer as an individual, all of which add up to a highly personalized experience for users.
Pointing out that three of the top 10 brands were traditional grocers, KPMG's study noted that "all moved up the rankings in the last year by continuing to demonstrate a knowledge of the customer that enables them to quickly adapt to changing needs. ... The leading grocery retailers demonstrate an immersive and often sensorial experience, which keeps them at the top of the rankings."
Other grocers to make the list were Hy-Vee (No. 16), Trader Joe's (No. 27), Hannaford (No. 29), Kroger (No. 31), ShopRite (No. 66), Meijer (No. 68) and Aldi (No. 79).
Another finding from the report was that while technology is undoubtedly evolving the customer experience, many businesses are still struggling to derive value from their investments because of poor internal alignment in regard to customer experience outcomes.
Further, financial analysis revealed that the brands ranked in the top 50 experienced 50 percent higher revenue growth than the bottom 50, and generated EBITDA growth more than three times higher than the bottom 50.
KPMG's ninth annual customer experience study encompassed more than 7,500 U.S. consumers and 250 brands across 10 business sectors: financial services, grocery, non-grocery retail, restaurants and fast food, entertainment and leisure, travel and hotels, logistics, utilities, telecommunications and public sector.