Grocery Cart for Special-needs Kids Coming Soon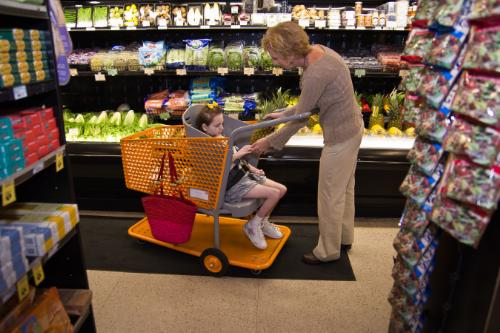 Parents and caregivers of special-needs children will soon be able to take their kids on shopping trips more easily, thanks to a specially designed grocery cart. Invented by Drew Ann Long of Alabaster, Ala., Caroline's Cart (left), named for Long's special-needs daughter, will be available for purchase by U.S. grocers, home improvement and general merchandise retailers by fourth quarter of 2011.
"I was frustrated," said Long of her shopping experiences after Caroline, who was born with multiple disabilities in 2000 and uses a wheelchair, no longer fit in a standard grocery cart provided by supermarkets. "Parents have access to amusement carts designed to look like miniature cars, and people with limited mobility can drive through the store in a motorized cart with wheels. However, as a mom who has to shop several times a week to provide food for my family, I had no way to shop with my disabled child -- it was ludicrous."
Deciding to channel her frustration into action, Long sketched out a specially adapted cart in 2008 and took to the Internet to research grocery cart manufacturers. She soon found Indesign, an Indianapolis-based engineering design firm, to develop a prototype and engaged legal counsel to file a patent.
"Caroline's Cart will be welcomed by thousands of families who have children with disabilities," noted Sara Brewster VP, marketing communications for Easter Seals Inc. in Chicago. "This shopping cart will make it possible for kids with disabilities to be part of a family shopping outing. More than this, when families use Caroline's Cart in neighborhood stores, it sends an important message to everyone who sees them that kids with disabilities are kids first and need to be included."
"Our goal is to enable special-needs children to more easily be included in their family's every-day life by making Caroline's Cart available at retailers across the country," said Long. "[Husband] David and I made a commitment that this cart was going to happen: Parents and caregivers of disabled children should have access to this."
For more information, visit www.carolinescart.com.