Grocery and the Need for Speed
Get great content like this right in your inbox.
Subscribe
The future of grocery belongs to the fast.
That's arguably the biggest takeaway from Xcelerate Retail 2017, a technology conference held by Symphony Retail Solutions, a division of Symphony Technology Group, which took place Sept. 12-14 in Las Vegas. And while other essentials critical for success also were shared – from increased focus on customer-centricity to implementing new technologies such as artificial intelligence and promotion-planning software – the message was clear: Food retailers that move the fastest at developing and implementing their strategies to compete in an Amazon.com world will be the ones that compete successfully against the ecommerce giant.
"If we are to do anything going forward from this moment in time, it's to appreciate that the future is coming at us faster than ever before," said Jim Carroll, a futurist, noting that retailers need to think big, but start small, and then scale fast.
Dr. Romesh Wadhwani, founder, chairman and CEO of Palo Alto, Calif.-based Symphony Technology Group, also pointed to the necessity of moving faster, but not while looking at yesterday's performance statistics. Amazon received tremendous publicity when it recently cut prices on just 80 items at Whole Foods Market, on its first day as the owner of the Austin, Texas-based grocer. But it didn't receive the attention for the price cuts themselves – it did so for the speed at which it implemented them.
Grocers need to be as fast with what they do, because disruption will continue, and technology will play a much more important role in grocery, which will require grocers to work with technology companies not just to defend themselves, but also "punch back" at Amazon, Wadhwani noted. In the next couple of years, grocers trying to fight Amazon will need technology to help with dynamic pricing and to understand promotions.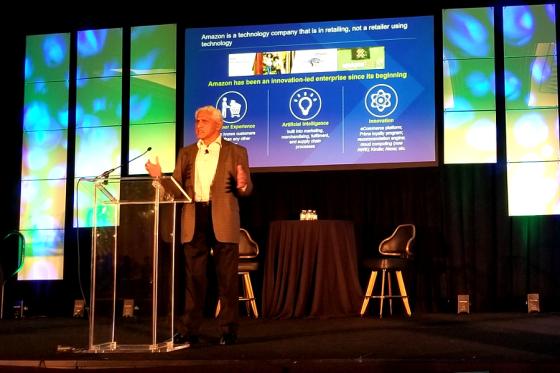 'Customer Obsession'
But probably even more important, they will need a deeper knowledge of their customers, Wadhwani said. Having a "customer obsession" might be a more accurate – albeit extreme – piece of advice here: John Rossman, Amazon's former director of enterprise services who's now managing director at the Seattle office of global consultancy Alvarez & Marsal, used the phrase to describe Amazon's approach to customer-centric retail, which he helped strategize with founder and CEO Jeff Bezos in the ecommerce giant's early years.
Amy Hahn, SVP of marketing with Carlisle, Pa.-based grocery company Ahold USA, also noted the importance of technology for the sake of being more customer-centric in her presentation, and that her company is one grocer shifting its focus in this area. Technology and marketing are intersecting, and there are so many new technologies – artificial intelligence, augmented reality, sensor fusion, near-field-communication pay, voice assistants, etc. – yet so little time to implement them. She suggested that whatever retailers employ, they must do it to bring a personal touch to the customer (and with the customer opting in, of course).
Just like in the days before cash-and-carry grocery, grocer-shopper interaction has to be one-to-one, and technology can do that: Today's shoppers want those same grocery assistants on the other end when ordering, whether online, via voice or through another method, Hahn noted. Ahold does this through several methods, whether personalized promotions and pricing to save money, personal health dashboards to help shoppers eat better, or saving time through advanced list-building. Additionally, proprietary sales data plays a huge role in informing targeting and measuring the impact of targeted advertisements.
Also pointing to the importance of data in customer-centricity was Sahir Anand, managing VP of research and strategy with EnsembleIQ, Progressive Grocer's parent company, who noted that grocers must adopt a customer-centric focus based on real-time data availability, rather than sticking to a one-size-fits-all concept.
All too often, however, retailers talk a big game but don't act on it when it comes to focusing on the customer, said Evan Anthony, owner and CEO of EDA Consulting and former VP of marketing, advertising, loyalty and research with the Cincinnati-based Kroger Co. (pictured in the opening image). The time to start is now – whether grocers are pulling money out of print marketing and putting it into other customer-centric marketing channels, or activating dynamic pricing in stores to compete in an Amazon world, even if some pushback comes from the customer.
"You can't keep doing what you've always done," he explained. "You've got to make some shifts" at the right time. Anthony continued: "Everyone has weaknesses, even Amazon. Learn them. Exploit them. Make the competition do what it doesn't want to do."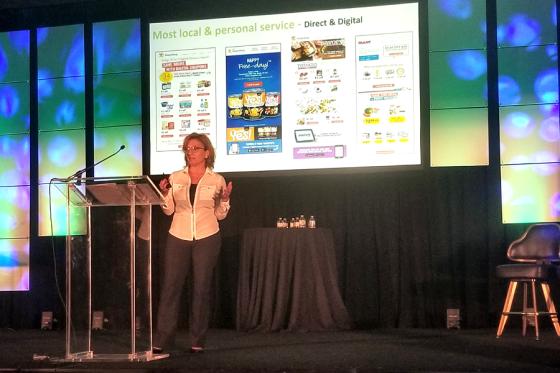 No Doom, No Gloom
While competition is tougher than ever in food retail, and many are likely to fall and not get back up from Amazon's blows, "doom and gloom" is hardly the term to apply to physical stores' outlook, argued John Lucot, former president and COO of Pittsburgh-based grocer Giant Eagle.
"This whole doom and gloom about brick and mortar going away, I don't share that," he said, adding that "it's about relevance. … It's the start of a discussion of how we think differently."
In a co-presentation, Lucot and Dr. Pallab Chatterjee, CEO of Symphony EYC and Chairman of Symphony Retail Solutions, divisions of Symphony Technology Group, noted that Supermarket 2020 – a theoretical concept that reimagines the future physical grocery store of the near future – shows that brick and mortar has a definite future in food retail. However, unlike today's stores, it may be set up in a shopping center format with other necessities such as banks and salons.
The store of the near future may have six to seven aisles instead of 15 to 20, given the rise of hard-discount, limited-assortment grocers, as well as more center store sales moving online. Additionally, average product range per category could go from 40 to 80 SKUs to 10 or lower, prepared foods may see up to 25 percent of space dedicated to food-court-style seating, and locally sourced offerings could grow up to 25 percent of the assortment, with local produce offering "instant info" that can easily be accessed via smart devices (possibly even via augmented reality). And more stores likely will offer drive-up click-and-collect, while the number of manned-checkout versus self-checkout counters could invert from 80 percent to 20 percent to 20 percent to 80 percent.
The combination of these characteristics that retailers will employ in the future to compete will vary, but in the end, it will be about experimenting with different technologies and formats, all to become more relevant in people's everyday lives. The old fades away, but new concepts and solutions take their place – grocers, like Amazon, simply need to have the courage to test, risk but embrace failure, and test again to eventually achieve success.
As Lucot put it, experimenting and taking risks to win in the new normal is "not for the faint of heart. But retail never was for the faint of heart."
Additional Takeaways
Learn about Amazon, Anthony said. What did they do in the past to get where they are today? It might help you know what they're going to do in the future, and prepare.
Don't confuse thinking big with betting big, Rossman explained. How can you make small, low-risk bets that can be tested and adjusted?
Remember that people are hard-wired to make most of their decisions through shorthand rules of thumb, reminded Joan Lewis, principal of Joan Lewis Consulting and former senior executive at Procter & Gamble.
Think of ways you can share supply chain data with suppliers and work together to apply it, recommended Graeme Cooksley, CEO and president of Symphony GOLD, a Symphony Technology Group division. There are so much data in the supply chain, which can be daunting for retailers seeking to analyze and use it.
Spend lots of time not just reviewing metrics, Rossman advised, but also making sure you have the right ones and are adding to them.
Take advantage of new technologies – from voice assistants and drone technology to artificial intelligence – to rethink every aspect of your business, reimagining the shopping experience, streamlining operations and fostering a culture of innovation, Cooksley said.
Culture is more important than technology, said Ken Fenyo, head of consumer markets for McKinsey Fast Growth, who previously served as VP of loyalty at Kroger. But how do you create a culture where it's OK to test things and fail? An important point: Grocers don't have to build it all themselves, but instead, create a whole series of relationships (such as with startups) to test technology and see what works.
The Xcelerate Retail Forum also will be held in Paris Oct. 9-11. View more information and register here.