Grocers in 'Strong Position' to Meet Rising Ecommerce Demands: Report
Get great content like this right in your inbox.
Subscribe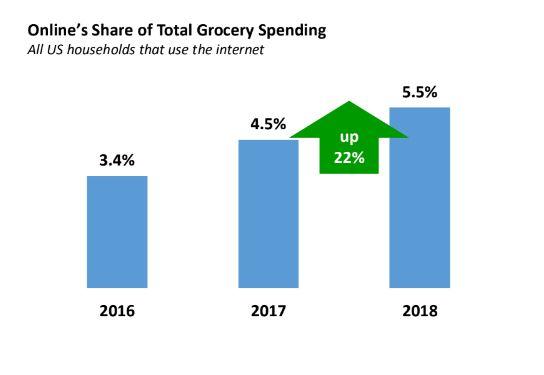 Online spending has reached 5.5 percent of total grocery spending in the United States, with current shoppers at online grocers driving most of the growth by increasing order sizes. But a new report warns that even though supermarkets are in a "strong position" to serve this demand, Amazon is challenging by linking its grocery services to Prime discounts and investing in Whole Foods Market.
Grocery shoppers that use online services most actively increased their weekly online spending as a part of total weekly grocery spending from 28 percent in 2017 to 46 percent in 2018, according to the new study, published by Brick Meets Click and sponsored by Winooski, Vt.-based grocery ecommerce platform MyWebGrocer. Additionally, with the nearly 30 percent of U.S. households that already grocery shop online, average order size increased $62 in 2017 to $69 in 2018, while both penetration and order frequency remained relatively flat. This suggests that current users will drive near-term growth.
In fact, those who shop online grocers most actively grew their weekly ecommerce spending as a percent of total weekly grocery spending from 28 percent in 2017 to 46 percent in 2018.
"Until now there's been little agreement about the national share of online grocery shopping," said Bill Bishop, chief architect of Brick Meets Click, "We now know that it's over 5 percent and see that online grocery's popularity is increasing, especially among those households who've tried it and value the benefits. If supermarkets make the right decisions and investments to compete well in this space, they are in the leadership position to meet shoppers' needs relative to food purchasing and consumption patterns."

"This growth in online spending by some of a retailer's core ecommerce customers highlights the importance of making sure these online sales are profitable," said Barry Clogan, president of retail solutions at MyWebGrocer.
Shifting growth drivers emphasize the importance of focusing marketing messages on the right customers.
The new research also documents the competitive position in grocery that Amazon – which now ranks eighth in Progressive Grocer's Super 50 list of the top grocers in the United States – occupies, and its efforts to aggressively leverage Prime with Whole Foods to increase its share of spending with those shoppers.
"The real danger is that Amazon is like the Trojan horse. Overall, Amazon has 77 percent household penetration – but it sold groceries to just 11 percent of households in the last month," said Steve Bishop, managing partner of Brick Meets Click. "That's a lot of headroom for Amazon to grow in grocery. Amazon's smaller average transaction size compared to supermarket retailers underscores why online grocery is basically supermarkets' business to lose as online shoppers increasingly shift to full basket trips – and that supermarkets need to find ways to leverage the physical store with online services."