Grocers Score High in Harris Poll Reputation Quotient Study
Get great content like this right in your inbox.
Subscribe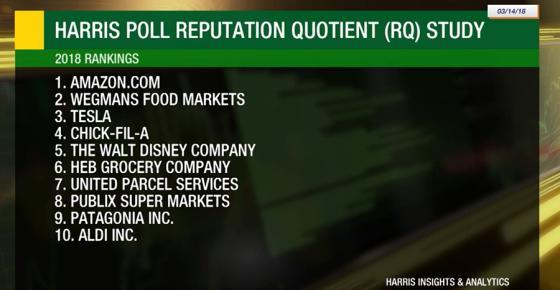 Food retailers were well represented in the 2018 Harris Poll Reputation Quotient (RQ) study: Seattle-based ecommerce behemoth Amazon ranked highest in the 100-strong listing, with an RQ of 83.22, while Rochester, N.Y.-based Wegmans Food Markets, came in second, with an RQ of 82.75. In all, five grocery purveyors made the top 10, while none showed up in the bottom 10.
"We are so thankful for our employees, who make it possible for Wegmans to be recognized in this way," said Wegmans President Colleen Wegman. "They make us proud and very grateful for the reputation they have earned on our behalf."
Other grocers to make the cut were San Antonio-based H-E-B Grocery Co., at No. 6 (81.14), making its first appearance in the ranking; Lakeland, Fla.-based Publix Super Markets, at No. 8 (80.81); Batavia, Ill.-based Aldi, at No. 10 (80.43); Issaquah, Wash.-based Costco, at No. 17 (79.78); the Cincinnati-based Kroger Co., at No. 18 (79.67); and Austin, Texas-based Whole Foods Market, at No. 23 (79.04). Lower down on the list were Minneapolis-based Target (No. 49); Chesapeake, Va.-based Dollar Tree (No. 61); Goodlettsville, Tenn.-based Dollar General (No. 67); and Bentonville, Ark.-based Walmart (No. 69).
Drug store chains Walgreens (No. 41) and CVS (No. 47) also appeared in the ranking, along with CPG companies The Kraft Heinz Co. (No. 13); Procter & Gamble (No. 20); The Coca-Cola Co. (No. 27); General Mills (No. 30); Nestlé (No. 33); Unilever (No. 37); PepsiCo (No. 45); and Tyson Foods (No. 62).
'Reputation is a Verb'
The annual study, which has been undertaken since 1999, begins with a nomination phase to identify 100 companies with the most "visible" reputations, according to the perceptions of the general public. The final list is measured in the RQ Ratings Section. This year's rating interviews occurred online Dec. 11, 2017-Jan. 12, 2018 among 25,800 U.S. adults to obtain an average of about 300 ratings per company.
RQ is calculated according to six dimensions: Social Responsibility, Emotional Appeal, Products and Services, Vision and Leadership, Financial Performance and Workplace Environment. Wegmans noted that it ranked first for Workplace Environment and was the only company to rank in the top five for all six dimensions.
"The RQ 2018 study reveals that consumers are increasingly interested in what a company stands for, how they engage with society and their community," noted John Gerzema, CEO of The Harris Poll, also based in Rochester. "In this new world, reputation is a verb."