Gourmet Soup a Glass Act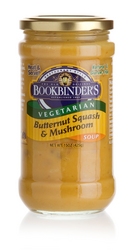 Specialty soup maker Bookbinder Specialties and glass packaging manufacturer Owens-Illinois Inc. have teamed up to launch a new line of all-natural, gourmet vegetable soups packaged in glass.
"At Bookbinder Specialties, we are focused on providing the ultimate in quality and convenience for our consumers," said Sean O'Neil, Bookbinder's president. "Glass offers superior protection for the delicate flavors of our soups and is 100 percent resealable, locking in the quality and taste customers expect and making it an excellent packaging choice for our products."
Bookbinder's soups have been a staple in the Philadelphia-based Old Original Bookbinder's Restaurant since 1865. The restaurant created a foods division in the early 1970s to share the original restaurant favorites as packaged foods sold throughout the United States. Today, Bookbinders Specialties carries on the tradition of the restaurant while catering to the expectations of the nation's gourmet consumers.
Bookbinder's Gourmet Vegetable Soups are available in 15-ounce glass containers in four flavors, including Brandywine Mushroom, Butternut Squash and Mushroom, Sweet Burgundy Onion and Zesty Tomato. They will be sold in natural and specialty food stores across the United States.
Bookbinder Specialties conducted a series of consumer focus groups to determine consumer preferences in soup packaging. The findings demonstrated a consumer need for portion control and resealability, as many do not consume the entire portion typically found in cans. O'Neil said O-I's glass packaging offers an ideal solution to these needs.
"O-I has been a tremendous partner, offering a combination of supply availability, the right sizes, an attractive price point and an ideal working relationship," O'Neil said. "Also, for the soup category, the glass really stands out on the shelves. We have received a great response from those who have seen the product, as it is clearly differentiated from everything else in the soup aisle and allows consumers to actually see the product they are purchasing."
Additionally, glass is made from all-natural materials and are virtually impermeable, non-porous and odorless, which allow it to best protect the purity, flavor and taste of foods. Glass will not interact with the product it contains and can help provide an extended shelf life.
Established in 1903, Owens-Illinois Inc. employs more than 22,000 people with 78 manufacturing facilities in 21 countries. In 2009, its net sales were $7.1 billion.
Bookbinder's product line also includes seafood bisques, snapper soup, clam chowders, oyster stew, clam sauces, clam juice, bread crumbs and seasonings.