Giant-Landover Shows Support for Guard, Reserve Workers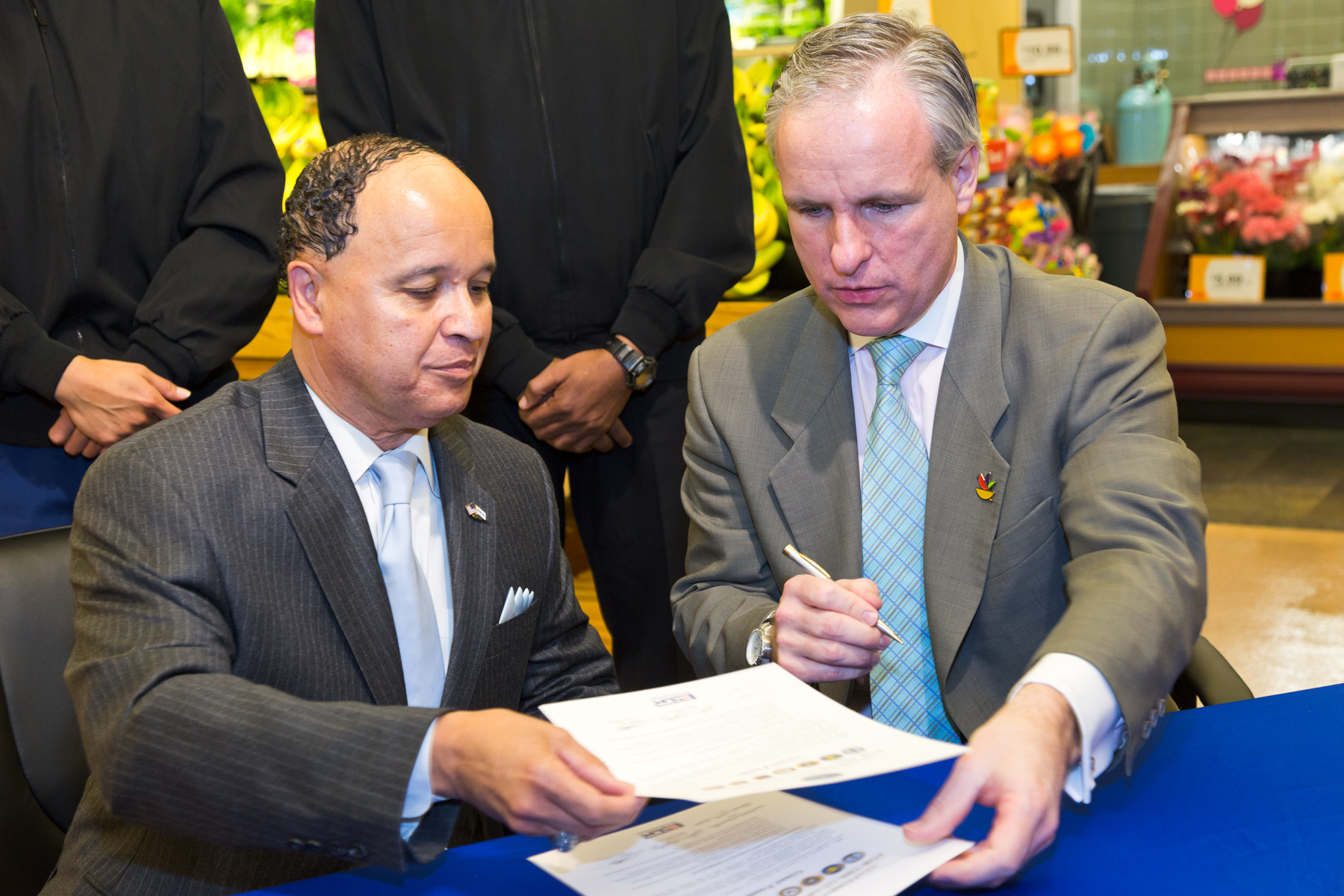 Anthony Hucker, president of Giant Food LLC of Landover, Md., has signed a Statement of Support for the grocery chain's National Guard and Reserve employees. Hucker signed the pledge during a ceremony held at a Giant Food store in northeast Washington, D.C.
"Supportive employers such as Giant Food are critical to maintaining the readiness and strength of the nation's Guard and Reserve units, and allow Guardsmen and Reservists the opportunity to serve our country more effectively and with greater peace of mind," explained George Alexander, District of Columbia chair for Employer Support of the Guard and Reserve (ESGR). "By signing this Statement of Support, Giant sends a clear message they stand committed to their military employees and recognize the integrity, global perspective and proven leadership they bring to the workplace."
The signing (see image above, with Hucker at right and Alexander at left) occurred during Giant's inaugural Military Appreciation Month. On March 1, the grocer revealed an aggressive military hiring initiative as well as a month-long giving campaign in support of USO of Metropolitan Washington and USO Delaware. Giant's military recruitment approach focuses on careers rather than jobs for transitioning veterans, members of the Guard and Reserve, and military family members. Recently, the company has recruited nine such associates to its store management ranks.
"The tenets outlined in the Statement of Support have been guiding principles of Giant's human resources hiring practices for a very long time," noted Hucker.
The statement reaffirms that Giant Food joins other employers in pledging full recognition, honor and enforcement of the Uniformed Services Employment and Re-Employment Rights Act (USERRA); that managers and supervisors will receive the necessary tools to effectively manage employees in the Guard and Reserve; and continual recognition and support of U.S. service members and their families in peace, in crises and in war.
A division of Ahold USA, Giant Food operates 171 supermarkets in Virginia, Maryland, Delaware and the District of Columbia, and employs about 20,000 associates.