Giant-Landover Promo Raises $118K to Beat Cancer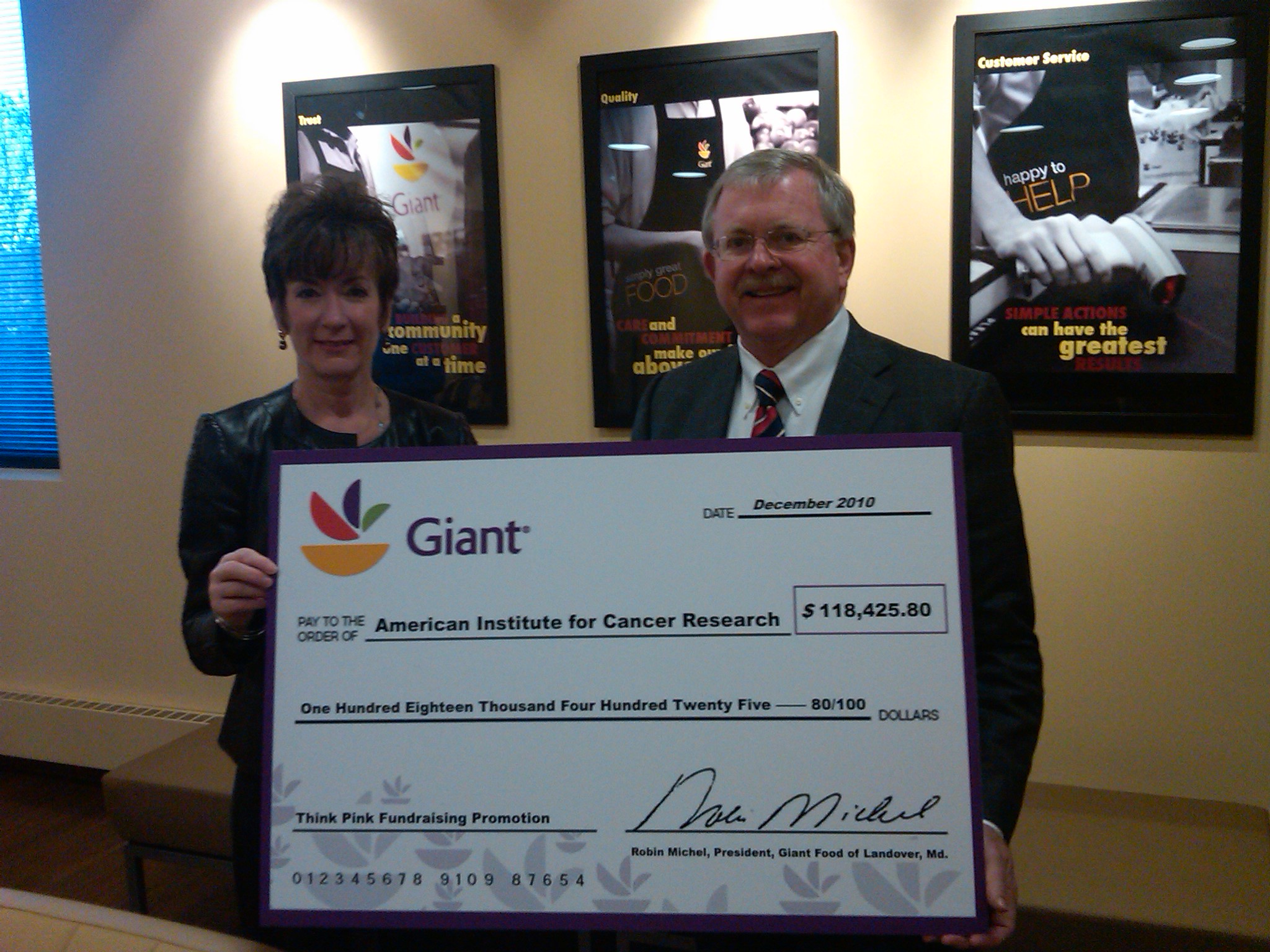 The American Institute for Cancer Research (AICR), the leading cancer research organization in the United States, thanked Landover, Md.-based Giant Food LLC and its shoppers for raising $118,425 for cancer research during the month of October 2010. The acknowledgement came this week during a ceremony in which the grocery chain presented the organization with an oversized check. All proceeds, raised through an in-store campaign in support of National Breast Cancer Awareness Month, will fund research into breast and other cancers.
"With these funds, we can support the kind of innovative research that's advancing our understanding of cancer – and how we can protect ourselves against it," noted Kelly Browning, EVP and CFO of Washington-based AICR.
In addition to the October fundraising campaign, thousands of AICR breast cancer brochures and health aids in both English and Spanish were given out free to Giant customers throughout the month. 2010 is the second year Giant-Landover and AICR have joined forces to raise funds for cancer research.
"Giant is committed to improving the health and wellness of the communities we serve, and AICR's unique programs and approach to funding is a perfect fit for our goals," said Robin Michel, outgoing president of Giant-Landover, a division of Quincy, Mass.-based Ahold USA. AICR backs research on the roles played by nutrition, physical activity and weight management in cancer risk; interprets the scientific literature; and educates the public on the results. The organization has so far contributed more than $96 million toward cutting-edge research carried out at universities, hospitals and research centers across the United States.
During its monthlong promotion, Giant-Landover provided point-of-purchase donations slips in all 179 of its stores, giving customers an opportunity to make quick, easy contributions to AICR. The chain's 163 pharmacies also distributed 156,000 free English- and Spanish-language copies of the AICR brochure "Reducing Your Risk of Breast Cancer" and 6,400 free copies of AICR's Breast Self-Examination Shower Cards in both languages.
Giant-Landover employs about 22,000 associates at supermarkets in Virginia, Maryland, Delaware and the District of Columbia.