Giant Eagle Celebrates Earth Day with Bag Giveaway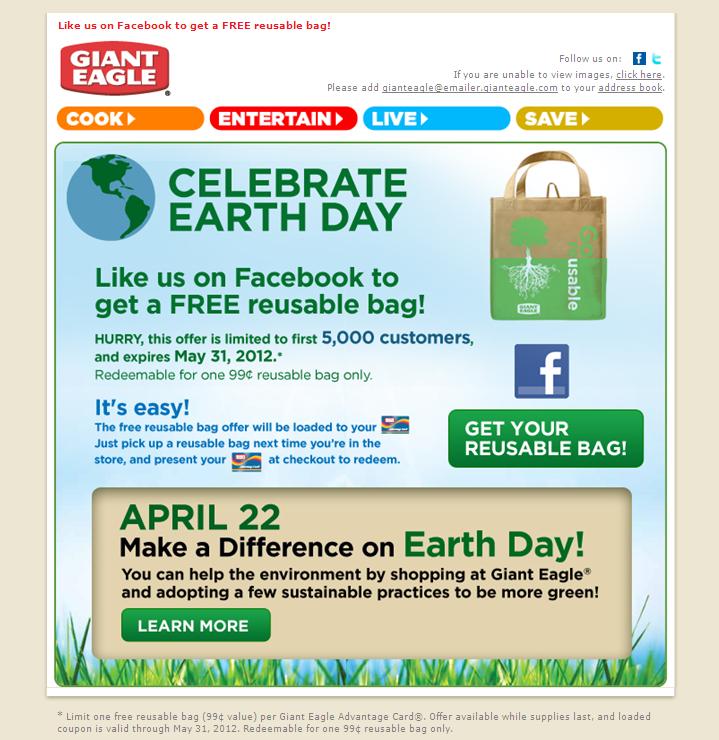 Giant Eagle Inc. celebrated Earth Day this year by giving away reusable bags to 5,000 of its Facebook friends.
Customers can also purchase a decorative reusable bag for 99 cents. Giant Eagle supermarket locations also offer blue reusable hot/cold bags for $2.99.
Given away on Friday, Giant Eagle's reusable bags are one component of the retailer's commitment to sustainability. In 2011, Giant Eagle recycled nearly 59,000 tons of cardboard, 1,685 tons of plastic film and 2,528 tons of mixed paper. Additionally, its stores incorporate many environmentally friendly features. Giant Eagle opened the world's first Leadership in Energy and Environmental Design (LEED) certified supermarket in Brunswick, Ohio, in 2004; since then, the grocer has opened seven other supermarket and fuel and convenience store locations, including its most recent LEED certification in Indiana, Pa.
The company also has a focus on growing the availability of alternative fuels. Last July, Giant Eagle opened its first two compressed natural gas fueling stations in the Pittsburgh area at its retail support and distribution center in the Fairywood neighborhood, an accomplishment recognized April 18 by Pennsylvania Gov. Tom Corbett with a 2012 Environmental Excellence award. More recently, Giant Eagle added electric vehicle fueling stations at three Pittsburgh-area supermarket locations, including its Monroeville Giant Eagle and Robinson Township and Township of Pine Market District locations. Many GetGo fuel and convenience store locations also offer E85 fuels.
Giant Eagle's sustainable efforts include energy-efficient store lighting, renewable energy, energy management85 controls and power monitoring, white roofing and variable speed fans. Additionally, Giant Eagle has formed a strong partnership with the United States Environmental Protection Agency and its Energy Star, SmartWay Partnership, Green Power Partnership and GreenChill programs.
Giant Eagle has installed eWaste collection bins in many locations, allowing customers to donate used ink cartridges, cellphones, MP3 players, digital cameras and GPS devices for responsible recycling.
Pittsburgh-based Giant Eagle Inc. operates 229 supermarkets and 169 fuel and convenience stores throughout western Pennsylvania, Ohio, north central West Virginia and Maryland.