General Mills Launches Spanish Language App for iPad
General Mills Inc. has launched its first Spanish-language application for the Apple iPad platform, which will provide Spanish-speaking consumers with instant access to more than 900 Latin-inspired recipes, in 12 different categories, such as appetizers and snacks, breakfasts, salads, garnishes, drinks, and beverages, breads, pastas, pastries and cookies, entrees, desserts, sauces, and soups.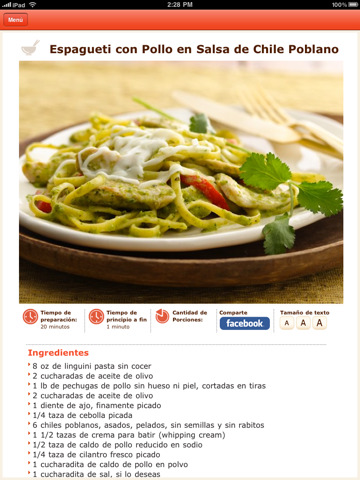 The app, Qué Rica Vida Recetario, is available at no charge on iTunes. "We think this technology is an excellent platform for showcasing our very popular recipes and our award-winning photography," said Rodolfo Rodriguez, multicultural marketing director for Minneapolis-based General Mills. "Meeting consumers' needs and staying ahead of the competition in Hispanic marketing is foremost among our company's priorities. Qué Rica Vida Recetario is a wonderful resource for Spanish speakers using the iPad platform."
Recetario is Spanish for recipe depository, and Que Rica Vida (What a Rich Life!) is General Mills' five year-old, multi-brand, Hispanic marketing platform, Web site and free quarterly lifestyle magazine. The new Qué Rica Vida Recetario for the iPad comes in response to overwhelming demand the company has received for Spanish-language recipes from consumers.
Each recipe also comes with a full-color picture, and in a unique feature that will make preparing all these great dishes easier, Qué Rica Vida Recetario provides users with a measurement converter, with snap calculation capabilities.
"Consumers continue to ask us for recipes and solutions as they work to prepare traditional and convenient meals for their families," said Adriana Amione, executive chef of General Mills' Hispanic Kitchen, and the person responsible for creating most of the recipes in the new app. "Today's social media tools give us another, more modern way to respond to their requests."
The app also connects directly with QueRicaVida.com's Web site, where users can immediately access more recipes and a wealth of other useful information about parenting, health, and education.
Now in its fifth year, the Que Rica Vida initiative is an important resource designed to provide Latina moms with culturally relevant lifestyle information and expert advice on education, holiday occasions, health and wellness, and family issues of great importance to Hispanic families in America. The program was developed by General Mills to help the Hispanic mother succeed in creating a healthier, easier, richer life for her and her family. The cornerstone of the Que Rica Vida initiative is its free quarterly lifestyle magazine and Web site of the same name, www.quericavida.com
General Mills operates in more than 100 countries and markets more than 100 consumer brands, including Cheerios, Häagen-Dazs, Nature Valley, Betty Crocker, Pillsbury, Green Giant, Old El Paso, Progresso, Yoplait, Cascadian Farm, and Muir Glen.