Fresh Meat Trends: Rumba Is Tops in Nebraska; New Beef Round Cuts = Six New Options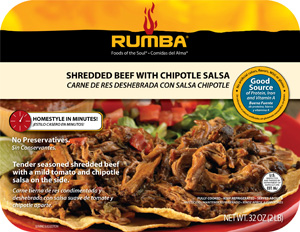 Cargill's multicultural Rumba brand recently earned the 2010 Best New Beef Product in Nebraska distinction for its new Shredded Beef with Chipotle Salsa fully cooked beef entrée. The Nebraska Beef Council's annual contest identifies new, creative and different beef products that exhibit high consumer consumption potential, because new product development is important to beef industry sales growth.
The new Rumba refrigerated beef entrée won the honor based on its ease of preparation in 20 minutes or less and the versatility of the product. "The Rumba team clearly conducted effective research to develop a delicious product that can be quickly heated and served for a multitude of occasions," said Ann Marie Bosshamer, executive director of the Kearney-based Nebraska Beef Council. "The Shredded Beef with Chipotle Salsa product features an authentic and traditional Hispanic beef recipe that may be enjoyed as either a family meal or in countless appetizers and snacks."
The Rumba brand received a $20,000 prize from the Nebraska Beef Council, made possible by Beef Checkoff dollars, which will be used to help support the line's retail marketing efforts.
"We are proud of our new line of refrigerated entrées, and [are] honored that our Shredded Beef with Chipotle Salsa was selected by the Nebraska Beef Council as the best new beef product in 2010," said Allison DiAlberto, marketing manager for Wichita, Kan.-based Cargill Value Added Meats-Retail. "We are committed to providing authentic, high-quality meal solutions that offer consumers and retailers valuable time-saving meal options."
The Rumba brand's full line of refrigerated entrées also includes Chicken with Mole Poblano, Chicken in Pasilla Chile Sauce and Pork in Guajillo Chile Sauce, while additional products featuring authentic Hispanic dishes are planned for launch in early 2011. Rumba (www.rumbameats.com) also offers a line of fresh case-ready specialty beef and pork cuts, as well as refrigerated entrées that serve multicultural consumers' needs.
In other new beef new product news, the National Cattlemen's Beef Association's (NCBA) Beef Innovations Group (BIG) recently debuted six new cuts from the beef round at the first Innovative Beef Symposium in Denver, as part of the group's effort to help processors, manufacturers, retailers, foodservice operators and cattle producers maximize yield, add versatility and increase profitability.
"As the marketplace continues to evolve, it creates opportunities for new beef cuts to be used as a competitive advantage," said Jim Ethridge, BIG senior director, who noted that past work on the chuck subprimal by Centennial, Colo.-based NCBA, which contracts to manage new-product development efforts for the Beef Checkoff Program, had yielded benefits to all segments of the industry. "The muscles of the round offer the next frontier of innovation and additional value."
As a team of meat scientists and industry professionals that work together to inspire beef innovation, BIG has considerable experience working with value-added cuts, from processing to end-use application. More than 80 representatives from meat processors, packers and food-manufacturing companies convened to learn how to fabricate, merchandise, menu and profit from the new cuts at the symposium.
Cutting guides and related marketing materials for the new round cuts will be available on http://www.beefinnovationsgroup.com by Sept. 30.
The six new cuts include a portfolio of lean-steak and roast options suitable for retail and foodservice outlets:
• Santa Fe Cut: Similar to a flank steak, perfect for fajitas, stir fry or for shredded beef
• Round Petite Tender: Flavorful, best cut into medallion steaks, offers a restaurant-quality experience on a bed of pasta or a roast for two
• San Antonio Steak: Half-inch lean steak, versatile and cooks fast, works well with a marinade
• Tucson Cut: The perfect lean cut for foodservice operations looking for value
• Braison Cut: Ideal for any braising application and makes a great osso buco or pot roast
• Merlot Cut: Deep-red color, lean and flavorful, ideal for a variety of ethnic dishes
In 2007, BIG began its mission to explore the underused subprimal, which represents 30 percent of the beef carcass. Since then, a team of meat scientists have been working on locating whole-muscle cuts. This effort leverages checkoff-funded muscle profiling research, led by NCBA's product enhancement team, which has aided BIG over the years to uncover many successful cuts known as the "Beef Value-Added Cuts," a line of beef steaks and roasts that allows consumers to enjoy more great-tasting steaks and roasts that are easy to prepare and often moderately priced.
Several of these previously launched cuts have grown in popularity, such as the Petite Tender, Ranch Steak, Flat Iron Steak and five cuts from the chuck roll, and are now being manufactured throughout the United States and sold through retail and foodservice outlets.
CattleFax estimates that BIG's new-product development initiatives have already resulted in an industry added-value of $50 -- $70 per head, or $1.4 billion in annual sales. New cuts from the chuck roll and the round are expected to increase this number significantly as they enter the mainstream marketplace.