The Fresh Grocer Raises Child Obesity Awareness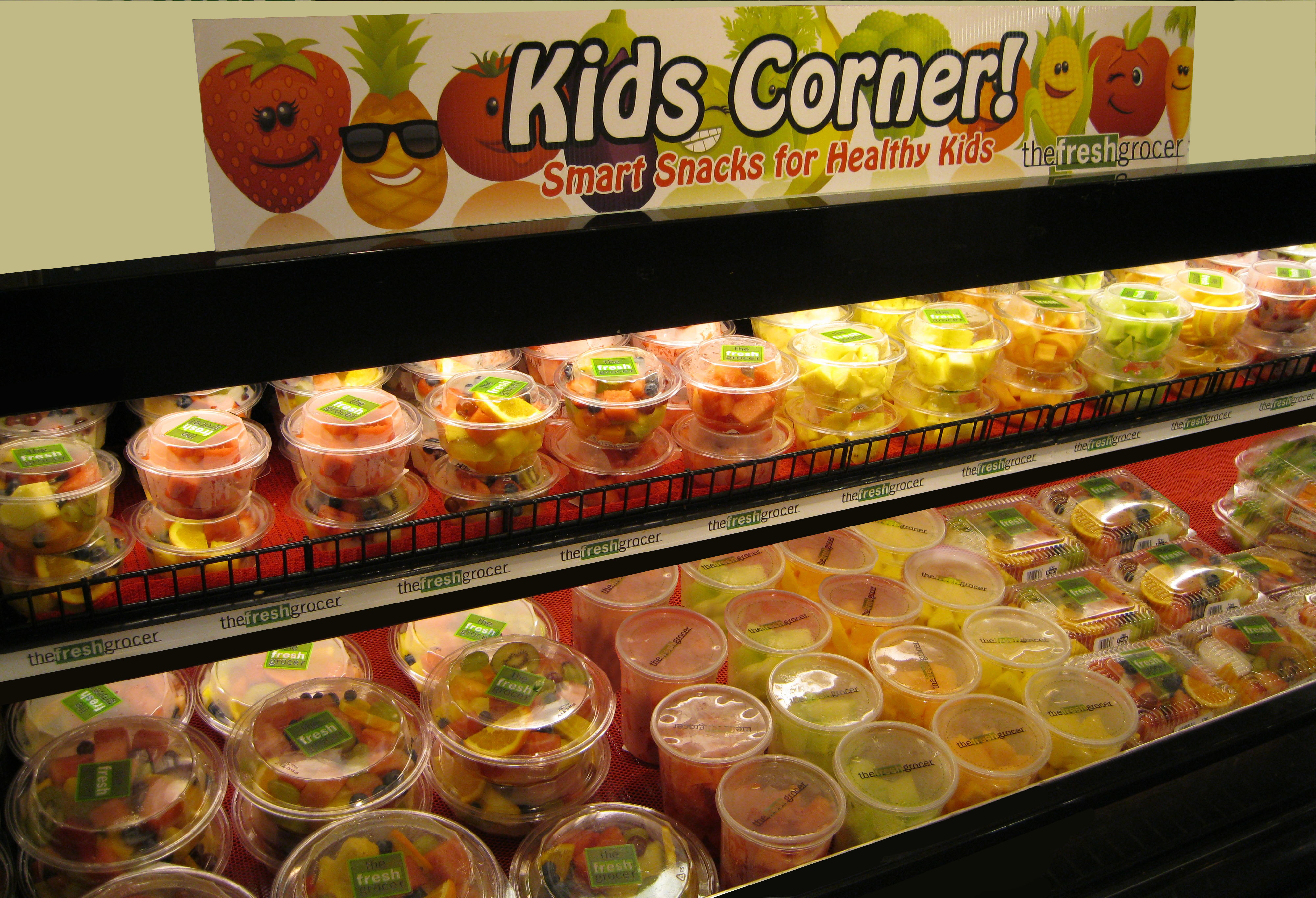 In honor of Childhood Obesity Awareness Month in September, independent supermarket retailer The Fresh Grocer, is offering discounts on healthy meal options. Many already low-priced items are discounted up to half off, in a bid to encourage more customers, especially children, to eat more nutritious foods and avoid obesity.
"The Fresh Grocer is committed to offering healthy food options at affordable prices," said President and CEO Patrick Burns. "Childhood obesity is a major concern, and we are dedicated to presenting customers with fresh, healthy, and affordable foods to help improve eating habits which lead to healthier lifestyles."
To promote healthy eating among youth, the Drexel Hill, Pa.-based chain is providing a half-price salad bar featuring items at $2.49 per pound for customers 14 years old or younger. Healthy pre-made lunchboxes are also available for $2.99 in the Kids Corner section (above left) in the prepared foods department. Typically priced at $3.99, these better-for-you lunches consist of a half sandwich on whole grain bread, fresh fruit, yogurt, and a 100 percent juice drink or bottled water.
Kids Corner, whose other nutritious snacks and meal options at affordable prices include fresh fruits and veggies with dip, fresh-cut salads, yogurt, and granola is just one of The Fresh Grocer's many initiatives in support of healthier eating habits. Among the grocery chain's other efforts are Healthy Elements tags posted throughout the store that notify customers which foods meet FDA criteria for being low-fat, low-calorie, gluten-free, low-sodium, low-cholesterol, a good source of calcium, a good source of fiber, whole grain and organic.
In the produce department, the popular Value Produce Aisle features bagged produce of staple fruits and vegetables such as apples, oranges, peppers and potatoes. All pieces are hand-picked by the produce manager, bagged, weighed and labeled with a sale price. The aisle was added to the produce department as a convenience for customers not used to shopping for produce, as well as for those on a fixed budget. Shoppers can see exactly what the cost is for the bag of items just by looking at the label, with no weighing necessary.
"At The Fresh Grocer, we proactively work on innovative ways to improve the health and wellness of our customers, associates and communities," observed Burns. "We pride ourselves on making fresh healthy foods not only accessible, but also delicious and affordable.
Currently operating seven stores in the greater Philadelphia area, The Fresh Grocer plans to open a store next year in New Brunswick, N.J., which will be the area's first full-service supermarket in over 20 years.