Four Grocery Chains Back Produce For Kids Fall Campaign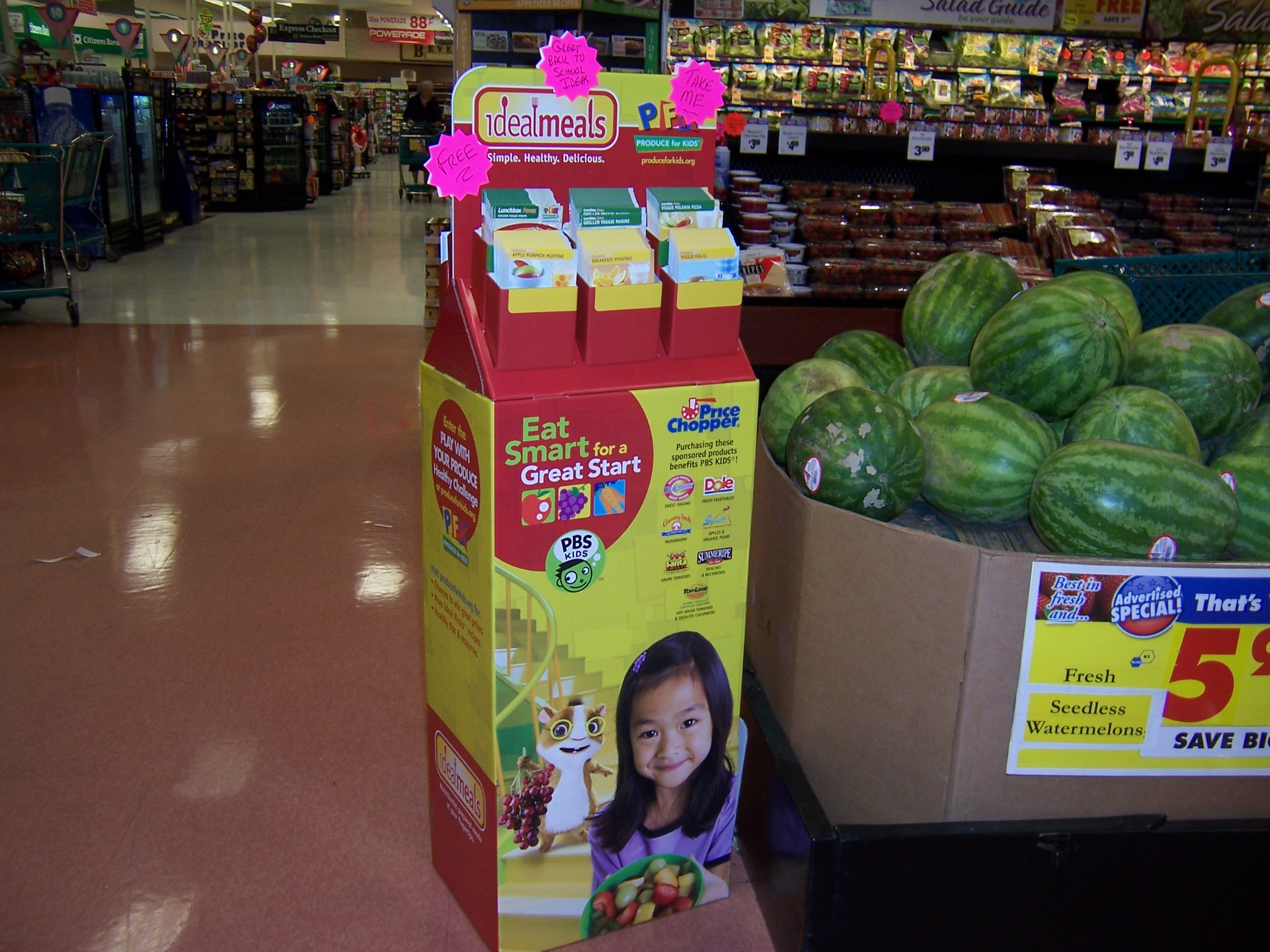 Produce for Kids (PFK) has teamed with four retailers representing more than 1,500 grocery stores in 20 states in the organization's annual "Eat Smart for a Great Start" fall campaign to benefit PBS KIDS. 
From now through the end of Oct. 28, participating fruit and vegetable growers nationwide will make a donation to PBS KIDS based on sales of fresh produce items at participating retailers' stores.  Since PFK's partnership with PBS KIDS began, PFK, through its supplier and retail partners, has donated more than $450,000 to the nonprofit organization to provide families and teachers with educational content, resources and outreach materials that promotes healthy eating.
The participating retailers this fall are Price Chopper, Ahold's Giant-Carlisle and Martin's Food Stores, Meijer, and Publix Super Markets.
Additionally, Orlando, Fla.-based PFK has redesigned its Web site this fall  to create more exposure for all sponsors and retailers as well as to become a 12-month resource for shoppers and a home for its "Ideal Meals" program.
Ideal Meals are 4-inch-by-6-inch meal cards merchandised in store in self-contained, colorful display units that contain fast, easy tips for shopping and assembling healthy meals using sponsors' products.  Each meal features fresh produce items using sponsored products developed by a registered dietitian and meets the recommended dietary guidelines set by the USDA.  
PFK is working with chef Marshall O'Brien, a specialist in healthy cooking, to demonstrate Ideal Meals in a series of short videos housed on produceforkids.org.  O'Brien may also make media appearances on behalf of the program.
The organization is supporting the retailers that are featuring Ideal Meals as part of their fall campaigns, with special demo days featuring the program's recipes.  The PFK demo days will bring attention to sponsors' products as well as the campaign's fundraising, and show how easy an Ideal Meal is to make.
"Education is the theme of our fall campaign, and we want to teach people that it is easy to make healthy eating part of their family's daily regimen and stick to a budget at the same time," saidPFK executive director Heidi McIntyre."
Consumers can  visit the redesigned produceforkids.org for more information about Ideal Meals, as well as to find games for kids, view videocasts, and enter the Play with your Produce Challenge for a chance to win grocery gift cards.  Teachers can win money for their schools by taking part in the Play with Your Produce Classroom Challenge for grades K through 6. 
Participating produce suppliers/sponsors of the fall campaign include Cal-Organic Farms Carrot Chips, Country Fresh Mushrooms, Crunch Pak Sliced Apples, Del Monte Gold Extra Sweet Pineapple, Dole Fresh Vegetables and Packaged Salads, Earthbound Farm Organic Salads, Everybody's Nuts Salt & Pepper Pistachios, Fresh Express Packaged Salads, Fruit2Day Juices, Green Giant Fresh Potatoes, Marie's Dressing and Dip, Marzetti Caramel Dip, Michigan Apple Committee Locally Grown Apples, Modern Farms Mushrooms, Nature's Promise Organic Packaged Salads, NatureSweet Vine Ripened Cherry Tomatoes, Santa Sweets Grape Tomatoes, Select One Tomatoes on the Vine, RealSweet Sweet Onions, Red Diamond Grape Tomatoes, Stemilt Growers Apples and Organic Pears, Summeripe Peaches and Nectarines, Sunkist Valencia Oranges, SUNSET Campari Tomatoes and Tomatoes on the Vine, Thomas Colace Company Tomatoes, Topline Hot House Tomatoes, Tomatoes on the Vine and Seedless Cucumbers, Welch's Healthy Start 100% Juice.